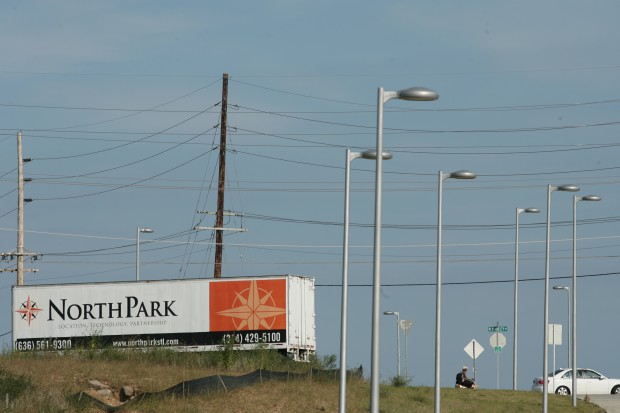 After several slow years, the developers behind NorthPark are hoping to kick the giant north St. Louis County business park into high gear. And they've hired a high-flying real estate firm to help.
Local developer heavyweights Clayco and McEagle Properties have signed Chicago-based Jones Lang LaSalle to market the 550-acre site east of Lambert-St. Louis International Airport. They are hoping that the firm – one of the nation's largest commercial real estate brokerages – will help to bring national and global companies in as tenants.
"They bring a perspective that we think will be able to present the benefits of NorthPark to a national and even global audience," said Tom Weeks, a principal at Clayco. "We really hope to broaden our reach.
It's a new strategy for the project, which Clayco and McEagle have marketed themselves since 2005, when they won a 99-year-lease from St. Louis County to develop it.
While the team has landed the corporate headquarters and other facilities for Express Scripts, plus a few smaller tenants, much of the massive site today remains vacant, dotted with billboards advertising its acreage.
While the project is behind its targets on physical development, it is actually doing rather well in terms of job creation, thanks mostly to Express Scripts, said Denny Coleman, president of the St. Louis County Economic Council.
To the degree it has behind schedule, the broader economy is largely to blame, he said. There has not been much large-scale commercial development anywhere in the past few years.
"The most significant thing that can help NorthPark is just an overall turnaround in the economy," Coleman said. "Real estate will follow the rest of the economy in terms of demand for space."
Still, the county – which oversees NorthPark – gave the project a boost last fall, when it refinanced $14.75 million in bonds and added $7 million more. That deal gave the developers more flexibility with their lenders, and thus time to find tenants.
Now they are hiring Jones Lang.
"We just think now is the right time to hit it and hit it hard," said Weeks.
The firm is conducting a market study for the site, which it hopes to finish in 60 days, said Lynn Schenck, an executive vice president for the firm in St. Louis. Then it will go out and shop it around to big corporate users.
Schenck sees a lot of potential in the business park, which has a prime location north of Interstate 70 by Lambert, and can tap a wide range of development incentives.
After a long slump, there are increasing signs that the real estate market is beginning to turn around, she said.
"People feel we've bottomed out and the market is going to improve," she said. "Now is the time to get it back out in front of big corporations."