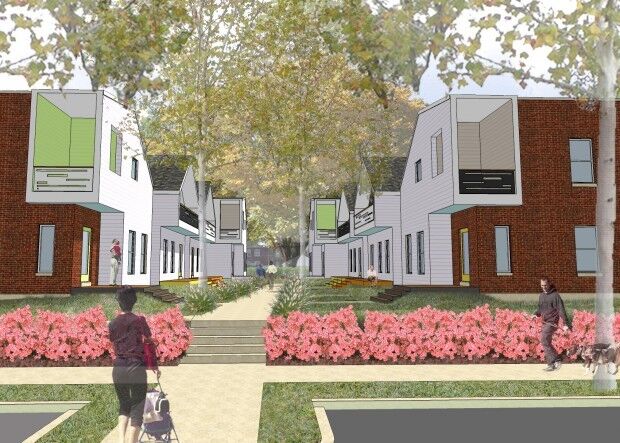 The sales effort is underway for DeTonty Close, a project of 16 modern bungalows and pedestrian courtyards in the city's Shaw neighborhood.
UIC, the project's developer, says the residences will have "green" features, including high-efficiency heating and cooling systems, fresh air ventilation systems and foam insulated walls and ceilings.
Prices start at $230,000-something. UIC says the base price includes a level of finish and features in line with what most home buyers would expect in a new home.
Site work will begin this summer with the first houses ready this fall, UIC says. The company got the development rights for the project last fall and bought the property last month.
Last summer, tweaks to UIC's design met the historic sensibilities of the St. Louis Preservation Board, which voted to approve the development. DeTonty Close is to go up on vacant lots in the 4100 block of DeTonty Street.
The board granted the project exceptions to some building requirements of the city's Shaw Certified Local Historic District after UIC increased the amount of exterior brick on some DeTonty Close homes and provided taller windows more in keeping with many of Shaw's century-old buildings.
Still intact is UIC's more radical plan to face the development's homes toward interior courtyards. The developer has said the departure from the neighborhood's traditional street grid avoids having to face the project's DeTonty Street homes toward the hillside topped by Interstate 44.