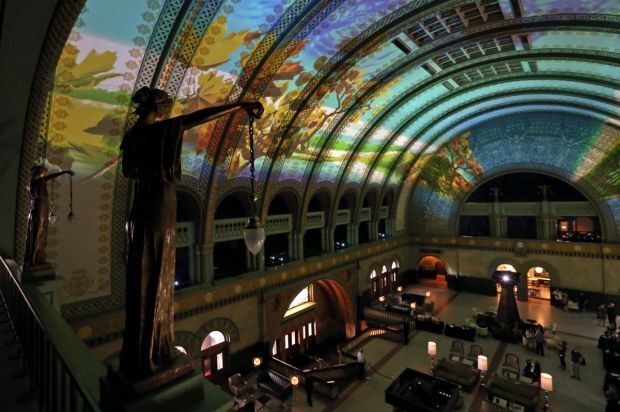 The new light show inside the Grand Hall at Union Station is an award winner.
Called the Grand Hall Experience, the light show is a recipient of a Thea, an award bestowed by the Themed Entertainment Association. Grand Hall's Thea is for "best show on a limited budget," according to Union Station's owner, Lodging Hospitality Management.
LHM bought Union Station in 2012 and is giving the old train depot and attached hotel a thorough going over.
Part of the remake is the light show, which debuted in May. LHM calls it a custom high-definition 3D mapping projection entertainment offering. Union Station's owner also refers to the show as "the largest permanently installed indoor immersive projection mapping show in the United States."
It includes images that cover Grand Hall's 65-foot vaulted ceiling, 3D animation, LED accent lighting, and a surround-sound system. Technomedia, which created the show, also has done work for Cirque de Soleil, NBC Studios and others. The Thea Awards will be presented March 15 in Anaheim, Calif.
Union Station, a National Historic Landmark, opened in 1894 and for decades was among the nation's busiest passenger rail terminals. Amtrak pulled out in 1978 and the station remained dormant until the Rouse Co. reopened it in 1985 as a "festival marketplace." But the station's retail business faded and LHM came on the scene four years ago.