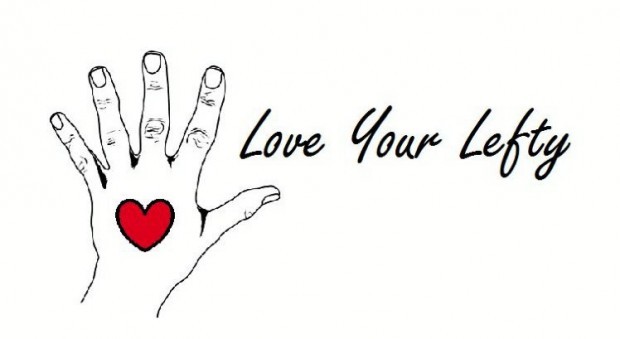 As a part of the majority of people in the world who favor their right hand, I take for granted the plethora of gadgets and thingamajigs geared for me and my kind.
But I didn't understand how much so until I recently visited Nancy Smith's "Love Your Lefty" store that opened a couple weeks ago in downtown St. Louis at 328 North 4th Street. Inside, I learned, it goes way beyond just scissors.
In a sing-songy voice, Smith explains to visitors the need for left-handed rulers (numbers go in the opposite direction), left-handed wine corkscrews (the spiral goes other direction so lefties can turn it forward instead of backward), left-handed playing cards (numbers are in all four corners instead of just two), and smudge-free pencils and pens (because lefties often smudge words with their left forearm or wrist).
She also has left-handed pencil sharpeners, spiral notebooks, toothbrushes, keyboards, measuring tape, and can openers. But, wait, she just sold out of the latter.
"They are a hot commodity," she said of the can openers. "I went through like 10 of them real quick."
Who knew? And how have the estimated 10 percent of the population (at least according to Wikipedia) gotten along without these contraptions up until now?
"Even many left-handed people have no clue that these items are out there," Smith acknowledged.
The concept of a store for left-handed people gained satirical notoriety awhile back on The Simpsons when the character Ned Flanders opened a short-lived store called "The Leftorium."
But it's a real niche. If you Google "left-handed products," you'll come up with a number of online retailers that specialize in this category. And there's a store called Lefty's San Francisco, whose website bills itself as having the largest selection of left-handed items in the world. It also apparently has a kiosk in Disney World.
Smith said she has one of few stores around -- and is definitely the only place like it in St. Louis.
"I think I hit a gold mine," she said. "I have the monopoly on it. It's not like you can go to another suburb to get this stuff."
The inspiration for Smith, a right-handed person herself, was her son who was left-handed. She recounted stories of having to ask a left-handed neighbor teach her son how to tie his shoelaces and of his difficulty in wielding scissors in grade school.
She had been talking about opening a store like this for years, but the final push came last year after her son died of a heroin overdose. So she decided to finally do it in his memory.
She started off with a kiosk in the St. Louis Galleria last fall.
"I found out there are a lot of lefties –- and a lot of people who know lefties," she said. "I sold over 600 pairs of scissors in a two-month period."
Then she brought the store downtown, where she lives, in the hopes of attracting left-handed tourists -- or tourists with left-handed friends.
She's taking it slowly and is on a month-to-month lease for now. But she's surprised even herself by how well the store has done so far without any advertising. Other lefties who work downtown -- including a gentleman at the Hyatt -- have vowed to help her spread the word.
On the horizon is new product lines such as cooking utensils -- spatulas, wooden spoons, and the like. And one day, she would love to put a second store in a place like the airport. But, she added quickly, she has no idea what the overhead costs of something like that might be.
One of her customers on a recent day was Sandra Posey, who was in town on a church trip from Louisville, Ky. She never had left-handed scissors growing up.
"I just made do with what I had," she said. "When you're living in a right-handed world, you think 'Well, this is just it.'"
Her dad tried to convert her, she said, taking the fork out of her left hand and putting it in her right. But her mother finally told him to stop and let her be.