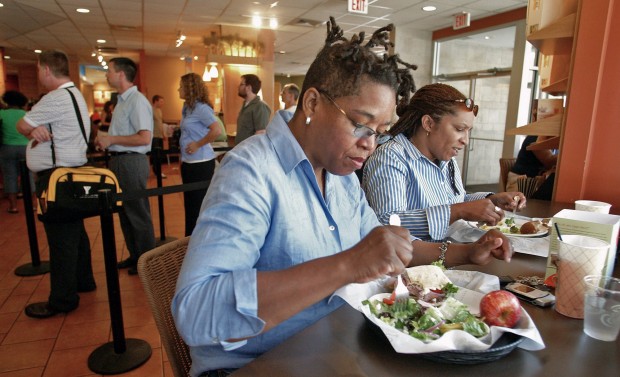 I thought there was maybe a 50 percent chance the cashier at the downtown St. Louis Bread Co. would know what I was talking about when I asked to order from the hidden menu.
It turns out I should have given the chain more credit, especially right here in its hometown.
The woman behind the counter didn't blink an eye. When I asked for some help as to what was on the hidden menu, she picked up a laminated sheet behind the register that she said they kept on hand to remind themselves of what's on it, too.
The six items on the list, which include a power breakfast egg white bowl with roasted turkey (190 calories) and a power chicken hummus bowl (330 calories), are all low in carbohydrates and high in protein.
It's the sort of stuff that makes up many diets these days. Not coincidentally, the nationwide rollout of the hidden menu coincides nicely with all of those earnest New Year's resolutions to eat better in 2013.
"It's a funny thing," mused Scott Davis, the chain's chief concept officer. "Some people have thought about it like it is a secret menu. But that's not the case. It's hidden because we're not doing the usual menu placement and other ancillary work."
There's a lot of investment, marketing, and risk involved in introducing and promoting new menu items, he explained. Because these low-carb items will probably appeal to just a small, niche audience, Panera decided to keep them off the menu.
Davis said he was inspired to launch this hidden menu in part because he's been looking for ways to manage his own carbohydrate intake. He comes to work every day at Panera, which, as a cafe and bakery, has a lot of bread on the menu.
He realized the cafes could offer more diet-friendly items by putting together ingredients they already have in a different way.
The company has tried selling low-carb bread, but it didn't last long. Davis said the bread was somewhat expensive and Panera officials weren't super-happy with it.
Darren Tristano, with the food industry research and consulting firm Technomic, says hidden menus aren't a new concept.
In-N-Out Burger, a fast food chain found out west, has had a secret menu for awhile. These days, the company website mentions items from what it calls its "not-so-secret" menu.
They include a grilled cheese, 4x4 burger (with, yes, four beef patties) and a lettuce-wrapped, no-bun "protein-style" burger for health-conscious California types.
"OK, you've heard the rumors, wondered what was on it, maybe even felt a little left out of the loop," the company says on its website. "But in reality, we don't have any secrets at all. It's just the way some of our customers like their burgers prepared …"
Tristano said the secret menu has the added bonus of creating extra buzz among a restaurant's super fans, who find the idea hip and cool. It makes folks feel like insiders.
In Panera's case, he said, the motivation seems to be more about creating items that appeal to a smaller group of people.
"They don't necessarily want to manage a large amount of these items on their menu," he said. "But they certainly want to have them as accommodations."
Besides, he added, if they were to add them to the menu and they fail, the bungle would be more apparent to customers.
"But if any of these become incredibly successful, you will likely see them added to the main menu," he said.
Panera rolled out the hidden menu nationwide after testing it in a handful of locations in Manhattan in November.
The chain is mostly spreading the word about the special items through its Facebook page and Twitter account.
On Wednesday, it posted an item on Facebook about the new hidden menu. By Thursday afternoon, the post had garnered more than 3,390 likes and 265 comments.
A number of those commenting were excited about the new offerings. A handful of people complained they had encountered hiccups when trying to order. And many people were confused as to why the menu was hidden.
"Why hide this?!?" one person wrote. "I would have chosen to eat at Panera many times in the past if I had known about this."
Another said: "I don't understand why it's a secret. Why aren't these posted? Why a hidden menu? Do I have to whisper too?"
One commenter echoed the sentiments of others: "I have to say this is great marketing. The amount of shares of this page says something is working."