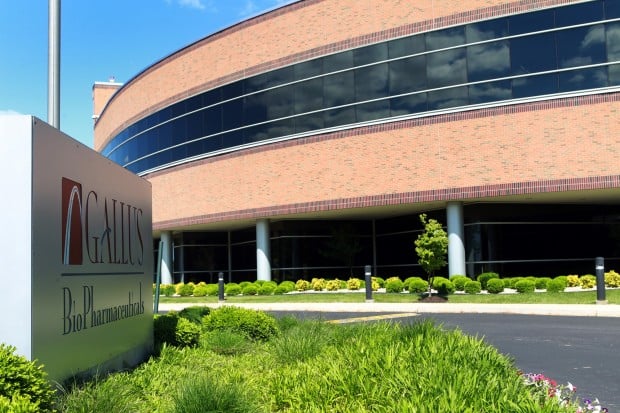 Just east of Lambert-St. Louis International Airport, along the south side of Interstate 70, sits one of St. Louis' most advanced biotechnology facilities.
Until recently, it also was one of the most endangered. Centocor, a subsidiary of Johnson & Johnson, had made clear in 2007 that the drugmaking plant in Berkeley didn't fit into its long-term plans. For more than three years, workers toiled under a cloud of uncertainty.
Today, a visit from Gov. Jay Nixon will celebrate the lifting of that cloud. A new firm named Gallus Biopharmaceuticals has purchased the plant. It will preserve its 160 jobs existing jobs and wants to double that number within five years.
Gallus was created by Mark Bamforth, a Scottish-born chemical engineer whose career has taken him from oil drilling to brewing to biotechnology. He spent more than a decade running global operations for Genzyme, a leading biotech firm in Cambridge, Mass.
As part of that job, he happened to visit the Centocor plant about three years ago. The facility is licensed by the Food and Drug Administration to make biologics, or drugs that are manufactured in mammalian cell cultures as opposed to chemical processes.
The fact that the plant was for sale triggered an entrepreneurial response in Bamforth. He knew that demand for biologics was growing rapidly, with new drugs being approved every year. The Berkeley plant had room for expansion, and Bamforth believed that it would be ideal for a contract-manufacturing operation.
He created Gallus last summer, and by fall had put together a deal to buy the plant. His financing fell apart in November, but by January he was meeting with a new lead investor, Ridgemont Equity Partners of Charlotte, N.C.
Walker Poole, a Ridgemont partner, said the plant's workforce was a big selling point. "That is a world-class operating team," Poole said. "We were very impressed with the leadership team on site in St. Louis and with their regulatory track record."
Poole wouldn't disclose the purchase price, but he said his firm does deals for between $25 million and $75 million.
The deal also involves $14.6 million of state incentives and 10 years of tax abatement, worth $4.2 million, from St. Louis County. Enterprise Bank & Trust is the senior lender, and Stifel Nicolaus advised Gallus on financing.
The investors' money will not only buy the plant — for a fraction of the $230 million that a previous owner spent on an expansion in 2002 — but also build new production capacity in some of its empty space. Bamforth said Gallus will invest $20 million in the plant within a year, and will be able to produce at any scale, from tiny quantities for drugs that are in development to huge ones for drugs that are in the commercial market.
Gallus will continue to produce two drugs for Centocor: Remicade, a multibillion-dollar arthritis treatment, and Stelara, a relatively new treatment for psoriasis.
Bamforth says he's already in contact with other potential customers, and has begun advertising for new hires.
In this economy, preserving jobs is good; adding new ones — at an average salary of $88,500 — is even better.
In addition, the presence of a growing biotech company will be a shot in the arm for efforts to build a life-sciences industry here.
"They're going to have a team out there aggressively marketing this St. Louis based asset around the world," says Donn Rubin, executive director of the Coalition for Plant and Life Sciences.
"That will get our scientific leadership on the radar screens of a lot more researchers."