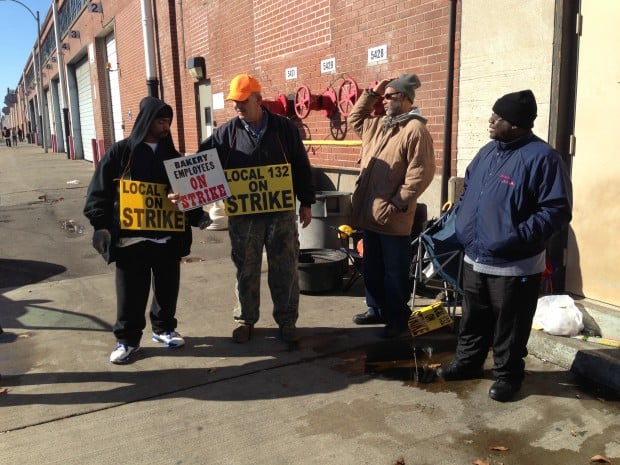 When I was a kid, Wonder Bread was a staple in most kitchens, and Hostess was an aspirational brand. A Twinkie or Ding Dong in your lunch meant that your family had a little extra to spend on the good things in life.
Unfortunately for Hostess Brands, white bread long ago lost its sense of wonder, and a child of upwardly mobile parents is more likely to be sent to school with organic applesauce than with a Ho Ho. Yet, until Friday, some union members seemed to think this company was still the 1965 version of itself.
A company with a big market share and strong brands might be able to cover labor costs by raising prices, but that doesn't describe the Hostess of 2012. Hostess filed for bankruptcy in January and has said for months that it would liquidate unless workers made major concessions. We now know it wasn't kidding.
Hostess' largest union, the Teamsters, agreed to wage and benefit cuts, but the Bakery, Confectionery, Tobacco Workers and Grain Millers Union refused.
The Bakery Workers went on strike Nov. 9, and the company responded by permanently closing three plants, including one in St. Louis. On Friday, Hostess said the whole company will shut down, throwing 18,500 people out of work.
It's a sad and puzzling story. Union members understandably didn't want to sacrifice about 30 percent of their pay and benefits, but isn't that better than losing 100 percent?
A bit of history helps explain the lose-lose outcome.
Union members made $110 million worth of concessions during a previous bankruptcy, which ended in 2009.
Hostess came out of that case with more debt than it had going in, so the Bakery Workers can be forgiven for feeling that Hostess' financiers didn't share in their sacrifice.
"I have a sense that the culture at Hostess was adversarial, it was 'us against them,' " says Marvin Finkelstein, a professor of sociology at Southern Illinois University Edwardsville. "That's a hard set of beliefs and values to break."
When a negotiation turns into a battle, members focus as much on hurting the enemy as on helping themselves. Workers who adopt a siege mentality can also latch on to the thinnest reed of hope, such as a rumor that Hostess had a buyer waiting in the wings.
"It sounds like at the union hall level there was some misinformation," says Dan Keating, a Washington University law professor who has written a book about labor relations in bankruptcy. "It's hard for a union's rank and file to understand that it's a case of least-worst alternatives. Unions are used to a mindset of 'If we stick to our guns, we can outlast them,' but that doesn't work in bankruptcy."
Although it will be remembered for taking a hard line at the end, Hostess isn't a typical union-busting employer. The website of consulting firm Gephardt Group — founded by former U.S. Rep. Richard Gephardt, a longtime friend of organized labor — lists Hostess as a client.
Some people are trying to assign white or black hats to the strikers in this saga, but neither variety of head wear really fits.
These aren't noble workers who "have bravely taken a stand against the corporate race to the bottom," as AFL-CIO President Richard Trumka said in a statement. Nor are they ungrateful louts who deserved to lose their jobs, as some right-wing commentators have implied.
They're simply human beings who got caught in a conflict and couldn't find a way out. For that failing, labor and management must share the blame.