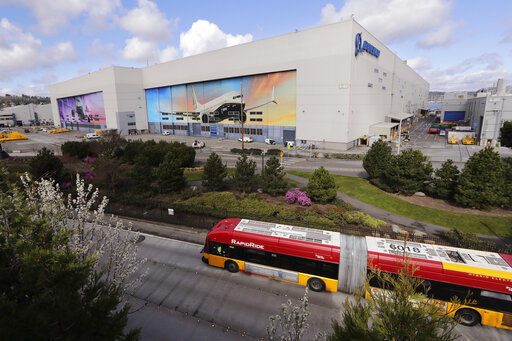 A two-day jump of 50% in Boeing shares says a lot about how important a federal bailout is to the giant aircraft manufacturer.
The shares climbed Tuesday and Wednesday on news that Congress was close to passing a $2 trillion stimulus bill, which includes $17 billion for loans to businesses deemed critical to national security. Washington insiders are reading that as an earmark for Boeing and a few other firms.
Boeing had asked for $60 billion for itself and its suppliers, but Boeing CEO David Calhoun said this week that his company could "take a different course" if it didn't like the terms of a bailout.
Analysts say Boeing probably could survive without help, but they're not sure about its suppliers. Shares of Spirit AeroSystems Holdings, an aircraft parts manufacturer, also rose 50% in two days, and engine makers General Electric and United Technologies both gained more than 25%.
"It's not a Boeing insolvency risk at all," said Richard Aboulafia, an aerospace analyst at Teal Group. "Is Boeing facing bankruptcy? No, far from it, but they would have to fire people if things get bad enough. Or, the government can step in and fund the supply chain and the workers and keep the production lines going."
Boeing shut down its wide-body manufacturing plants in the Seattle area for two weeks starting Monday, and its factories that make the grounded 737 Max have been idle since December.
Aboulafia predicts that the majority of an aerospace bailout would probably go to suppliers, not to Boeing directly. Aid to the supply chain would ensure Boeing a reliable supply of parts whenever the demand for aircraft returns to normal.
Cash-strapped suppliers "could be a pressure point," Edward Jones analyst Jeff Windau said, but he noted that Boeing had $10 billion of cash on hand, just drew down a $13.8 billion credit line and has another credit line of $9.6 billion available.
That adds up to $33 billion, a comfortable cushion even for a company as capital-intensive as Boeing. Still, Windau says, there's a concern that financial markets might freeze up and some of the credit might not be available.
A multibillion-dollar government loan would alleviate that concern, especially when it looks like Boeing's commercial revenue may be affected for years.
"There will be deferrals" by airlines, Aboulafia said. "Does anyone want a jet right now? Absolutely not."
Boeing's cancellations outnumbered new plane orders in January and February, and that was before U.S. airlines felt the full impact of the COVID-19 pandemic.
After the 9/11 attacks, Windau said, Boeing deliveries were slowed for four years as airlines conserved cash while waiting for traffic to return to previous levels. The coronavirus may have an even bigger effect on demand for planes.
"There is some demand built up out there" because of the 737 Max grounding, Windau noted. "Airlines were trying to replace aging airplanes and get a more fuel-efficient fleet, so that might help, but demand might be lower for the next couple of years."
With the outlook so uncertain, a financial backstop from Washington would help the aircraft giant. Boeing has already suspended its dividend and stock buybacks, and Calhoun is working without pay for the rest of this year, so they've already made some of the sacrifices a bailout would demand.
Other conditions that would accompany a loan aren't yet clear, but Calhoun said he would reject any demand for an equity stake. The stock market, however, is betting that Congress will make him an offer he won't refuse.
Daily updates on the latest news in the St. Louis business community.