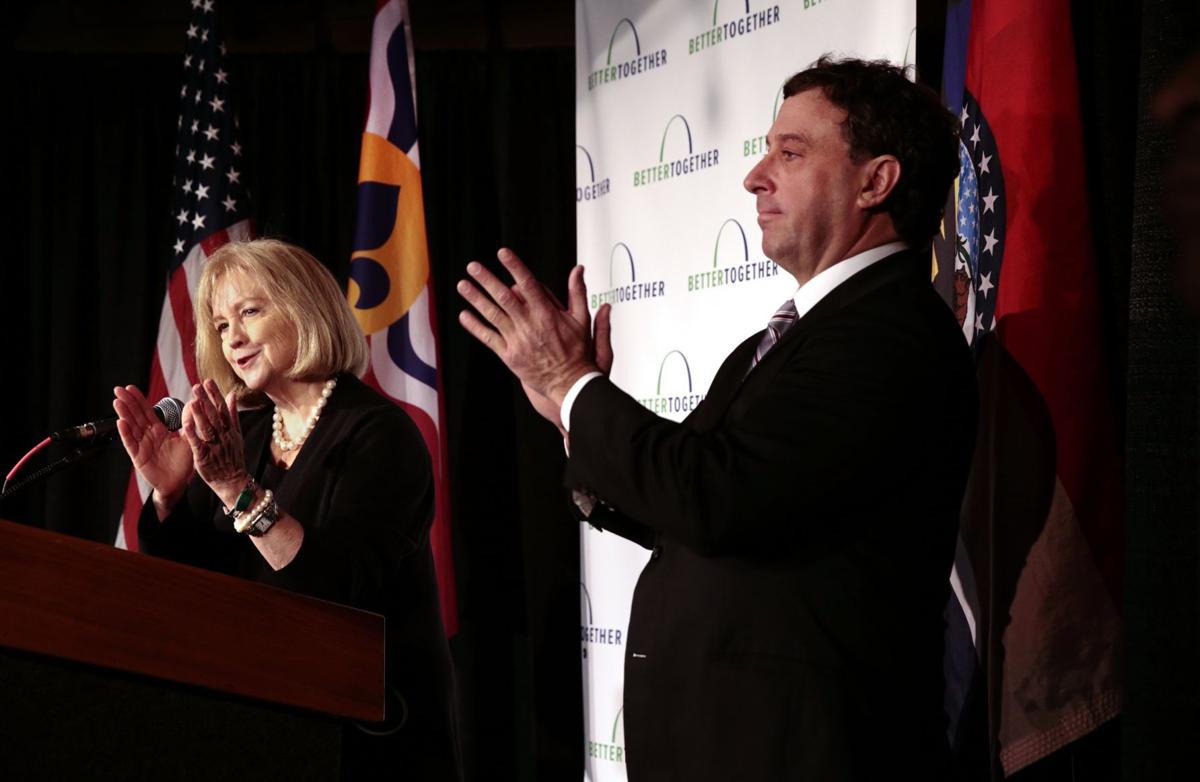 Strengthening St. Louis' economy isn't the only reason to consider a city-county merger, but it is an important reason.
After all, a bigger economic pie would give the region more resources to address crime, racial inequities and other issues highlighted by Better Together, the group that unveiled its merger plan last month.
Can government consolidation deliver that bigger pie? The best answer comes from studies of other regions in which a city merged with its surrounding county. Some studies are encouraging, but researchers have trouble drawing a straight line between government structure and economic performance.
"The scholarly literature on fragmentation and regional economic performance is not conclusive," says Todd Swanstrom, a professor of public policy at the University of Missouri-St. Louis. "Local government performance is a factor in regional economic development, but it does not affect economic performance by itself, rather in complex interaction with myriad other factors such as the economic mix and investments in education."
Nashville, Tenn., for instance, has grown tremendously since it merged with Davidson County in 1963. It also has benefited from the population shift from Rust Belt to Sun Belt, the development of major auto plants nearby and the advantages of being a state capital, tourist destination and health care hub.
Would Nashville have grown fast without a merger? Probably. Did the merger speed things up? That's hard to say.
There are reasons to think St. Louis might grow faster as a consolidated "metro city." One is efficiency: If we spend less on duplicative government services, we can reduce taxes or spend more on things that matter, like education and infrastructure.
Perhaps more important, the Better Together plan would end wasteful competition between the city and county, and among St. Louis County suburbs. "Beggar-thy-neighbor economic development policies, such as TIFs, do not grow the economy, they simply move economic activity around within the region," Swanstrom points out.
David Rusk, a former mayor of Albuquerque, N.M., wrote a 1993 book called "Cities Without Suburbs" that's sometimes called the bible of the regionalism movement. Fifteen years ago, for another project, he studied seven city-county mergers, comparing them with other places of similar size and demographic characteristics.
The metro areas that included a merged city-county outperformed their peer areas in both job growth and income growth. A region can't thrive without a strong core, Rusk explains, and "the merger created a core community that was not only more populous but also had greater financial resources."
Rusk raises a caution flag, though: Most consolidation attempts fail. Of 175 city-county merger proposals to go before voters since 1900, only 37 have passed.
Given the opposition that's already surfaced here, Mayor Lyda Krewson and County Executive Steve Stenger would be wise to have a backup plan.
David Miller, a professor at the University of Pittsburgh and a leading authority on regional governance, gave a speech in St. Louis last year and heard discussions about city-county consolidation.
"The first point I made was that this is a strange definition of regionalism," he said. "The dynamics of how the city and county work together is an important public policy, but that's not the whole region."
In Pittsburgh, officials discussed a city-county merger about a decade ago. After abandoning the idea, they started looking for ways to cooperate.
Allegheny County remains fragmented, with 130 separate cities. "We make you look centralized," Miller said, making a comparison to the 88 municipalities in St. Louis County.
In his opinion, however, the Pittsburgh area has made great strides toward regionalism without erasing any boundaries. "There really is a spirit of working together, and the smaller local governments appreciated not being seen as the problem," he said.
Pittsburgh has also gotten good press for its economic progress over the past decade. Metro Pittsburgh's per-capita gross domestic product grew 2.1 percent annually between 2007 and 2017, topping even Nashville's 1.7 percent growth.
St. Louis came in at 0.3 percent. That's slightly ahead of Indianapolis but behind Louisville, to name two other often-cited examples of successful city-county mergers.
The numbers, then, are inconclusive. A city-county merger may help the region prosper, but we need to make sure the debate doesn't intensify divisions and preclude other ways of working together.