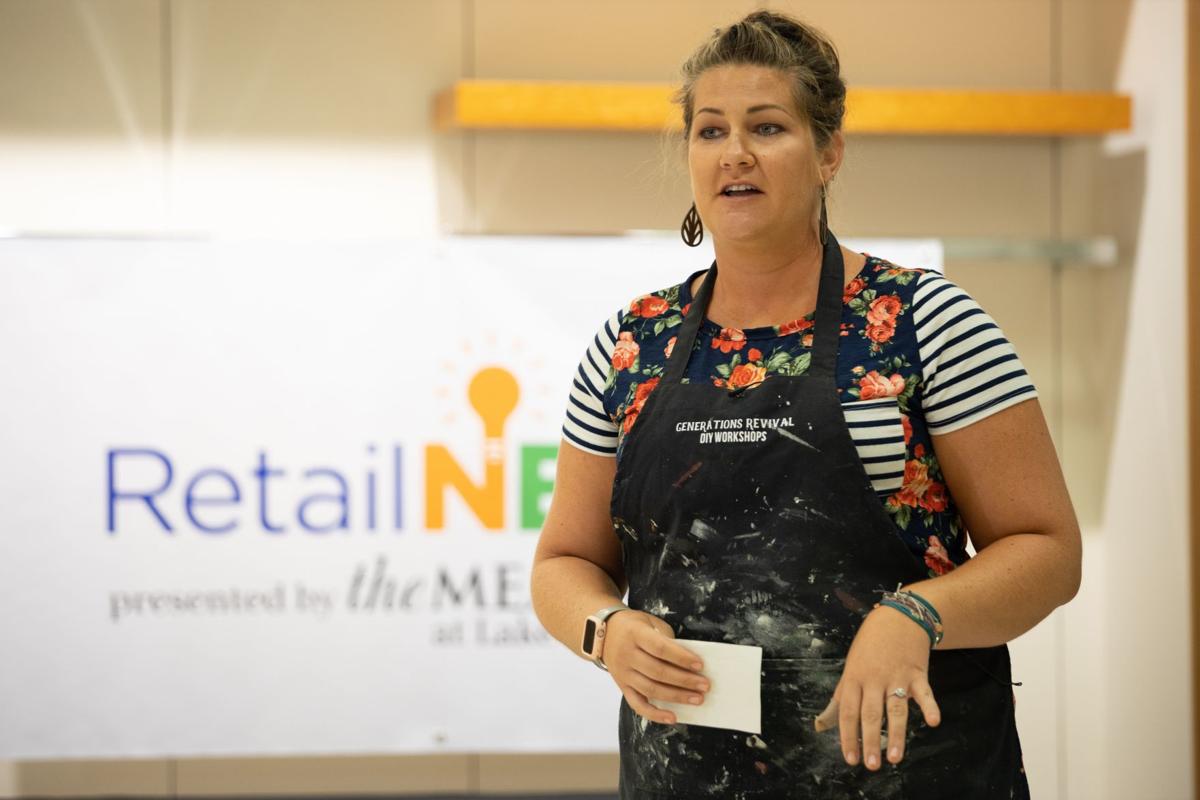 Leslie Magrew's business journey started with her kitchen table.
She built it with pecan wood from her grandfather's farm, which led to requests from friends for other pieces of furniture. Then she started making furniture and wooden décor items to sell on consignment at stores in Wentzville, where she lives.
Two and a half years ago, the mother of four quit her job as a nurse to pursue woodworking full time. She rented a barn near Foristell as a workshop and retail space, then moved to a converted garage in downtown Wentzville.
Soon, thanks to a "Shark Tank"-like competition called RetailNEXT, Magrew will take an even bigger step in her entrepreneurial journey. As the winner, her Generations Revival craft store will open at The Meadows in Lake Saint Louis in time for holiday shopping season. Rent will be free for a year.
With the move, Magrew will go from solo entrepreneur to hiring and training a staff. That will be hard, she says, as a Type A personality who wants to control every detail.
Still, she's looking forward to the opportunity. She'll get more walk-in traffic, will display the work of other do-it-yourselfers and will have space to expand her craft classes, which started in July and already have a waiting list.
For help managing the growth, Magrew will be able to lean on an all-star group of advisers. RetailNEXT's judges, who include Build-A-Bear Workshop founder Maxine Clark and St. Louis Galleria developer Mark Zorensky, agreed to mentor the top companies.
The contest semifinal was the first time Magrew had talked about Generations Revival in front of retail experts. "That was the most nerve-wracking part," she said. "You are really putting yourself out there in front of these really successful business owners."
Clark was impressed. "One of the reasons she won is that she fits the mood of the times," she said of Magrew. "She is personable and she has the Martha-Stewart-of-the-21st-century potential if she wants to take it that far."
The judges ranked two other concepts ahead of Generations Revival, but fans' online votes put Magrew over the top. Her few dozen craft club members, who gather monthly to make things such as a decorative pumpkin wall hanging, proved to be part of a powerful word-of-mouth network.
Alysia Kerkove, The Meadows' general manager, thinks that grassroots appeal will be good for the mall. All retail landlords are looking for stores with an experiential component that gives consumers a reason to close their web browsers and shop in the brick-and-mortar world.
"People come to malls to do an activity, to eat and then to shop last," Kerkove said. The Meadows opened in 2007 with mostly national chains as tenants, but its occupancy fell to 52 percent after the current owner, Cohen Equities of New York, bought it in 2014.
Occupancy is now up to 83 percent, with tenants such as a kickboxing gym and hair salons filling space the national chains left behind. Kerkove says 25 of 32 Meadows tenants now are locally owned.
She's excited about the results of RetailNEXT, which drew 42 entries. "This contest brought a lot of people who hadn't heard about the Meadows," she said. "There are conversations happening with the other finalists, and they should all be here."
Craig Kaminer, the St. Louis marketing consultant who organized RetailNEXT for Cohen Equities, says he hopes to run similar contests for other retail landlords. Malls have empty space and plenty of entrepreneurs have ideas; they just need a competition to bring them together.