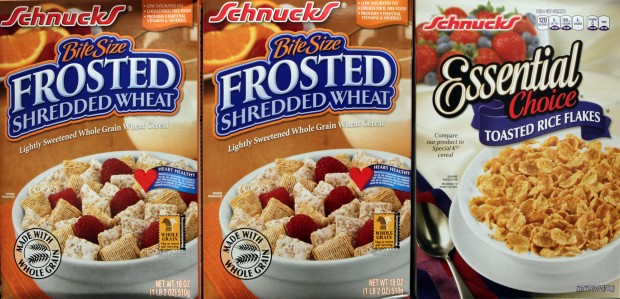 Ralcorp Holdings, having made two dozen acquisitions in the last 15 years, certainly knows all the reasons why companies decide to sell.
Sometimes a pushy shareholder wants to cash out. Sometimes the competitive environment has gotten tougher. And sometimes a buyer's offer is just too good to refuse.
In Ralcorp's own case, all these factors combined this week to turn a serial acquirer into a signed, sealed and delivered buyout target.
Keith Meister, an activist investor and new Ralcorp director, has been agitating for a quick return on his money. Rising commodity prices have pinched food companies' bottom lines. When ConAgra Foods put $5 billion on the table, the deal was done.
So much for the brave go-it-alone strategy that Ralcorp executives outlined 14 months ago, after spurning previous bids from ConAgra. They said that by buying other private-label food companies, as they had done successfully since 1997, they could make Ralcorp worth far more than ConAgra was willing to pay.
In the past year, though, the stock price hadn't budged much. Ralcorp made only two small acquisitions, buying a cookie baker and a pasta company, and fiscal fourth-quarter profits — announced at the same time as the ConAgra deal — fell short of analysts' estimates.
"I think Ralcorp finally came to the obvious conclusion: They were not of sufficient size to go it alone," says Juli Niemann, an analyst at Smith Moore in Clayton.
In the cutthroat food industry, she adds, clout counts. And ConAgra, three times Ralcorp's size, has more clout when negotiating with supermarkets for shelf space or with suppliers over pricing.
Ralcorp is, though, in the industry's sweet spot. It makes private-label food products, from cereal to pasta to salad dressing. Since the recession, consumers have been switching from name-brand products to store brands in a big way.
Scott Harrison, an analyst at Argent Capital Management in Clayton, thinks Ralcorp's strategy would have worked, given more time.
"The private-label industry is still one that's very fragmented," he says. "Acquisitions have been their bread and butter, and nothing changed that would have prevented them from continuing to pursue that strategy."
Nothing, that is, except an activist shareholder and a determined buyer. Meister, a former associate of Carl Icahn who runs the Corvex Management hedge fund, bought 5 percent of Ralcorp this summer and began pushing for what he called "value-enhancing actions."
And ConAgra, the maker of Peter Pan peanut butter and Healthy Choice frozen dinners, still saw itself missing out on the growth in store brands. Private-label products accounted for less than 8 percent of its revenue.
ConAgra had offered $94 a share for Ralcorp last year. That was when Ralcorp still owned Post Foods, a brand-name cereal company that it spun off in February.
The new offer is for $90 a share, but Ralcorp's owners also realized about $17 in value from the spinoff. Effectively, that means ConAgra raised its bid about 14 percent in a little over a year.
While analysts generally like the deal, Harrison does raise a caution flag. Brand-name and private-label operations sometimes struggle to coexist within the same company, as Ralcorp itself learned after buying Post in 2008.
That's an argument for setting up Ralcorp as a more or less autonomous unit within ConAgra, separated geographically from its Omaha headquarters. ConAgra won't keep 350 jobs here because of any sentimental attachment to St. Louis, but it might find the business logic persuasive.