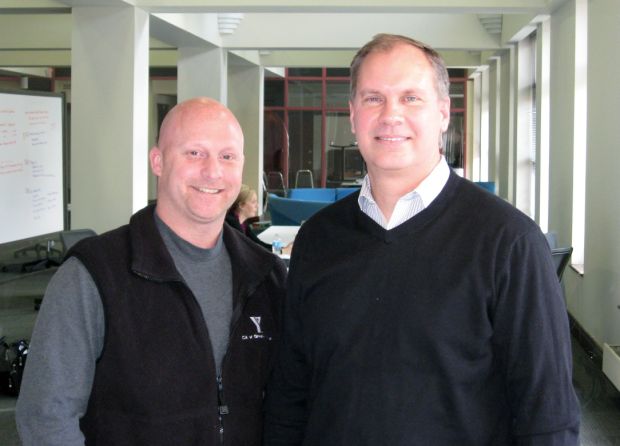 Jim Eberlin's friends in California consider him a Silicon Valley entrepreneur, even though he lives in St. Louis.
It's easy to see why: Eberlin is the founder of Host Analytics, based in Redwood City, Calif., and Gainsight, headquartered in Mountain View. Both raised tens of millions of dollars from Silicon Valley venture capitalists.
Each company started here — Host in 2001, Gainsight in 2011 — and maintains a presence in the St. Louis area, but each has a majority of its employees in California. Eberlin almost moved west himself when he was running Host Analytics, but decided to stay put.
Now he's starting his third software company, TopOpps, which aims to help companies forecast the success of deals in their sales pipelines. Eberlin fully expects to tap his West Coast contacts and establish a Silicon Valley presence for TopOpps.
He predicts, though, that St. Louis will end up with a bigger piece of this firm than its two predecessors. It's already on a rapid growth trajectory, thanks to an unusual partnership with a computer programming competition here.
"You can't rip up what we have here and move it to Silicon Valley if management knows it's working," Eberlin says. "We expect this organization to have the majority of its operations here."
TopOpps is just two months old — Eberlin left Gainsight at the end of December to start the company — and moved into offices this week in downtown's Lammert Building, the new home of the T-REx technology incubator. It has a staff of 13, including 10 programmers who would have taken months to find with conventional hiring methods.
Instead of advertising or using a recruiter, Eberlin sponsored the inaugural GlobalHack competition a month ago. For $50,000 he got a 48-hour look at 200 talented programmers from around the country and a head start on developing his firm's software. TopOpps posed the problem that was the basis for the competition and retained rights to the winning team's work.
"We got incredible algorithms to crunch the data, ideas on data visualization and cool features and ideas on how to solve the problem," he said. And there were the 10 hires, including most of the winning team plus standout members of other teams.
"I don't think anyone turned us down," Eberlin said. "These are people who had good jobs already, or they're being recruited heavily by the Bay Area."
GlobalHack founder Gabe Lozano said he originally envisioned signing a big, established company as the event's sponsor but came to realize that TopOpps was a better fit. The energy at the event, he says, was palpable: "When you put 200 smart people in a room for 48 hours and they work as hard as they can on the exact same problem, good results are going to happen."
Jim Brasunas, director of the Information Technology Entrepreneur Network, isn't surprised that Eberlin is boosting TopOpps more quickly than his first two companies. "I'm sure he has a whole list of investors who want to get involved," Brasunas said. "We're fortunate to have him in St. Louis."
In a city that's lost many entrepreneurs to places like California, we should celebrate the one who didn't get away. Eberlin's first two businesses have been rewarding for him and his investors; the third could be a big success for St. Louis, too.