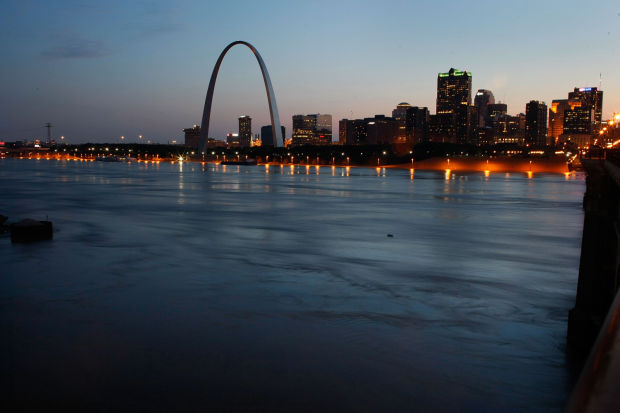 If you attend a gathering like the weekly Venture Cafe in the Central West End, you'll believe that St. Louis' startup community is booming.
If you read a new report by the Kauffman Foundation, you'll get the opposite impression. St. Louis ranks near the bottom on Kauffman's index of entrepreneurial activity — 36th among 40 large metro areas, to be exact.
The report contains a smidgen of good news: St. Louis showed improvement in all three indicators that make up Kauffman's index, and it moved up from 38th place last year.
Still, it's a dismal showing that contrasts sharply with local perceptions. After all, publications from Business Insider to Forbes to Popular Mechanics keep mentioning St. Louis as one of the best places to launch a business.
The difference is that those publications — and the Venture Cafe crowd — are focused on the relatively small number of entrepreneurs who are trying to turn a new technology into a high-growth, high-potential business.
Kauffman's numbers encompass all kinds of startups, including the corner store and the neighborhood cafe. For various demographic and historic reasons, Rust Belt cities such as St. Louis have less of that sort of activity.
We have relatively few immigrants, who have a proclivity for entrepreneurship. Our population grows slowly, which means fewer brand-new neighborhoods that need ice cream shops and dry cleaners.
We're also influenced by our glorious industrial past. "That part of our economy declined and died, and we never truly replaced it," says Jerome Katz, professor of entrepreneurship at St. Louis University. "Rust Belt cities were built on huge companies and a large number of blue-collar workers … who opted for lifelong employment. They aren't the most likely to be starting businesses."
In St. Louis last year, 22 of every 10,000 adults became entrepreneurs in a typical month. Nationally, the number was one-third higher at 33. In Austin, Texas, which Kauffman considers the No. 1 startup hotbed, 60 of every 10,000 adults founded a business.
St. Louis also ranks below average for startup density, which is new firms as a percentage of all businesses, and for "opportunity share." The latter number measures whether people left a job to pursue an entrepreneurial opportunity, or started a business out of necessity after losing a job.
The latter group is important in a place such as St. Louis. "This is a town with severe unemployment in parts of the community," Katz explained. "If our number is low because a number of unemployed people are starting businesses here, I'm glad to see that happen."
So we shouldn't be surprised that an old industrial city with a lot of poverty is near the bottom of an entrepreneurial ranking. The four metro areas below St. Louis share a similar history: Cleveland, Minneapolis, Milwaukee and Pittsburgh.
In a way, this index says more about where we've come from than where we're going.
The excitement about local technology startups is real, and St. Louis has built a system of funding groups and support organizations that should be able to sustain the momentum.
Lest we celebrate too soon, though, Kauffman's index reminds us that not all of St. Louis is participating in the startup boom. Even as we marshal resources to support tech and science-based companies, we need to encourage the dreamers who would open day care centers or coffee shops in underserved neighborhoods. The whole community clearly needs more entrepreneurial role models.
Kauffman Index of Startup Activity Metropolitan Area Data Table
The Kauffman Index of Startup Activity focuses on new business creation activity and people engaging in business startup activity. St. Louis ranks 36th out of 40, just ahead of Cleveland, Minneapolis, Milwaukee and Pittsburgh. To see the full chart, go to www.kauffman.org
| Rank | Index | Metropolitan Area |
| --- | --- | --- |
| 1 | 4.77 | Austin, Texas |
| 2 | 3.16 | Miami |
| 3 | 2.59 | Los Angeles |
| 4 | 2.24 | San Francisco |
| 5 | 1.67 | Las Vegas |
| 6 | 1.44 | New York |
| 7 | 1.38 | Houston |
| 8 | 1.33 | San Jose, Calif. |
| 9 | 1.29 | Denver |
| 10 | 0.62 | Phoenix |
| 11 | 0.39 | San Diego |
| 12 | 0.27 | Dallas |
| 13 | 0.09 | San Antonio |
| 14 | 0.02 | Columbus , Ohio |
| 15 | -0.06 | Atlanta |
| 16 | -0.31 | Nashville, Tenn. |
| 17 | -0.40 | Riverside, Calif. |
| 18 | -0.49 | Kansas City |
| 19 | -0.51 | Tampa, Fla. |
| 20 | -1.02 | Baltimore |
| 21 | -1.08 | Orlando, Fla. |
| 22 | -1.10 | Boston |
| 23 | -1.21 | Charlotte, N.C. |
| 24 | -1.22 | Cincinnati |
| 25 | -1.27 | Washington |
| 26 | -1.40 | Seattle |
| 27 | -1.42 | Sacramento, Calif. |
| 28 | -1.45 | Jacksonville, Fla. |
| 29 | -1.62 | Chicago |
| 30 | -2.00 | Detroit |
| 31 | -2.05 | Portland, Ore. |
| 32 | -2.06 | Virginia Beach, Va. |
| 33 | -2.17 | Indianapolis |
| 34 | -2.27 | Philadelphia |
| 35 | -2.30 | Providence, R.I. |
| 36 | -2.24 | St. Louis |
| 37 | -2.70 | Cleveland |
| 38 | -3.06 | Minneapolis |
| 39 | -3.83 | Milwaukee |
| 40 | -5.54 | Pittsburgh |
| | | |