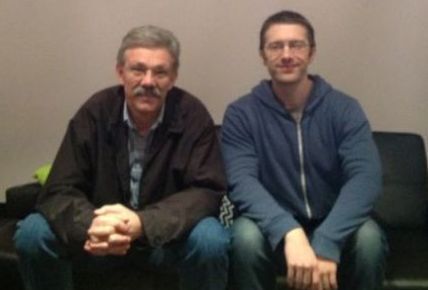 Adam Harrell was the job-matching problem personified. He had a computer science degree, but he had spent the last six years playing poker for a living.
He knew the gap in his résumé would be a red flag for employers, even ones that claimed to desperately need programmers. Fortunately, just as Harrell was looking for a path back to conventional employment, a group called LaunchCode was trying to find and develop software talent in St. Louis.
Harrell applied and was selected for a $15-an-hour apprenticeship at Food Essentials, a downtown firm that analyzes food-label data, in October. Two weeks later, he became one of LaunchCode's first success stories: Food Essentials made him a full-time, salaried employee.
It's too soon to call LaunchCode a success, but early results are encouraging. Twenty-two of the first 45 apprentices have been hired into salaried positions, and only one has left his employer.
Brendan Lind, LaunchCode's managing director, said the newly hired programmers include a former pizza delivery driver and a former FedEx worker.
Harrell graduated from the University of Illinois in 2006, but some of the other successful applicants never went to college. One was the stereotypical young programmer living in his mother's basement — long on skills but short on credentials.
Harrell's boss, Food Essentials Chief Executive Dheeraj Patri, is thrilled with the way the hire happened. "Without LaunchCode, Adam might not have gotten back into this business, and we wouldn't have found him," Patri said. "He might have chosen another career entirely."
John Leighton, Food Essentials' vice president of engineering, said LaunchCode took a lot of the guesswork out of hiring.
Recruiters tend to send a lot of unqualified candidates, and they charge a fee. LaunchCode screens applicants for specific knowledge, such as computer languages, and tries to gauge whether they'd fit better in a startup or a big company. The service is also free.
"Hiring is trying to find a triangular peg for a triangular hole, and that's the niche LaunchCode is filling in St. Louis," Leighton said.
LaunchCode needs to find a lot more pegs to meet the goal that its founder, Jim McKelvey, set out last summer. McKelvey, who also co-founded mobile payments company Square, said he hoped to create a surplus of programming talent here within two years.
LaunchCode organizers quickly found more than 100 companies willing to hire apprentices, but they rejected most of the 500 would-be programmers who applied. "We are being somewhat selective," Lind said.
In an attempt to increase the pool of applicants, LaunchCode started an introductory programming course in January. Lind said at least 250 people are taking the class, down from about 800 who attended an introductory meeting. Some will be ready for apprenticeships when they finish the course this spring, he said, and others will require more training.
Until it can place more people in programming jobs, LaunchCode remains a big experiment. Harrell is just one of its data points, but definitely a positive one. "I told them I was looking for something small and fast-paced, and that's where they placed me," he says.
Food Essentials has gone from three employees in 2012, when it moved here from Chicago as an Arch Grants winner, to 17 full-timers now.
It has raised $800,000 in capital and has landed an important contract with the Food and Drug Administration.
If playing poker once seemed like a fun career, Harrell says being part of an entrepreneurial company is even better.