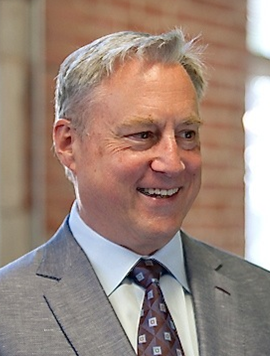 St. Louis doesn't lack for high-potential technology startups, but what it hasn't had is a big-money exit.
This town hasn't seen a medical or technology company go public since Stereotaxis in 2004, and local companies haven't been on the receiving end of any multibillion-dollar acquisition offers from the likes of Facebook and Google.
That doesn't keep some entrepreneurs from dreaming. At Thursday's InvestMidwest event in St. Louis, exit strategies played a prominent role in the 10-minute pitches that 44 entrepreneurs made to an audience of venture capitalists and other investors.
Bryan Jefferson, president of SmartCare Consultants in St. Charles, flashed a slide that mentioned General Electric, Johnson Controls and other big technology companies.
"We are looking to be an acquisition target for this list here within the next five years," he said. "Companies of this size have stopped innovating technology and have begun purchasing it."
SmartCare sells sensors to monitor the safety of nursing home residents. It hopes to raise $1.3 million to expand its marketing.
Other entrepreneurs' exit timelines were more aggressive. Harry Arader, chief executive of Apse, said he expects to be "close to an exit" by 2016, and listed a series of recent technology acquisitions by Monsanto and other agricultural companies. His St. Louis firm (pronounced "app-see") has a technology for making genetic material that can be sprayed on plants to improve their herbicide tolerance or insect resistance.
Such biochemical pesticides are more cost-effective than creating genetically modified organisms, Arader said. He has run successful startups in Chicago and Cambridge, Mass., and he thinks St. Louis is the ideal place to pursue this one.
"I think this is the most exciting fundraising environment in the U.S. for ag in particular, and one of the most exciting in the Midwest for life sciences in general," Arader said.
Such sentiments were common among the St. Louisans who were seeking money on Thursday, and an impartial observer could discount their optimism as being self-serving. Early stage companies here did raise $380 million last year, though, and InvestMidwest organizers said the investor turnout was the highest in recent years.
Christine Walsh, director of InvestMidwest, estimated that 100 venture capitalists and wealthy investors were among the 300 people listening to entrepreneurs' pitches.
Renee Park of High Peaks Venture Partners was one of a dozen New York investors who flew here for the event.
"I came in with no expectations, and I've seen good, quality companies," she said. "I didn't realize there was so much of a technology scene here."
That scene needs constant infusions of capital, and the 44 InvestMidwest presenters were looking for a total of at least $107 million. Sixteen of the companies are based in St. Louis; the others are as close as Columbia, Mo., and as far away as San Francisco.
InvestMidwest, a 14-year-old event that alternates between St. Louis and Kansas City, has helped companies raise more than $1 billion over the years. It's a testament to the region's resilience, Walsh said, that the event held its own during the recession and is now growing again.
"The number of venture investors has diminished nationally," she said. "The good news is that the number of investors who are coming to InvestMidwest has not."
And that's without any exciting IPOs or billion-dollar buyouts to stir up excitement. Imagine how many venture capitalists will flock to St. Louis if a couple of our entrepreneurs' exit dreams come true.