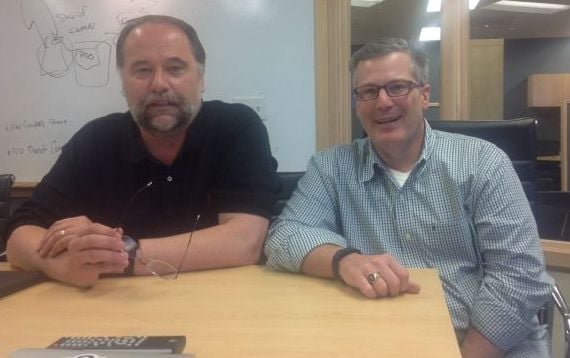 A.D. "Bud" Albers fears that his West Coast attitude was obvious the first time he gave advice to a St. Louis technology company.
It was during a session at which entrepreneurs were learning how to present their ideas to investors. Other attendees made supportive comments or helpful suggestions.
"I asked five or six or seven questions and I guess that was the equivalent here of hammering them," Albers recalls. "I thought I was holding back."
When the entrepreneur thanked him for his candor, Albers realized there was no reason to hold back. This polite Midwestern city could benefit from the brash, hard-nosed style he had developed during 13 years in Seattle, where he built an online business for Getty Images and became executive vice president and chief technology officer of Walt Disney Co.
Albers, who grew up on a farm between O'Fallon and Lebanon, Ill., moved back here in 2011 and quickly became an in-demand mentor to local technology firms. He advised several companies in the Capital Innovators accelerator program, and this month he became chief executive of Click With Me Now, based in Wildwood.
Albers says he got excited about Click With Me Now's technology and likes working with founder Brian Handrigan, whom he met through Capital Innovators.
Albers helped the company attract $2.5 million from angel investors; it will be expanding its nine-person staff soon. Handrigan, who has the title of chief innovation officer, says he's happy to concentrate on technology and leave other headaches to Albers.
Click With Me Now's software enables co-browsing, meaning that it lets users share their Internet experience across different devices. You might use it to advise a friend who's shopping for health insurance, for example, or book a family vacation with relatives who live in different cities.
The company hopes e-commerce companies will adopt it for their call centers. Rather than asking the customer to read an error message out loud, a call-center representative could see it in real time.
Click With Me Now can do that without forcing the consumer to download anything and without compromising any data on either user's computer. Essentially, its software sends a series of snapshots of the Web page the user is seeing.
The firm has signed a large health insurer for a pilot project, and it's targeting other health care, financial services, travel and retail businesses. The sales pitch is that its software can improve customer service and shorten call times without raising any security or privacy concerns.
Co-browsing has the potential to turn Web browsing from a solitary experience to a social one. That's a big idea, one that could someday lead to a large valuation for the company that makes it happen.
Albers thinks Click With Me Now will be that company. "It's truly a technology that, if we do it well, can make a difference in the way people surf the Web," he said.
Ultimately, Albers hopes he can do more for St. Louis by leading one company than by advising several. "I actually think we are building some great companies here," he says, "but St. Louis is in an awkward adolescence as an economy. We have yet to have some of our companies get to the next level."
It's hard to say which of the dozens of tech startups in town will lead us out of that adolescence, but it wouldn't be a bad idea to bet on one led by a brash West Coast refugee.