Manufacturing surge pushes Missouri GDP growth to 5-year high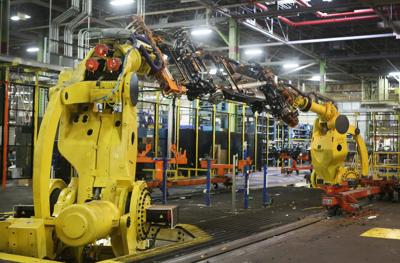 Missouri's gross domestic product grew 5.1 percent in this year's second quarter, the state's best economic performance in more than five years.
Missouri's growth rate between April and June ranked third among the states, trailing only Texas and Michigan.
The durable goods manufacturing sector was the biggest contributor to Missouri's growth in the quarter, according to Commerce Department data. Agriculture was the second-largest contributor.
U.S. GDP grew 4.2 percent, adjusted for inflation, in the same three-month period. It was only the third time in the last 20 quarters that Missouri's growth rate has outpaced the nation's.
The last time Missouri recorded growth higher than 5.1 percent was in the first quarter of 2013, when its GDP rose 7.9 percent.
Illinois's second-quarter growth rate of 3.6 percent ranked 32nd.
Missouri's GDP -- the value of all goods and services produced in the state -- amounts to $316 billion at an annualized rate, or 1.6 percent of the $20 trillion U.S. economy. Illinois' GDP totals $859 billion, or 4.2 percent.