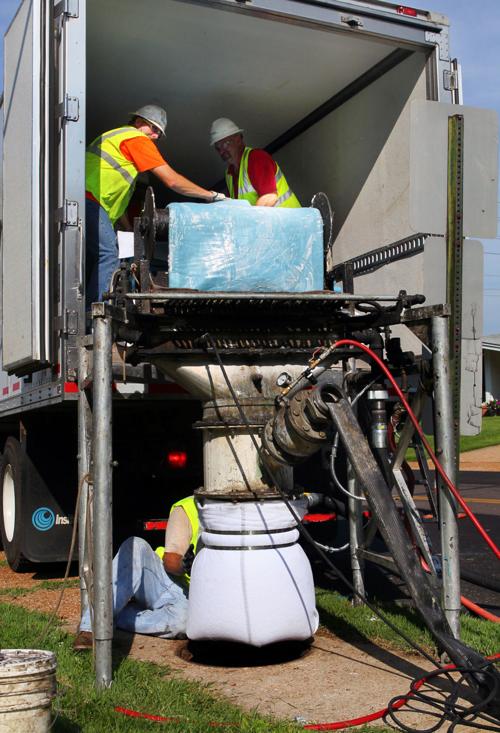 Although it tried for nearly 30 years, Aegion never got much love from Wall Street.
Now, the Chesterfield company is leaving the public stock market for the world of private equity, where some analysts say it will be better off.
"The company has been in the process of restructuring for at least four or five years," said Brent Thielman, an analyst at D.A. Davidson & Co. "When you are going through that process and taking big charges here and there, the underlying results of the business just get lost on the market."
Aegion made its stock market debut in 1991 as a sewer repair company called Insituform Mid-America. Its core business is the same now as then: Fixing old pipes without digging them up, using an expandable material that is cured in place.
Between 2009 and 2013, though, the company pursued an ill-timed diversification strategy. It bought a series of oilfield services firms just before oil prices peaked and began to decline.
Aegion has spent the last six years unwinding some of those deals and selling underperforming international businesses. In the latest restructuring move, the company in December put a refinery-construction business up for sale.
To Stifel Nicolaus analyst Noelle Dilts, the December move signaled that Aegion was ready to move from defense to offense. She figured the shares would rise if investors finally focused on its promising water business instead of the struggling oil and gas side.
Private-equity firm New Mountain Capital, apparently seeing the same potential, agreed to buy Aegion last week for $983 million, or $26 a share. That's near the top of the trading range the shares have been stuck in: They haven't been higher than $28 since 2001.
The rollercoaster stock price reflects uneven financial results. Aegion has lost money in five of the last seven years, partly because of restructuring charges.
Dilts thinks Chief Executive Charles Gordon, who plans to retire after the sale, made the right moves but didn't expect the energy business, which he inherited from his predecessor, to collapse as much as it did. "He started a simplification strategy," she said. "I don't think it was intended to be a six-year restructuring strategy, but they kind of got hit with one challenge after another."
Dilts predicts that the core business will do well in private hands. "I am bullish on the outlook for Aegion," she said. "The benefit of going private is it takes away some of the pressure to get things done quickly, like exiting energy services when that market is at a nadir."
Aegion's sewer repair business is growing steadily, and it is developing a robotic technology for fixing water mains, which are more complicated because of the pressure involved. "That's a large addressable market if they are able to break into it," Dilts said.
She believes Aegion is attractive enough that it could draw a higher bid, perhaps from another private equity firm. If not, New Mountain expects to close its deal by June.
Private-equity owners often have a fix-and-sell strategy, with an objective of cashing out in a few years. Thielman believes New Mountain might eventually return Aegion to the stock market, maybe after combining it with other water-related businesses.
"There's a lot of value in that business, and they have good market share," he said. "Maybe when they return it to the public market, they'll have a business that investors are willing to pay a higher multiple for."