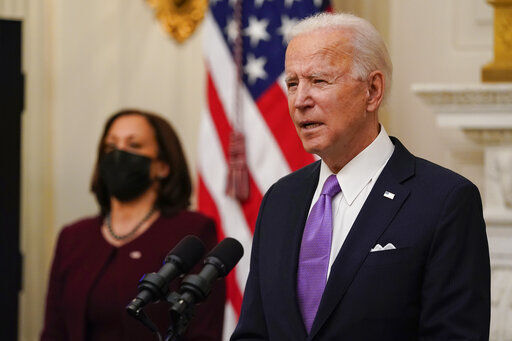 By some measures, the recovering U.S. economy has already had plenty of stimulus, but President Joe Biden comes into office proposing to inject $1.9 trillion more.
His spending plan is on top of $2.3 trillion in relief Congress provided last spring and $900 billion it allocated in December. Even before the latest checks hit Americans' bank accounts early this year, disposable personal income was above pre-pandemic levels.
Based on that, consumers should have plenty of buying power to propel a strong recovery when the pandemic ends. Counting on that pent-up demand, though, runs a couple of big risks.
If the pace of vaccinations doesn't pick up, the pandemic could drag on into the second half of the year. Businesses that have held on to their employees so far might run out of patience and cash, closing their doors and starting a new wave of layoffs.
That's why Chris Varvares, the Clayton-based co-head of U.S. economics for forecasting firm IHS Markit, thinks Biden's spending plan is a good idea.
"Would the economy get to full employment without additional stimulus?" he said. "I'd say the odds are 60/40 that it would, but you look at that 40%, there's a possibility we could hit a tipping point. Four hundred thousand small businesses already have permanently closed. If we don't do something now, does it hit 500,000 or more?"
Much of Biden's plan is designed to help individual Americans remain solvent. He's proposing $1,400 checks for most people, $400 a week in supplemental unemployment benefits, plus rental assistance and child-care subsidies.
The president also proposes to spend $400 billion on managing COVID-19 and distribute $350 billion to cash-strapped state and local governments. He also wants to expand the child tax credit and the earned-income credit, both of which help low-income working families.
Varvares' firm recently predicted that the U.S. economy would grow 4% this year. He estimates that the Biden plan would boost that to around 6%, enough to put the economy close to its pre-pandemic trajectory by year's end.
That full recovery might take six months longer without the additional spending. Shutting off the stimulus tap now would also risk undesirable outcomes like new rounds of layoffs and widespread evictions, foreclosures and business bankruptcies.
"The bottom line is there is a lot of uncertainty," Varvares said. "We don't know what's going to happen with the pandemic, and what's the downside to taking bold action now? Almost none."
Steven Fazzari, a professor of economics at Washington University, argues that the government tightened its purse strings too quickly after the 2008-09 recession, leading to a slow and subpar recovery.
A bold spending plan now, he believes, could help make up for that error. "This is a large response by historical standards, no doubt about it, but the problem is historic too," Fazzari said. "I don't find the total number excessive."
For anyone who worries about the ballooning federal debt, Fazzari suggests paying attention to the bond market. With 10-year Treasury notes yielding just 1.1%, investors clearly aren't worried about runaway inflation or about Uncle Sam's solvency.
One can quibble about parts of Biden's plan — including the politically popular idea of sending $1,400 checks to people who haven't lost any income — and Congress may well make some trims.
Overall, though, spending too much isn't the big danger. Think of Biden's plan as buying insurance against the possibility of some very bad economic outcomes, and it's an insurance policy we can afford.