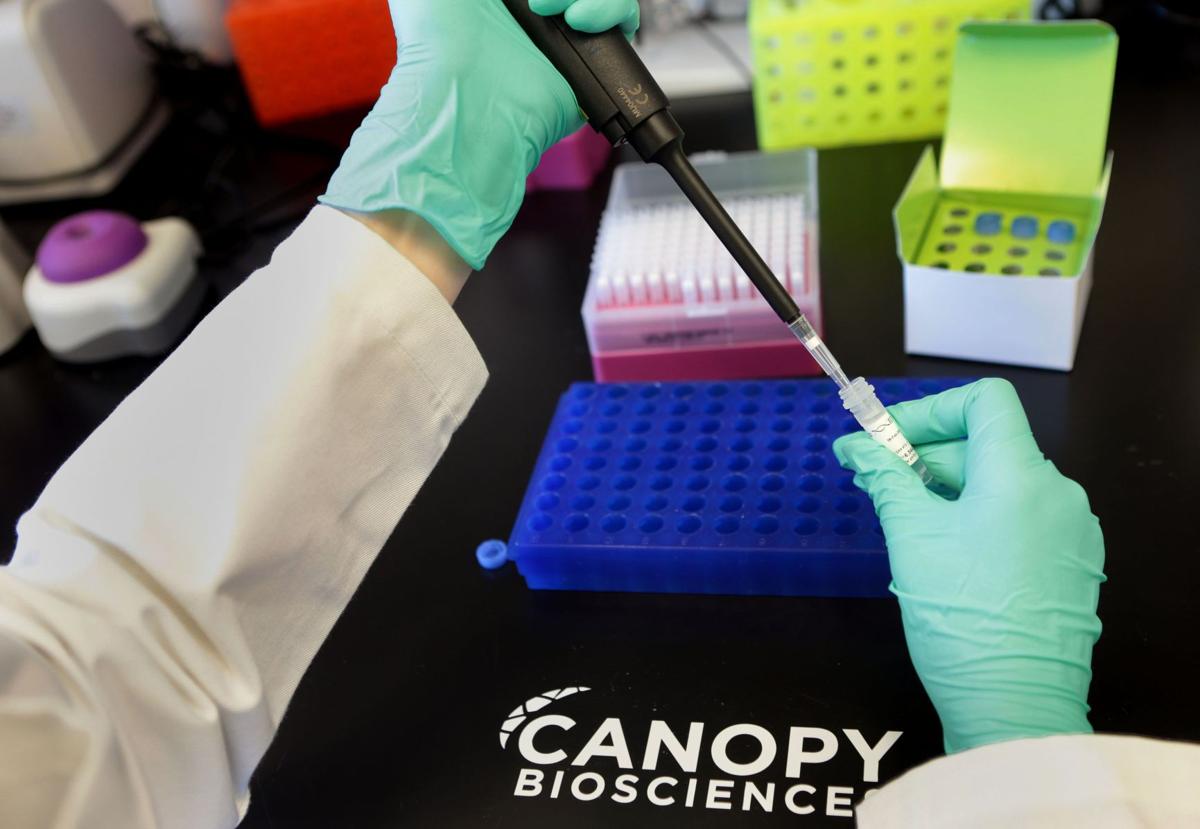 In a bittersweet moment for St. Louis' developing biotechnology industry, one of the area's more promising startups has been acquired by an international scientific instrument company.
Bruker Corp., founded 60 years ago in Germany and now based in Billerica, Massachusetts, announced Friday that it has bought Canopy Biosciences, a St. Louis firm that had grown rapidly through acquisitions of its own.
Edward Weinstein, Canopy's co-founder and chief executive, considers the sale a good outcome. "We're very excited for this exit. We think it's fantastic," he said.
Canopy's backers, though, had higher hopes. They thought it might be one of the first St. Louis biotech startups to deliver truly spectacular gains.
Charlie Bolten, senior vice president at BioGenerator, said investors realized a positive return but "not a home run by any means." BioGenerator, the investment arm of industry group BioSTL, provided seed funding and assembled Canopy's leadership team in 2017.
After rapid growth last year, the coronavirus pandemic altered the firm's launch trajectory. Canopy provides research tools to academic and corporate laboratories, most of which have reduced operations.
"The pandemic hurt our customers quite a bit," Weinstein said. "When you work in a lab, the idea of working from home doesn't work very well."
Canopy first contacted Bruker in search of a distributor for its products. The Massachusetts company "loved our technology," Weinstein said, and "rather than being a distribution partner we wound up in talks about an acquisition."
"A positive exit in the middle of a pandemic is huge," he added, "especially when it means Canopy will still be headquartered in St. Louis and keep our employees here."
Canopy employs more than 50 people worldwide, including 20 at the BioSTL building in the Central West End.
In addition to putting more resources behind Canopy's products, the deal frees up capital to be reinvested in other St. Louis startups.
BioGenerator had put $1.2 million into Canopy. Bolten said he expects to invest the deal proceeds in four startups by year's end.
"In BioGenerator's case, it is critically important that we are returning capital right now," he said.
Some of the new firms — including a pharmaceutical company, an agricultural technology company and a health care data company — are being built with the same talent-first strategy that created Canopy. For each, BioGenerator plans to hire experienced leaders, then find promising technologies to license or acquire.
Canopy's team started with Weinstein and David Smoller, who had sold a company called Sage Labs for $48 million, and former BioGenerator staffer Crystal Winkeler. They licensed several promising technologies, including a gene editing kit from Washington University, then made two acquisitions with the backing of Ampersand Capital Partners, a Boston private equity firm.
One of those purchases, a German company called Zellkraftwerk, makes equipment that identifies proteins within cells. The system carries a six-figure price tag, a tough sale when labs are operating at reduced capacity.
Bruker didn't disclose the purchase price, but it's clear that Canopy sold for less than it once hoped to be worth. "It's great to have an exit and a very mild return," Bolten said, "but COVID-19 really hurt this company."
Although BioGenerator and other investors didn't hit the home run they hoped for, the sale has positives for St. Louis. The biggest may be that a company with $2 billion in sales will learn firsthand about the talent and technology here. If Bruker likes what it sees, Canopy still has the potential for long-term growth.