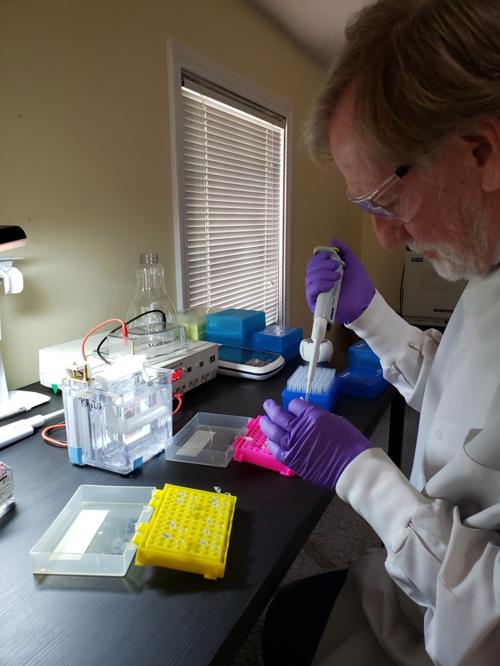 For some people, working from home is as simple as opening a laptop. It was a little more complicated for Charlie Rodi.
Rodi, 68, is the founder of RhoDx, a biotech startup working on a blood test to detect many types of cancer. For several reasons, including his age and the fact that his wife is a health care worker, he decided he should work from home during the coronavirus pandemic.
Usually, Rodi works in the BioGenerator Labs space in St. Louis' Cortex district. He was able to replicate much of his setup in his basement and the loft of his garage, creating two separate spaces to avoid cross-contamination.
All he lacked was some scientific equipment. For a startup with limited resources, access to shared equipment is a key advantage of being in a space like BioGenerator Labs.
Fortunately for him, BioGenerator had some spares in storage. The organization's operations manager, Mike Davies, asked Rodi what he needed.
"I gave him a short list, and most of it showed up," Rodi said. He borrowed a small centrifuge, a shaker for staining DNA gels and an ultraviolet imaging system for viewing them.
The imaging system is an older model, with no USB port for transferring images to a computer, but Rodi uses his phone to take pictures of the display screen. It works well enough.
Other than such minor workarounds, the transition to the home labs has been seamless, and it didn't cost much. "I can't tell you how grateful I am to BioGenerator," he said. "The support is tremendous, and it's coming from a place where there is a real service ethic."
Rodi, a former Monsanto scientist, started RhoDx in San Diego but moved it here last October. San Diego is widely known as a hotspot for biotech startups, but he says St. Louis "has actually been more nurturing to me."
RhoDx isn't the only startup moving costly equipment into a home lab. CoverCress, which is developing the pennycress plant into an oilseed crop, moved a near-infrared machine to an employee's house from the Helix Center in Creve Coeur.
CoverCress Chief Executive Jerry Steiner said the machine, partly owned by BioGenerator, let the company continue its research at a critical time.
Other CoverCress employees also are doing research at home, including growing plants in their basements and chilling seeds in a refrigerator to simulate winter. Steiner said the improvisation kept the project on track toward commercialization next year.
"Seasons only come along once a year," Steiner said. "On certain things it means either we get it done this way or we miss a whole year, which for a startup is devastating."
Charlie Bolten, BioGenerator senior vice president, said he wasn't surprised that Rodi and Steiner found ways to continue their research during a shelter-at-home order. "Flexibility and solving problems, that's the definition of a true entrepreneur," he said.
In RhoDx's case, BioGenerator had already made a grant to the company and lined it up with local mentors. It didn't want a quarantine to derail a promising technology.
"Anything we can do within reason to help, we're up for it," Bolten said. "We're really proud of the creativity we're seeing from the portfolio during this period."
Rodi has received U.S. and European patents while working from home, and is pleased with the progress he's made in the basement and garage. Still, he hopes to move back to BioGenerator Labs soon.
The only drawback to dismantling the home labs, he said, is that his dog will miss having him around.
Daily updates on the latest news in the St. Louis business community.