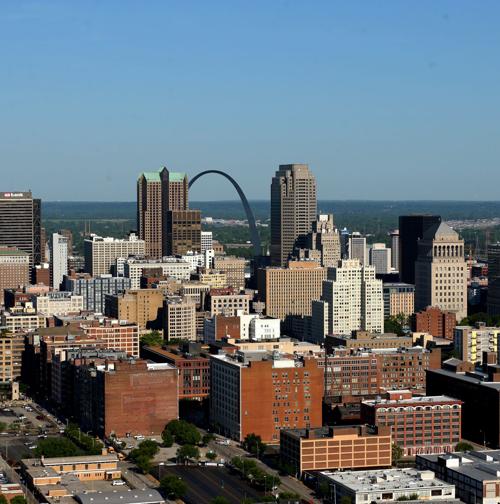 After nearly seven decades of leading campaigns to improve St. Louis, from the development of Busch Stadium II to the building of MetroLink, Civic Progress will no longer play that role.
The group, traditionally composed of the chief executives of the region's largest corporations, is merging with four other civic organizations to form the new Greater St. Louis Inc.
The work of the other four — the St. Louis Regional Chamber, AllianceSTL, Downtown St. Louis Inc. and Arch to Park — will continue to operate under the new group's umbrella, but Civic Progress will essentially cease to exist, a recognition of both the changing nature of St. Louis' corporate community and the need for broader and more diverse civic leadership.
Leaders of the new group emphasized that Civic Progress members aren't stepping back from their commitment to making St. Louis a better place to live and work. Far from it, said Andrew Taylor, chairman of Enterprise Holdings and a longtime Civic Progress member.
"There will be a blending of purpose and effort," said Taylor, who will be the founding chairman of Greater St. Louis Inc. "We are going to have a bigger umbrella, and inclusive economic growth is going to be a key focus."
After researching how other, more successful cities structure their civic leadership, Taylor said, "We looked in the mirror and said we really have to approach things differently."
In the end, that meant letting go of an organization that, over the decades, has been both praised as a model of corporate involvement and criticized for acting like a shadow government with undue influence over public decisions.
Civic Progress began in 1953 when Mayor Joseph Darst, complaining that he "couldn't seem to get anything done in St. Louis," convened eight prominent businessmen to help combat urban blight.
It quickly expanded to include the heads of most of the area's major companies. Civic Progress members spearheaded efforts to pass a city earnings tax in 1954, campaigned to create the St. Louis Community College District in 1962, and created the redevelopment corporation that built Busch Stadium II in 1966.
They also led the push for a tax to fund MetroLink in the 1990s and backed a revitalization of the Gateway Arch grounds in the 2000s.
In its early years, the group's members all ran large companies that were willing to write checks to finance a political campaign or jump-start a development effort.
Now, though, several current members represent what are essentially branch offices of multinational companies, including Anheuser-Busch InBev, AT&T, Bank of America, Bayer, Boeing, Nestlé and Wells Fargo.
Those executives aren't necessarily any less committed to St. Louis than their predecessors, but they may have to go through more layers of approval to write those big checks.
Terry Jones, emeritus professor of political science at the University of Missouri-St. Louis, says corporate mergers are a key to understanding the changing role of Civic Progress. Even CEOs who still run companies based in St. Louis report to boards that are more independent and less clubby than they were decades ago.
Nonprofit organizations also wield more clout: St. Louis University, Washington University and the BJC, Mercy and SSM health systems all are members of the group that once prided itself on being a corporate-only club.
Setting civic priorities, Jones said, "is more difficult as society becomes more diverse, and the business sector itself changes."
Reflecting those changes, Civic Progress has been less visible in recent years. It's been content to play a supporting role, rather than a leading one, in initiatives such as the Forward Through Ferguson commission and the formation of a Metropolitan Pandemic Task Force.
Whether publicly or behind the scenes, Civic Progress has been making bold decisions on behalf of St. Louis for 67 years. Putting itself out of business so the region can move forward is perhaps its boldest move yet.