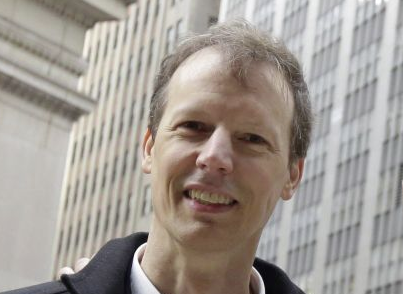 Invisibly, Jim McKelvey's micropayments startup, made the transition from concept to reality last month, but with a new sales pitch.
When McKelvey founded the company five years ago, he talked about it as a way to save traditional media, including newspapers. More than 1,500 publishers signed up as launch partners.
When Invisibly launched a beta version of its platform, however, there was no mention of publishers. The pitch is now aimed squarely at consumers, who are told they can make money from their online data.
Don Vaughn, Invisibly's head of product, characterizes the launch as "a personal data revolution. We're allowing people to make extra money from their data, because Google makes hundreds of billions of dollars from people's data."
When signing up, a user decides how much data to share. Profile details, browser history, financial accounts and Instagram activity are among the items that can be authorized or blocked. Advertisers, Vaughn said, know the volunteered information is more accurate than what they might buy from data brokers.
"Somebody will sell you 50 million people who are interested in football," Vaughn said. "Maybe they went on CNN and read one football story. Click-through rates are low because data is crappy."
Invisibly can sell that same advertiser a list of people it knows are football fans. Maybe they spend money regularly on tickets, or have filled out a survey about their favorite team.
"It's about ethics and quality" for advertisers, Vaughn said. "Basically, it's about consent, but the marketplace for buying your data doesn't exist, and we're creating it."
About 1,500 people are using the beta version of Invisibly. The company plans a formal launch in about two months, when it's confident it can support a large number of users.
When an advertiser pays Invisibly for data, half the money goes to the consumer. Each transaction is a fraction of a cent, but fractions add up: Vaughn estimates that consumers can earn $60 to $100 a year with today's version of the site, and perhaps $1,000 when Invisibly is prominent enough to draw large advertisers.
McKelvey, a co-founder of payments company Square, initially funded Invisibly out of his own pocket. The firm raised $20 million in 2018 from venture capitalists led by Peter Thiel's Founders Fund.
What about McKelvey's goal of creating a better online model for publishers? It hasn't been abandoned, Vaughn said, but has been delayed.
Publishing, he explained, is a complex three-sided market: Publishers sell their content to readers while simultaneously selling their readership to advertisers. Other startups have failed to convince consumers to pay, say, a few cents per article.
"A three-sided marketplace is almost impossible to stand up," Vaughn said. "We had to figure out how to generate the revenue before we could do anything for the publishers, so we had to start with a two-sided marketplace."
Invisibly figures those two sides, advertisers and consumers, can both benefit by cutting out voracious data middlemen like Google and Facebook.
Vaughn, a trained neuroscientist, sees broader benefits in a world where consumers control their own data — including, perhaps, better mental health and a more measured public dialogue. Would Facebook promote so much outrage-provoking content if it lost the financial incentive to do so?
Breaking Silicon Valley's hold on consumers' data won't be easy, but anyone concerned about privacy should be rooting for this 25-person Clayton startup with the audacity to try.