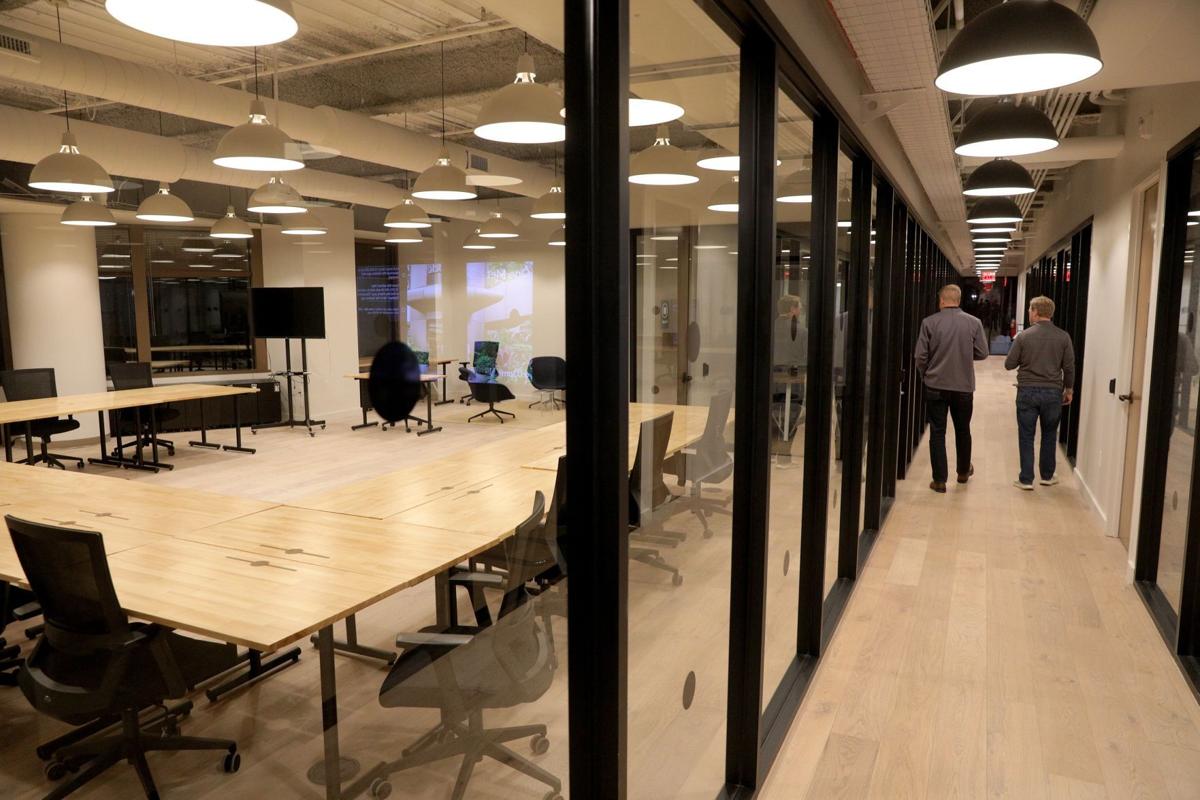 Coworking's amenities, such as community kitchens and densely populated drop-in desks, have become no-nos in the era of COVID-19, putting financial pressure on the shared workspaces.
The world's largest coworking company, Regus Corp., recently filed bankruptcy for 91 affiliates, including units that lease spaces in downtown St. Louis and Clayton.
Other coworking operators in St. Louis have had to make adjustments, including laying off staff, but they see a bright future once the pandemic eases. They think companies, after having employees work remotely for months, will prefer flexible office arrangements over expensive long-term leases.
Even for Regus, the bankruptcies appear to be more of an adjustment than a long-term retrenchment. Regus' Swiss parent company, IWG, boasts 3,300 locations, including six in the St. Louis area, and the Chapter 11 filings affect fewer than 3% of them.
James Feltman, a Duff & Phelps consultant advising Regus, said in a court document that the COVID-19 pandemic reduced occupancy and forced Regus to cut its prices.
Regus asked for rent forbearance, Feltman said, but some landlords refused. The bankruptcy filings, he added, were made to provide a "breathing spell" for lease restructurings and, if those negotiations fail, to "orderly wind down the operation of the applicable centers."
Coworking companies take out long-term leases on a large space, often an entire floor of an office building, and divide it into smaller spaces that they rent for as little as a month. Some rent desks for as short as one day.
The model works when demand for office space is stable or rising, but not when the short-term tenants move home and the long-term landlord still wants to be paid.
Nebula, on South Jefferson Avenue, has lost a lot of drop-in members but held on to most private-office tenants, manager Jason Deem said.
Deem said the last couple of weeks have seen an uptick in daily and weekly memberships, which makes him optimistic. "People are anxious to get back out of the house but waiting before they sign up for a longer term," he said.
Some operators are optimistic enough to expand. TechArtista, which operates in the Central West End and downtown, is adding a space in University City in partnership with Washington University, and a new Serendipity Labs is about to open in Clayton.
Rob Bowman, the local Serendipity franchisee, said that leasing has been "slower than we expected" but that a lot of people have looked at the space. He's hearing both from companies moving out of traditional leases and entrepreneurs ready to leave their home offices.
Christopher Holt, chief executive of TechArtista, has laid off six employees since spring, leaving just him and another manager to run the business. TechArtista shut down for three months, and its cafes, daily-user spaces and downtown event space remain closed.
"People are trickling back in" since the coworking spaces reopened in June, Holt said, and the majority of TechArtista's members have kept paying their fees. "It's a matter of staying as lean as possible during this time so you can be there when things get better," he added.
Real estate brokerage JLL projects that coworking will make up 30% of the U.S. office market by 2030, up from 2.5% now. "You're going to see a lot of tenants that want more flexibility with their space," JLL Vice President Blaise Tomazic said.
JLL counts 600,000 square feet of coworking in St. Louis, compared with 1 million in Minneapolis and 2.9 million in Denver. That leaves plenty of room for local coworking companies to grow, but first they have to survive COVID-19.