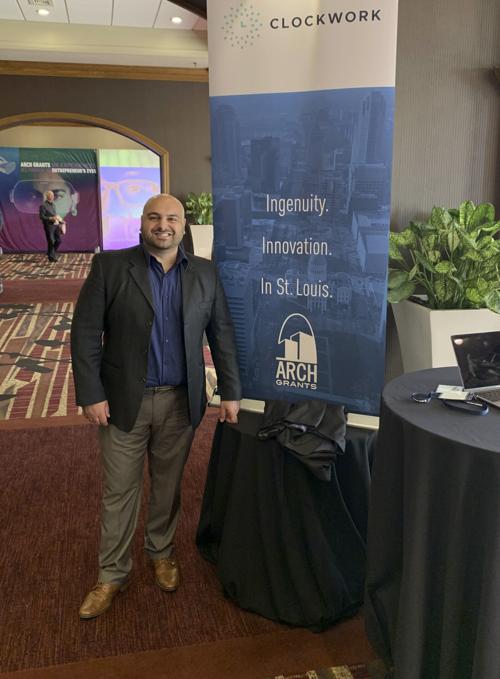 Early this year, Fady Hawatmeh's mother asked if he would ever move back to St. Louis. He said no.
He had started a company in Chicago based on artificial intelligence software, and he remembered the hometown he left in 2012 as a place that wasn't especially supportive of startups.
"I didn't think it had the kind of ecosystem I needed," he recalled recently. "In terms of creative vision and passion, I never thought St. Louis was going to be that kind of place. I thought St. Louis was just a big-company town."
A few months later, though, Hawatmeh decided it would be a useful exercise to apply to Arch Grants, which makes $50,000 grants to promising entrepreneurs who are willing to locate in St. Louis.
He "kind of zipped through the application" and didn't take the process seriously until his company, Clockwork.ai, made it through two rounds of screening. Not until August, when he came to St. Louis for a finalist competition, did he think about what he would do if he won.
"I'm thinking, holy cow, I might be moving back to St. Louis," Hawatmeh recalls. He was one of 20 winners announced Nov. 1, and since the judging he's met people who changed his mind about the potential for startups here.
They include investors who are more supportive than the venture capitalists he encountered in Chicago. "Almost every Chicago group said I should reach $10,000 in monthly recurring revenue and then we'd talk. If I were making $10,000 a month I wouldn't need them."
He rented an office at the Nebula coworking space in south St. Louis and is amazed at how busy he's been. "I still haven't had time to go back to Chicago and pack up my condo," Hawatmeh says. "I literally came here with my weekend bag and had to go buy new clothes."
So Clockwork, which was supposed to be a Chicago company, will grow in St. Louis instead. The firm's nine employees all are relocating here.
Clockwork uses machine learning, a form of artificial intelligence, to turn transaction data into forecasts of revenue and cash flow.
Hawatmeh's introduction to business came while working for his father, Sam, at the old Garavelli's restaurant, a well-loved cafeteria on Chippewa Street in south St. Louis. Even as a teenager, he could see how important financial projections were to a small business.
"Clockwork is something that's been around my entire life," he says. "Those years I was at the restaurant, it was all forming in my head."
Hawatmeh earned a finance degree at St. Louis University and worked as an analyst for Boeing in St. Louis and Seattle. He then moved to Chicago, where he started a consulting firm and worked as chief operating officer of a health care company.
Now, back in St. Louis, he's learning about aspects of his hometown that didn't exist when he moved away. Arch Grants, to name one support organization, was just getting started in 2012.
Jim Eberlin, a serial technology entrepreneur who helped judge the Arch Grants competition, said he was impressed by Hawatmeh's credentials and his vision for Clockwork. "He had a good presentation, with a real simple problem and a simple solution," Eberlin said. "As he continues to scale, this has so much potential."
Emily Lohse-Busch, the executive director of Arch Grants, said the organization also looks for entrepreneurs who will be a good fit for St. Louis. "And we always look for someone who is going to make their mom happy," she quipped.
Mission accomplished there: Hawatmeh's mother is elated that her son changed his mind.