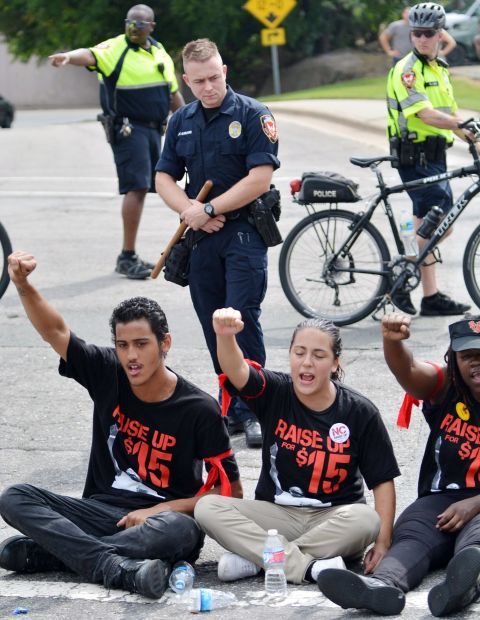 If the unions behind last week's fast-food protests really want to organize the nation's burger flippers, they've chosen a tough target.
The fast-food industry has high turnover, low profit margins and plenty of close substitutes. It's difficult to organize workers who hold their jobs, on average, less than a year.
"Most McDonald's workers are low-skilled, and have a very high turnover rate," says Harry Holzer, a labor economist who's professor of public policy at Georgetown University. "These folks are easy to replace, especially in this kind of job market."
If fast-food workers did form a union, they'd have a hard time squeezing more money out of franchise owners whose average profit margin is 3 percent.
The restaurants could pass the higher labor costs on to consumers, but how many of us really need a daily fast-food fix? If prices go up, customers can buy their burgers from other restaurants or grill them at home.
James Sherk, senior policy analyst at the conservative Heritage Foundation, examined six studies on fast-food price sensitivity. On average, they found that for every 1 percent increase in price, unit sales fall nearly 1 percent.
That's not good news for people who argue that workers can earn a living wage if we all pay a little more. In the real world, establishments that charge more will sell fewer burgers, which means they'll need fewer workers.
The Service Employees International Union, which organized Thursday's protests, seems to recognize the challenges this industry poses. Mentions of traditional union bargaining were far less common than the "Fight for $15" theme, which refers to a political effort to raise the minimum wage to $15.
Jake Rosenfeld, an associate professor of sociology at the University of Washington, argues in a book called "What Unions No Longer Do" that the declining U.S. labor movement largely abandoned its role as an advocate for the poor and downtrodden.
The fast-food protests, he says, look like a bold attempt to reclaim that role.
"That could legitimize unions to the majority of American workers who have no experience with unions," Rosenfeld says. "These more public campaigns are a good way to counteract the image that unions are self-interested organizations only out to protect their own members."
The problem is that if the SEIU doesn't succeed in organizing the fast-food industry, its members get no direct benefit from the campaign. Most union members already earn far more than the minimum wage.
"It's costing them money, and the money will run out at some point without new dues-paying members," Rosenfeld says.
It's something to ponder: If cities, states or the federal government raise the minimum wage to $15 an hour, as the protesters want, will low-wage workers flock to join unions out of gratitude?
Or would higher wages change the fast-food business so dramatically that many of these workers are no longer needed?
"If you had a major increase in costs, you would certainly create an lot of incentive for the business to automate faster," Holzer says.
Some restaurants already have self-service kiosks, and smartphone ordering isn't far away. For the kitchen, a California company called Momentum Machines advertises an automated system that produces 360 burgers an hour, complete with buns and tomato slices.