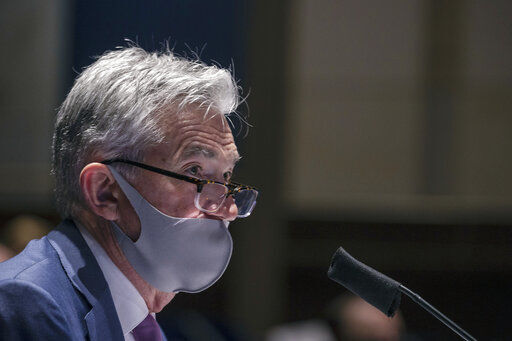 The Federal Reserve, having fallen short of its 2% inflation target for more than a decade, has decided to give itself a mulligan.
In a subtle but significant change, the central bank said last week that it will aim for inflation "that averages 2% over time." When inflation has been persistently below the target — as it has been since 2008 — the Fed promised to tolerate price increases of more than 2% for a while.
The statement is vague. It doesn't specify how far above 2% is considered acceptable, or how long a period will be used to compute average inflation.
That leaves plenty of wiggle room, which seems to be the point. "It's vague on purpose, because they don't want to pin themselves down," said Scott Colbert, chief economist at Commerce Trust Co. "But they are telling us they are willing to let the economy run hotter than they would have previously."
Rik Hafer, an economics professor at Lindenwood University, sees the change as more symbolic than real. "It says policy is at best effective over a longer period of time," he said. "I don't think there's ever been any expectation that inflation had to be a specific number all the time."
In practical terms, the Fed is signaling that it will keep short-term interest rates near zero for the foreseeable future. Under its old policy, it would have started raising rates when it saw inflation hit 2%. Now, it will tolerate inflation of 2.5%, perhaps even 3%, for a while to make up for some of those below-target years.
The change will have little effect in the near term. Fed officials had already promised to keep rates low until the job market could recover from the damage caused by the COVID-19 pandemic.
Longer term, however, the new policy raises a couple of questions. Will the Fed be able to get inflation up to 2%, even on average? And if central bankers do tolerate above-target inflation for a while, can they bring it back down?
On the first question, the recent past doesn't inspire confidence. Using the Fed's preferred measure, inflation has averaged just 1.6% since 2008, a period that included seven years of zero interest rates and plenty of other stimulus measures.
Colbert thinks the Fed has a better chance of pushing inflation to 2% or higher than it did after 2008, because it acted decisively as soon as the pandemic hit. "Monetary policy has nipped deflationary forces in the bud," he said. "The chances of getting back to 2% are greater because of all the actions they've taken."
Powerful trends, however, will continue to hold prices in check. Americans are likely to save more and spend less as the population ages. E-commerce has made shoppers more price sensitive, and global supply chains let U.S. consumers benefit from low wages in developing nations.
Over the last decade, Fed officials frequently predicted that inflation was about to rise to the target level, but it never did. Simply saying they'll tolerate a little more inflation isn't going to make it happen.
Could the risk be in the opposite direction, that the new policy leads to too much inflation rather than too little? Such fears have pushed the price of gold to record levels recently, but Colbert thinks the Fed will be able to step on the inflation brakes when necessary.
That decision, though, is probably years away. For now, the Fed has made clear that its foot remains firmly on the accelerator.