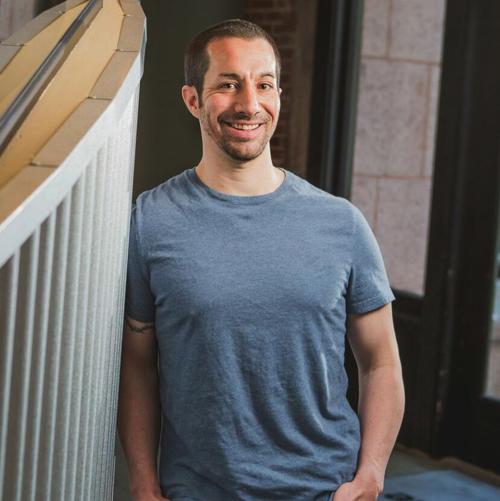 Gabe Lozano, clad in jeans and a T-shirt, doesn't fit most people's image of a business leader. His small technology firm, LockerDome, is hardly a household name.
Yet he may have just the business vision St. Louis needs. In a recent speech that's generating a lot of buzz, the 32-year-old entrepreneur called on St. Louisans to turn their attention away from big construction projects and toward investments in people.
Lozano says he's not trying to stir up controversy over the $380 million Gateway Arch grounds renovation or the proposed billion-dollar football stadium. He isn't opposed to amenities that make St. Louis a more attractive place to live.
His point is simple: Those amenities are no substitute for an economic development strategy. St. Louis was the 10th-largest U.S. metropolitan area in the 1960s. Today, it ranks 19th.
What we need, Lozano says, is a big goal and a strategy for reaching it. Since the software industry is what he knows and loves, he suggests we try to attract 1,000 technology companies, with 10,000 employees, to downtown St. Louis by 2025.
Why downtown? In a dense ecosystem, investors find more new ideas and talented people find more jobs that suit them. The Washington Avenue corridor already is home to 200 technology startups, so it has a head start on achieving that kind of density.
Where will the 10,000 workers come from? KPMG announced this week that it's bringing 175 tech jobs downtown, but big-company victories will be few and far between.
We'll have to find those workers one at a time — by attracting them, training them and convincing them to stay. Fortunately, St. Louis already has organizations that are suited to those tasks.
Lozano suggests turning Arch Grants, which awards $50,000 grants to promising startup businesses, into a fellowship that would bring bright young people to town to work on interesting projects. LaunchCode, an apprenticeship for computer progammers, could train high-school students in impoverished areas. GlobalHack, a programming competition that Lozano co-founded, could create a high school hackathon league to get students excited about software careers.
"We have some interesting initiatives right now," Lozano told me. "When you collect them around a common mission, they can have more impact than if they remain in their own silos."
If the groups he mentioned can't take on the new programs, Lozano says, perhaps others will. "If they don't do a fellowship program within a reasonable period of time, I'm going to do it myself," he adds.
Ginger Imster, executive director of Arch Grants, says she emailed Lozano to express support for his message. "I like how he thinks about Arch Grants," she said, adding that she has described the awards as "a merit scholarship program for the St. Louis region. We're very focused on attraction, retention and development of talent."
She wants to hear more about Lozano's proposed fellowship program before committing to any specific role, but, Imster adds, "I think Gabe has started an essential conversation."
That's exactly what Lozano wanted to do. "The reason I'm an entrepreneur is the same reason I'm doing this," he says. "I am impatient and I'm OK with speaking up when something doesn't make sense."