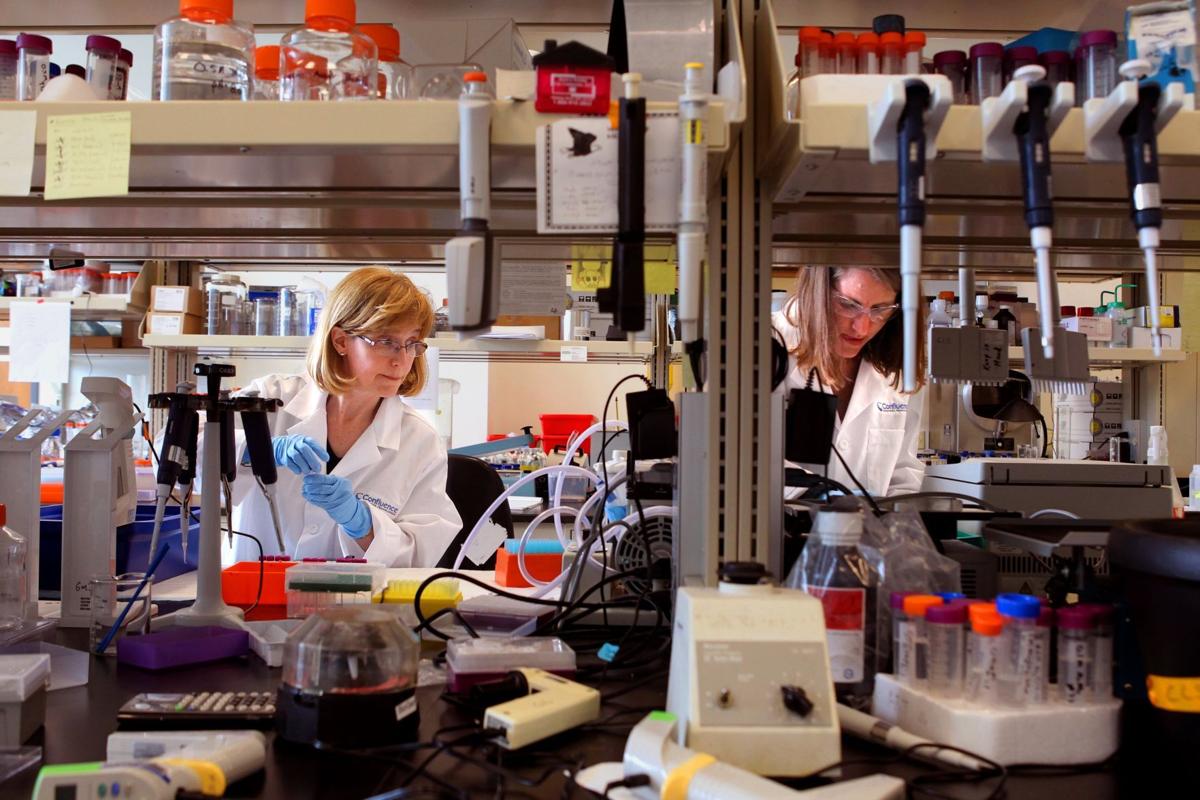 When shares of Pennsylvania-based Aclaris Therapeutics rocketed upward last week, the credit belonged to a drug developed in a St. Louis laboratory.
Aclaris said Jan. 19 that its arthritis pill, known as ATI-450, appeared safe and effective in a small clinical trial. Its stock price tripled, adding nearly $600 million to the company's market value.
The positive news wasn't just a shot in the arm for a biotech company that had mostly disappointed investors in recent years. It also was validation for a strategy that industry group BioSTL launched after Pfizer eliminated 800 jobs here in 2009.
BioSTL, then called the Coalition for Plant and Life Sciences, scrambled to keep as many of those scientists as it could in St. Louis. It especially wanted to keep teams like the one led by Joseph Monahan, who had worked on the blockbuster pain drug Celebrex and was studying new ways to treat inflammatory diseases.
BioGenerator, BioSTL's investment arm, began talking to Monahan about turning his research into a new company. "We had very little money, and we didn't have any lab space for him, but we had to figure out how we could react to an entrepreneur like Joe and put systems in place to support him," recalled Charlie Bolten, BioGenerator's senior vice president.
BioGenerator put up $50,000 for Monahan to start a company called Confluence Life Sciences, but he also needed a place to work. The group raised $1 million to build out a shared lab space called BioGenerator Labs, and Confluence was the first tenant.
ATI-450, the compound that now has the potential to be a blockbuster arthritis pill, was discovered in that shared lab space in 2012. Aclaris would buy Confluence, now known as Confluence Discovery Technologies, in 2017 and the company now occupies an entire floor in BioSTL's building in the Central West End.
Confluence has 50 researchers in St. Louis, and Monahan, who is Aclaris' senior vice president for research and development, expects that number to grow. "All of our research team is in St. Louis," he said. "One hundred percent of the future of the company is drug candidates that come out of Confluence."
ATI-450 will get a larger clinical trial this year and, if that goes well, a Phase 3 trial in 2023, the final step before seeking Food and Drug Administration approval. Its success is not yet assured, but Monahan is optimistic.
"The level of disease modification (in the recent trial) puts us in the same ballpark as the best drugs out there for arthritis," he said. "The vast majority of projects never make it this far."
The drug might have been developed elsewhere — or not at all — if BioGenerator hadn't pulled together the capital and lab space Monahan needed a decade ago.
Those investments have helped other entrepreneurs too. More than 120 firms have used BioGenerator Labs over the years, and the expanded space that opened in 2019 currently houses 60 startups.
It all started with Confluence, though.
"We designed our whole investment program around the company's needs," Bolten said. "Confluence was the case study for all of it, and this is important clinical validation of the seminal idea that Joe and his team had."
Aclaris' purchase of Confluence included incentive payments if any of several promising drugs make it to market, so Confluence's early investors have a financial stake in ATI-450's success. Any payment BioGenerator gets, Bolten pledges, will be invested right back into helping other entrepreneurs like Monahan.