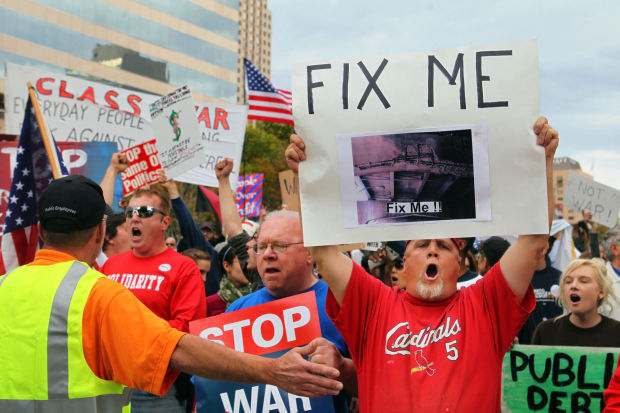 Inequality is hard to talk about in this country.
If you mention the numbers showing that the rich have done well and the poor have not, you're likely to start a shouting match instead of a real conversation.
"Unfair! Immoral!" shout the Occupy protesters.
"Socialism!" shout the right-wing talk show hosts.
One side wants government to divide the economic pie more fairly. The other prefers to adopt policies that will make the pie bigger, and let the scraps fall where they may.
But what if an unequal division of incomes is actually making the pie smaller than it could be? If that's true, shouldn't the fairness advocates and the growth advocates try to find common ground?
That's exactly the case that Steven Fazzari, a Washington University economics professor, makes in a new paper written with research associate Barry Cynamon. "Without shared prosperity, there may be no prosperity" is how Fazzari sums up the research.
The story, in broad terms, is that the economy is struggling because the bottom 95 percent of U.S. households have lost so much purchasing power.
"Business has to sell their output somewhere," Fazzari explains. "If the broad middle class is seeing stagnant wage growth, they're not going to be able to increase their demand for goods and services."
Keynesian economists such as Fazzari believe the economy is operating far below its productive capacity. In the new paper, he and Cynamon say the shortfall is in the bottom 95 percent.
Their incomes started stagnating in the 1980s, but a combination of rising housing prices and increasing debt allowed middle-class consumption to keep rising for a long time.
Then the bottom dropped out. When housing prices fell and no-questions-asked mortgage money dried up, many people had to cut spending sharply.
They still haven't bounced back. For the bottom 95 percent, real personal consumption remained lower in 2012 than it was at the depths of the recession in 2008. Consumption for the top 5 percent grew 17 percent.
To Fazzari, then, any policy aiming to bring the economy out of the doldrums must address the gap between the 5 percent and the 95 percent.
"The demand-generating process we had for 25 years was unsustainable, and we haven't replaced it with anything yet," he says. "The rising inequality we've been seeing for a long time is coming home to roost in the form of a weaker economy."
The middle-class consumption gap is so large — more than $1 trillion a year — that it's hard to imagine a government stimulus program big enough to make a difference. Nor can we expect business investment to take up the slack.
"We need some infrastructure investment, but it's not going to fill the kind of gap we've identified," Fazzari says. "We really need to get consumer spending going at some level."
The question is, how? We don't want to reinflate the debt bubble. The top 5 percent would have to buy a lot of Viking ranges and Mercedes SUVs to fill the consumption gap, so a trickle-down solution is neither plausible nor attractive.
Fazzari favors a minimum wage increase, but the evidence on that policy is mixed at best. It's hard to imagine that it wouldn't at least slow job growth. Perhaps the best we can hope for from Washington is to avoid damaging mistakes like last year's government shutdown.
That, and we could agree that inequality is a problem, even if we can't agree on what to do about it.