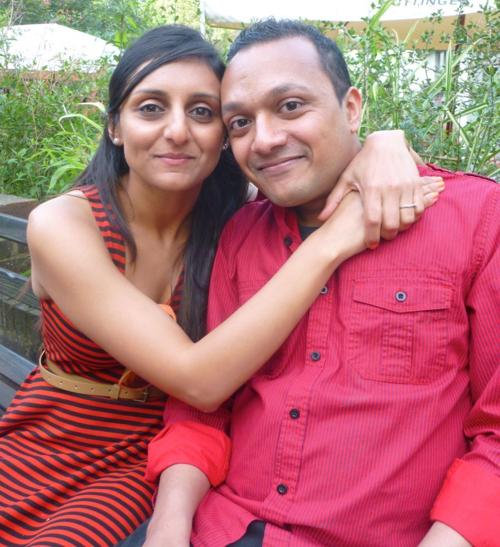 Their office in downtown St. Louis is little more than four walls, two tables and three chairs, but to Amit Kothari and Pravina Pindoria it looks like the promised land.
The couple, newly arrived from London, saw their space in the T-REx building for the first time on Tuesday. They were supposed to be here in July, but instead they've spent six months navigating the U.S. immigration bureaucracy.
Their software company, Tallyfy, won a $50,000 Arch Grant last spring, but the U.S. Embassy rejected the visa applications of its husband-and-wife co-founders. Because Arch Grants winners are required to move to St. Louis, they began to despair of ever receiving the money.
Eventually, with the help of Kansas City lawyer Jeffrey Bell and a letter of support from Sen. Claire McCaskill, Kothari and Pindoria got five-year E-2 visas, reserved for investors who commit "substantial" capital to a business that is "bona fide" and "not marginal."
The process required 200 pages of paperwork and had a Catch-22 quality about it. They couldn't invest more capital without the $50,000, but they couldn't collect the $50,000 without a visa.
"I have to say, they could really reduce the red tape on that," Kothari says.
Bell, who is with the Polsinelli law firm, said the Arch Grants award didn't make the visas a slam-dunk for Kothari and Pindoria, but it did lend credibility. "Certainly that registers as part of an investor visa application, because the business plan has been vetted by a group of well respected people," Bell said.
Even so, the Tallyfy team is arriving in St. Louis six months after most Arch Grants winners. Another winner, from Colombia, is still waiting for a visa.
"We could get into the whole discussion about our immigration system," Bell says. "We need to do better for these entrepreneurs."
The Senate passed a bill in 2013 that would have created a new category of startup visas, a concept that has been endorsed by both Democrats and Republicans. However, the parties remain sharply divided on other aspects of immigration reform.
Kothari found it difficult to fit his technology business, built on intellectual capital rather than physical inventory or equipment, into the archaic immigration rules. "The U.S. government is treating every business like it's a shoe shop," he says.
Still, the Kenya-born Kothari and the British-born Pindoria say St. Louis feels like the right place to build their business. Tallyfy is a new approach to business process management software. It turns every process into a checklist, letting co-workers see at a glance what needs to be done and who is responsible for doing it.
On his second day in the new office, Kothari said he had already lined up a meeting with a large St. Louis company and was impressed with the collaborative atmosphere at T-REx, a building that's home to more than 100 technology companies.
The couple's most impressive encounter in St. Louis, though, came at a supermarket, where a stranger saw them laboring with heavy bags and offered them a ride home. "This was the American dream," Kothari recounted. "Not only would something like this not happen in London, but it happens to us on the first day here."
So, thank you, random St. Louis supermarket shopper. With one kind gesture, you managed to erase any lingering resentment over six months of American bureaucratic red tape.