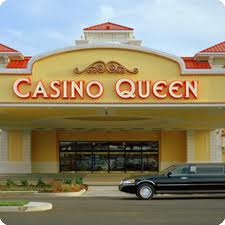 Ever since Illinois implemented a smoking ban in January 2008, the state's casinos have been lobbying for an exemption. As Kevin McDermott reported in March, the industry blames the ban for as much as $800 million in lost revenue.
Now an academic study, funded in part by Missouri Group Against Smoking Pollution, says the ban didn't cost them a cent. The article in the journal Tobacco Control carries a provocative title:
Exempting casinos from the Smoke-free Illinois Act will not bring patrons back:  They never left
The study's authors, led by Jenine K. Harris of Washington University's George Warren Brown School of Social Work, analyze casino admissions in Illinois and four neighboring states in 2007 and 2008, before and after the ban took effect. They control for economic conditions by including each state's unemployment rate and building-permit activity in their equation.
The economic part was important, the authors note, because a nationwide recession began in December 2007, almost simultaneously with the smoking ban. In the end, they end up blaming all of the casinos' lost business on the recession:
Illinois experienced a steeper recession than neighboring states ....

When economic conditions were accounted for, casino admissions in Illinois did not decline significantly relative to neighboring states, nor did admissions increase in neighboring states. Reductions reported in Illinois casinos are therefore not due to patrons leaving Illinois casinos for neighboring states where they could smoke.
The study contradicts a 2009 assessment by the Illinois Commission on Government Forecasting and Accountability, which concluded:
It appears that the indoor smoking ban and Illinois' lack of gaming expansion in recent years (especially as compared to other states) is likely why other states have not struggled like Illinois.
The commission didn't take economic conditions into account.
Given that Illinois is considering a major expansion of gambling to raise revenue, we probably haven't heard the last word on this issue. The study may also be influential in Missouri, where St. Louis and St. Louis County currently have smoking bans that exempt casinos. And when St. Charles County Executive Steve Ehlmann recently blocked a smoking-ban referendum, he criticized a provision that would exempt Ameristar Casino from the proposed ban.