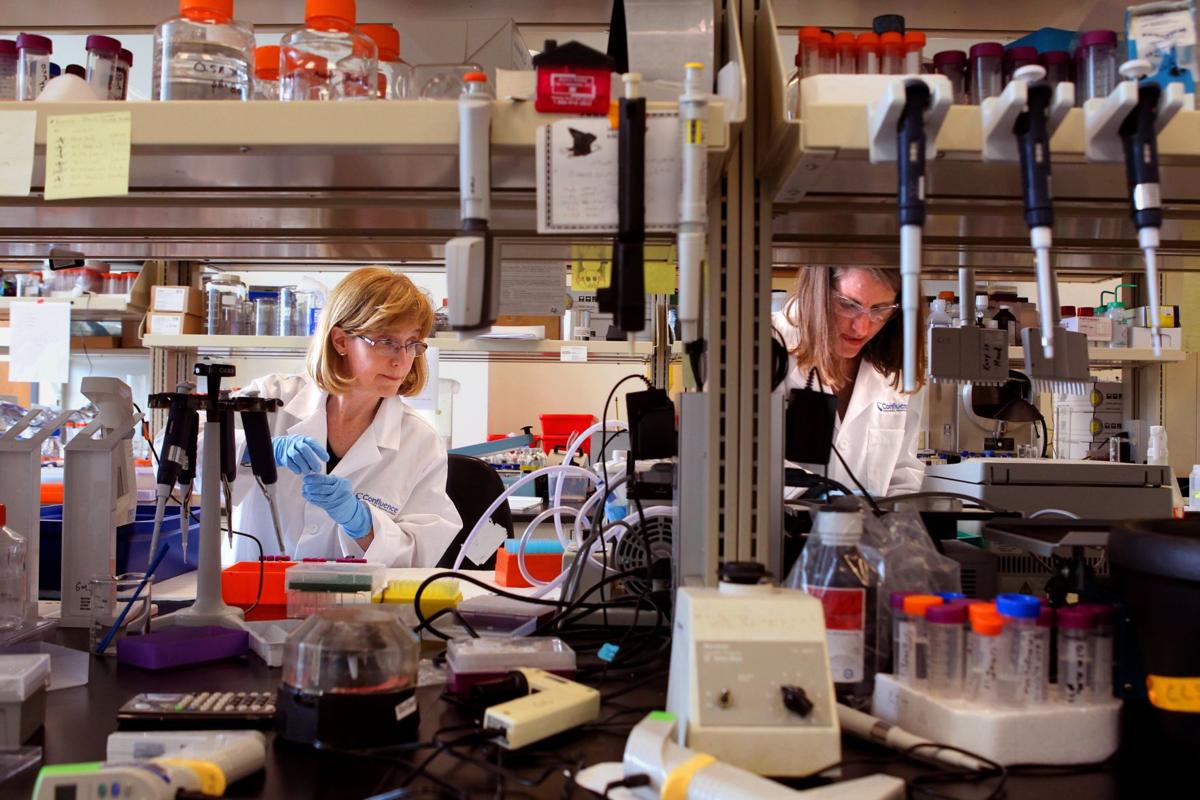 The notion that the U.S. has become a nation of haves and have-nots doesn't just apply to individuals. It also applies to cities.
A new report finds that the most advanced, innovative industries, such as aerospace and software and pharmaceuticals, have created 90% of their new jobs since 2005 in just five metro areas: Boston, San Diego, San Francisco, San Jose and Seattle.
The report's authors are calling for an intense federal effort to spread that innovation around, and they see St. Louis as a place that could benefit from such a strategy.
"St. Louis is exactly the kind of community we should be looking at as a candidate for this kind of innovation surge," says co-author Mark Muro, a fellow at the Brookings Institution. He's not encouraging the government to send research dollars to the middle of nowhere, but says St. Louis' universities, its specialization in agricultural technology and its science-savvy workforce make it a place that could absorb more funds.
The report was published Monday by Brookings and another think tank, the Information Technology & Innovation Foundation. They're making recommendations Wednesday to senators Chris Coons, D-Del., and Jerry Moran, R-Kan., who co-chair the Senate Competitiveness Caucus.
Muro says the innovation divide, with a few superstar cities on one side and the nation's heartland on the other, isn't healthy. Seattle and San Francisco endure traffic jams and sky-high housing costs while St. Louis and Detroit are left with acres of abandoned properties.
Workers who live far from the few tech hubs feel like economic growth has passed them by, which exacerbates political divisions.
Moreover, market forces don't seem capable of correcting the problem. "The fundamental, self-correcting nature of the economy seems to have changed," Muro says. "The agglomeration-driven, talent-driven, high-tech economy has led to what I call a winner-take-most dynamic."
The one entity that could spread the wealth, the authors say, is the federal government. They propose designating eight to 10 metropolitan areas as regional growth centers, then directing up to $750 million a year in new federal research funds to each along with workforce training, financing programs, tax breaks and regulatory relief for businesses in the designated areas.
The initiative would cost $100 billion over 10 years, but Rob Atkinson, president of the Information Technology & Innovation Foundation and co-author of the report, says he's talked to members of Congress who like the idea.
For critics who say the proposal amounts to picking winners and losers, the authors point out that the government has always done that. Cold War-era military contracts helped create Silicon Valley, and a federal environmental institute helped put North Carolina's research triangle on the map.
The report envisions a competition in which metro areas would outline their advantages and propose new state and local programs. "We want places to invest and reform and do things better so they can leverage the federal resources," Atkinson said.
St. Louis would face plenty of competition. The report identifies 35 potential innovation hubs, as small as Lexington, Kentucky, and as large as Chicago.
To stand out in such a competition, St. Louis would have to act as a cohesive region. The report suggests that winning places should have "strong regional collaboration within the metropolitan area so that all jurisdictions work together."
That's been a problem here in the recent past, but the possibility of a big federal research infusion should be enticing enough to get our leaders all pulling in the same direction.