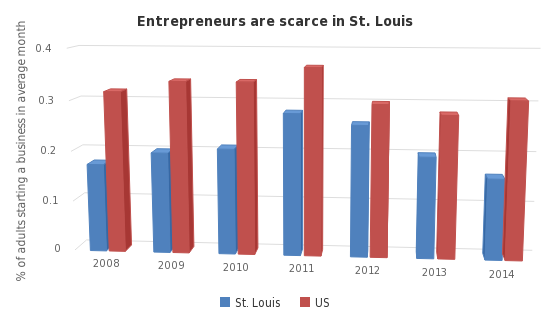 St. Louis has plenty of entrepreneurial buzz these days. It seems infectious in places like the T-Rex technology incubator downtown or the Cambridge Innovation Center in the Central West End.
Our numbers, however, don't match the buzz.
The Kauffman Foundation, which studies entrepreneurship, just updated its index of startup activity and St. Louis ranks 38th — third from last — among the nation's 40 biggest metropolitan areas.
In other words, no matter how much we tout our accelerator programs, cool co-working spaces and improved access to capital, St. Louisans still aren't launching many new businesses.
The startup rate — the proportion of adults who start a business in an average month — is just 0.16 percent in metro St. Louis, far below the national average of 0.31 percent. We also ranked below average on the two other numbers that go into the Kauffman index: a measure of startup density and an indicator of whether firms are being founded out of opportunity or necessity.
The main reasons for our dismal performance are familiar: We're an aging Rust Belt city with relatively few immigrants. Immigrants are almost twice as likely as native-born Americans to take the risk of starting a business, and a slow-growing population means fewer opportunities to start shops and restaurants in new neighborhoods.
The cities ranking below St. Louis — Milwaukee and last-place Pittsburgh — share similar demographics. Even Minneapolis, with its fast-growing medical device industry, can't escape the Midwestern malaise. It ranks 37th, just ahead of St. Louis.
With few exceptions, the nation's startup hotbeds are in the South and West. Montana, Wyoming and North Dakota, the three top-ranked states for startups, all benefited from the oil and gas boom. (Missouri ranked 27th among the states, down from 18th a year ago. Illinois climbed to 26th from 35th.)
So, is geography destiny? Are we fooling ourselves to think that new biotech and mobile-software firms can move the needle on our Rust Belt economy?
Dedric Carter, Washington University's associate vice chancellor for innovation and entrepreneurship, doesn't think so. He believes St. Louis' pro-entrepreneurship efforts are simply too new to show up in Kauffman's calculations.
"We are planting seeds and tending them, but we still have to watch them grow," Carter said. "It's not surprising to me that in a one- or two-year period we are in the bottom ranks."
The dismal ranking is, however, a contrast with other favorable mentions of St. Louis. Popular Mechanics, for example, recently called us the best startup city in America.
The magazine took note of things like the Arch Grants program and the area's many co-working spaces. Carter says Popular Mechanics was looking for leading indicators that suggest future growth, while Kauffman was examining the harsh reality of here and now.
"The investments that we've made have not yet had a chance to bear fruit in an index like this," he said.
If nothing else, the index should serve as a reality check, reminding us not to declare victory based on buzz alone. Places like T-Rex and CIC didn't exist five years ago, nor did sources of money like Arch Grants, Capital Innovators and Cultivation Capital.
They've created activity that wasn't here before and changed St. Louis' image as a big-company town where it was tough to start a business. That's progress, but the numbers say we still have a long way to go.