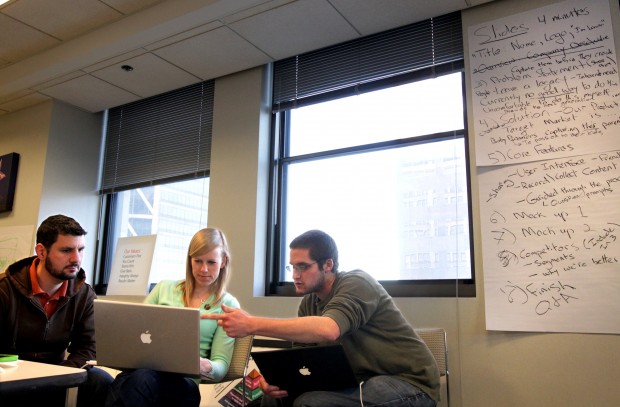 For a couple of years, the support system for entrepreneurs in St. Louis has felt like a series of experiments. We'd see a mentoring program here, an incubator space there, a new source of capital now and again.
Last week, a real estate deal made clear that some of those experiments are becoming permanent institutions. T-REx, a downtown incubator for technology entrepreneurs, bought the Lammert building on Washington Avenue and will move there after doing some fixup work.
The two-year-old T-REx had grown to about 70 companies, but the closing of the Macy's store created uncertainty about the future of its old home, the Railway Exchange Building.
At the Lammert, it will have room to add 50 more companies, a conference center and maybe some new experiments like an incubator for digital design firms. The purpose-built space should be a step up from the Railway Exchange offices, where early T-REx tenants scavenged for furniture that department store executives had left behind.
The St. Louis Regional Chamber, the Partnership for Downtown St. Louis and city government provided the money to open T-REx two years ago. Jay DeLong, the chamber's vice president for new ventures, said the incubator's success came more from fortunate timing than from brilliant planning.
"T-REx has been successful not because of our marketing or management acumen," he said. "We could hardly not be successful offering cheap space to entrepreneurs when there are so many entrepreneurs who need space."
Still, the existence of the T-REx space created a focal point for the downtown technology scene and a natural venue for events like Startup Weekend, which is coming up on Nov. 15.
Other experiments-turned-institutions include Arch Grants, which handed out its second batch of $50,000 checks this summer, and the Capital Innovators technology accelerator, which is taking applications for its sixth group of companies.
By last year, DeLong says, St. Louis had created at least one new institution to meet each basic need of an entrepreneur: mentoring, office space and money. Recent additions such as SixThirty, an accelerator program for financial technology firms, have made the ecosystem more robust.
Entrepreneurs soon will have another choice for incubator space. Cambridge Innovation Center, a Massachusetts-based firm, recently signed a lease for an incubator in the Central West End's CORTEX district. It says it has room for 100 technology and medical firms.
More is better, DeLong says: "There's going to be some throwing of elbows, but the net result is that entrepreneurs are going to be better off as all these entities compete to serve them."
If there's one element that's still needed to ensure the permanence of this entrepreneurial ecosystem, it's money. Earlier this year, a regional study declared that St. Louis needs $500 million to fund its entrepreneurs over the next five years.
Some people want Missouri to provide some of that money. Arch Grants founder Jerry Schlichter said he supports a proposal in the Legislature that would help fund competitions like Arch Grants in various parts of the state.
More broadly, the chamber is lobbying for a big increase in funding for Missouri Technology Corp., which supports early-stage businesses. The Legislature allocated $5 million this year; DeLong would like "something north of $30 million" to keep pace with what nearby states are doing.
That's a big request in a state that's historically been stingy about backing entrepreneurs. Chances are, St. Louisans will have to keep experimenting with their own solutions, and finding other sources of money for the experiments that work.