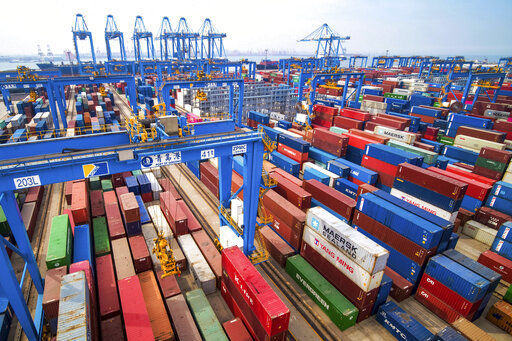 President Donald Trump's tariffs were supposed to make American factories great again.
Instead, a new Federal Reserve study says, they've harmed American manufacturing, destroyed jobs and raised prices for consumers.
Moreover, the damage won't be undone by the president's phase one trade deal with China. The 25% tariffs he imposed in 2018 on a wide range of components and other manufacturing inputs will remain in place.
Aaron Flaaen and Justin Pierce say their study provides the first comprehensive look at how the tariffs affect U.S. manufacturers. That's important because tariff advocates sometimes argue that any pain caused to consumers, financial markets or even the economy as a whole is necessary to maintain a robust manufacturing sector.
Trouble is, the tariffs clearly are hurting the sector they were supposed to help.
Flaaen and Pierce look at three ways the tariffs might affect U.S. manufacturers. One is positive: The tariffs punish foreign competitors, allowing the U.S. firms to gain market share.
The other two are negative. U.S. manufacturers pay more for parts and raw materials they import, and they face retaliatory tariffs from China and other trading partners.
The study concludes that the negatives far outweigh the positive. "We find the impact from the traditional import protection channel is completely offset in the short run by reduced competitiveness from retaliation and higher costs in downstream industries," Flaaen and Pierce write.
Tariffs imposed in 2018 reduced manufacturing employment by 1.4%, they estimate.
U.S. manufacturers of hard drives and other magnetic media, leather goods and motor vehicles were among those hurt most by foreign retaliation. Makers of aluminum and steel products and structural metals saw their input costs rise rapidly.
The result shouldn't be surprising. Anyone who's studied economics should know that tariffs make the world poorer by reducing trade. That's why nations have been reducing tariffs since World War II and why, prior to 2018, the average U.S. tariff on Chinese goods was just 3%.
Even after the phase one agreement reached last month, the average tariff on Chinese goods will be 19%. The deal avoided tariffs that Trump had threatened to place on Chinese-made phones, toys and other consumer goods, but leaves tariffs in place on manufacturing inputs.
The deal, in fact, shows the ineffectiveness of Trump's tariff strategy. China made only vague promises about reforming its practices on intellectual property and technology transfer, which were the U.S.'s biggest complaints used to justify the tariffs.
The main win that Trump's been touting is a promise to buy U.S. agricultural goods, but this simply restores the situation that was in place before 2018, when China was a major buyer of U.S. pork and soybeans.
Essentially, Trump let U.S. farmers be a pawn in his trade war and paid them $16 billion in subsidies to help offset their losses, only to declare a truce that leaves the big issues unresolved. (Farm groups, by the way, are skeptical about how fast China will deliver on its purchases.)
Now we have solid evidence that manufacturers, on whose behalf the tariffs were imposed, are being hurt too. Flaaen and Pierce acknowledge that their study is only a short-run analysis and that the impact may vary as manufacturers change their sourcing arrangements in response to the tariffs.
The study makes clear, however, that in an era of global supply chains, it's way too simplistic to think you can boost manufacturing in one country by imposing tariffs on another.
Daily updates on the latest news in the St. Louis business community.