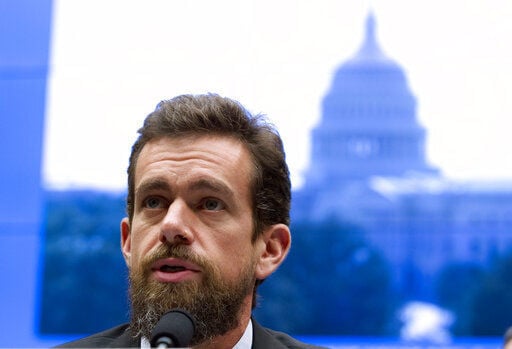 In some circles, Twitter is being cast as a hero for its ban on political ads while Facebook is called a villain for allowing politicians to lie.
Just remember that these are both businesses trying to make a buck.
Facebook attracted an estimated $283 million in advertising related to the 2018 election. Chief Executive Mark Zuckerberg may be sincere in his pro-First-Amendment stance, but he also knows where his bread is buttered.
Twitter, on the other hand, sold only $3 million in political ads during the election cycle. Chief Executive Jack Dorsey can afford to take the moral high ground, and he has other ways to profit from political chatter.
In announcing his ad ban, Dorsey declared that "political message reach should be earned, not bought." Earned reach on Twitter is measured in followers, impressions and retweets, all of which are data points the site uses to sell non-political ads.
The first number on Twitter's investor fact sheet is a metric known as MDAU, for monetizable daily active usage. By telling activists on all sides that he won't let the conversation be dominated by deep-pocketed advertisers, Dorsey encourages them to keep contributing to MDAU.
"The people who are really good at advertising, they're going to be on Facebook," says Mark Jamison, a visiting scholar at the conservative American Enterprise Institute. "The people who are good at creating conversations around content, they will be on Twitter."
For both Facebook and Twitter, the definition of a political ad becomes a critical question. Sen. Elizabeth Warren, a Democratic presidential candidate, has already criticized Twitter for including politically sensitive issues, such as climate change, in its ban.
Warren famously drew attention to Facebook's policies by running deliberately false ads claiming that Zuckerberg had endorsed President Donald Trump. Facebook apparently does, however, fact-check ads that aren't placed directly by politicians. In an era when well-funded advocacy groups often spend more than the campaigns themselves, that distinction is bound to be a messy one.
Every television viewer knows to expect half-truths and deceptive statements during election years. TV executives say federal rules prevent them from censoring candidate ads.
Social media seems different. Its ability to target voters gives it a power that mass-media commercials don't have.
"If the old model uses a megaphone and a soapbox, the new model is a magnet attracting iron filings," says James Fisher, professor of marketing at St. Louis University.
Social media creates a bubble where much of what we read, true or not, fits our preconceived views. Because it's a relatively new medium, most people haven't developed the skepticism they have for, say, male enhancement ads in the newspaper.
"I think we all need to pull ourselves up to the table and be responsible for the information we take in," says Perry Drake, assistant professor of digital marketing at the University of Missouri-St. Louis. "I don't think it's their responsibility to censor."
For all the attention paid to digital political ads, they absorbed 5% or less of campaigns' spending in 2018, compared with 50% for television and direct mail. As more money shifts online, both Twitter and Facebook probably will reassess their policies.
Dorsey may someday decide he needs a share of lucrative political dollars. Zuckerberg, facing intense criticism even from his own employees, may have to find a way to police political content.