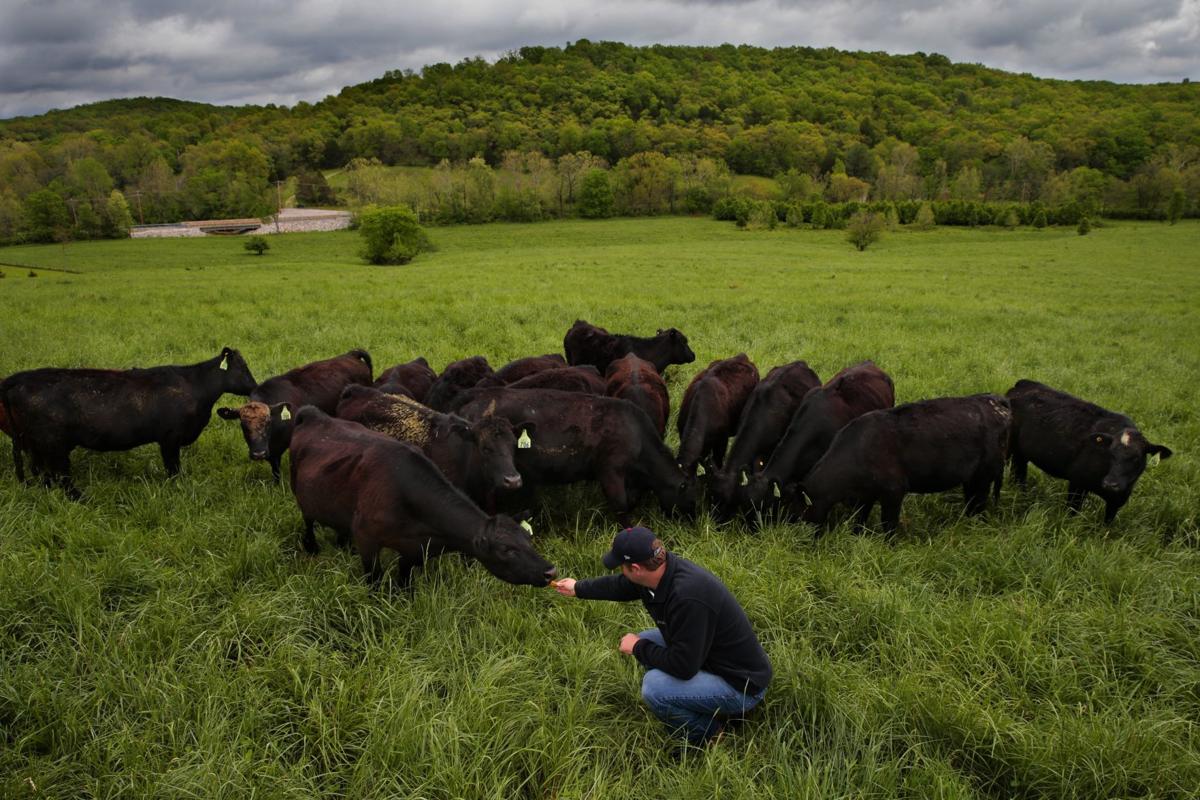 If you've shopped for sirloin steak recently, you may have gasped when you saw the price.
That choice cut is up 23% this year. If a humble burger is more your style, the jolt is worse: Ground chuck prices have jumped 31% since January.
As with so much else in the economy this year, beef lovers can blame COVID-19. The coronavirus pandemic shut slaughterhouses for days at a time, reducing output even as consumers were stocking up their freezers.
Farmers, meanwhile, are being paid less for their cattle. In June, they got just 31 cents of the average dollar spent on beef at retail, down from 45 cents in January.
The pandemic was the second disruption for cattle farmers in less than a year. Fire shut a Tyson Foods plant in Kansas last August, knocking out 6% of U.S. beef-processing capacity.
"We had just got back on our feet and then the COVID thing rolled in," said Bruce Mershon, who raises more than 5,000 head of cattle near Buckner in western Missouri. "When the packing plants shut down, there's nowhere to go with your cattle."
With their capacity reduced by coronavirus precautions, meatpackers need fewer animals. "Packers didn't need to pay very aggressively, and they faced costs to make their plants safe," said Scott Brown, an associate extension professor at the University of Missouri. "At the same time, we had an excess supply of slaughter-ready cattle."
Most meatpacking plants have reopened, but this spring's shutdowns continue to affect the market. "We're slowly correcting," Brown said. "We still have a fairly large backlog of cattle, and that will keep cattle prices at lower levels for a fairly long period of time."
Mershon, who is vice president of the Missouri Cattlemen's Association, managed to sell all of his market-ready cattle this spring, but says he loses money on most sales. Nevertheless, he is investing for the future, taking over pastureland from neighbors who have abandoned the cattle business.
"We are trying to grow some, hoping to get a better return two to three years from now, but it is testing our mettle a bit," Mershon said.
The Agriculture Department issued a report July 22 on the unusually large spread between cattle prices and retail beef prices. It attributed the gap to supply and demand factors caused by the pandemic, but said its findings "do not preclude the possibility" of anticompetitive behavior in the meatpacking industry, where four firms control 80% of the beef market.
A separate investigation into competitive issues is ongoing, but some farm groups say packing firms have so much power that they can suppress cattle prices and earn windfall profits.
Jason Franken, associate professor of agricultural economics at Western Illinois University, sympathizes with farmers' frustration but says the price spread alone isn't evidence of anticompetitive behavior.
"It's just that we have some strange times we're all living in, and that causes a disconnect between retail and the farm level," Franken said.
In commodity markets, it's a truism that low prices are the cure for low prices. Eventually, farmers who are tired of losing money will shrink their herds, and packers will have to pay more for the cattle they need.
At the retail level, prices could fall if consumers switch from budget-busting beef to cheaper sources of protein, such as chicken, but Franken says strong exports are likely to keep overall beef demand high.
For the next year, then, he thinks both farmers and consumers will remain unhappy about the price of beef.
Daily updates on the latest news in the St. Louis business community.