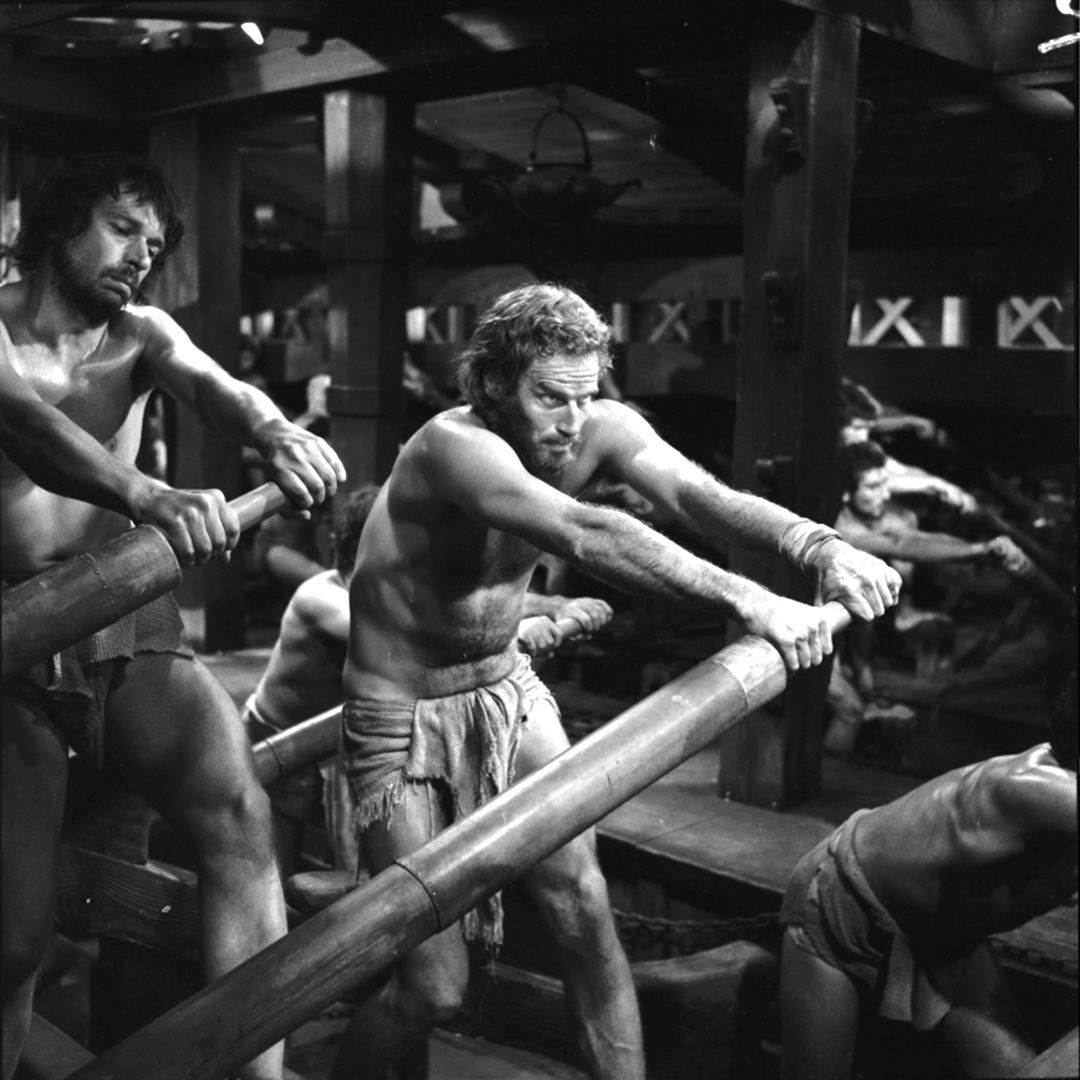 This summer, lots of high school juniors are deciding where to apply for college. A year from now, they'll be borrowing to pay the bill.
Some, but not most, will start digging themselves into a very deep hole.
So, before signing on for a schools they can't really afford, students might try this head trip.
Imagine yourself as a slave in a sailing galley like the one in Ben-Hur. (It's an old movie.) You're chained to the oars along with other sweaty debtors in the belly of the ship. You row, row, row as debt collectors crack whips and the profits of your labor go to someone else.
Now, imagine that you volunteered for this abuse — selling yourself for some pleasant afternoons throwing a Frisbee on the quad and for a shot at a sheepskin. Was it a good deal?
OK. It's a weird exaggeration, but the basic analogy holds. Heavy debt is a little like slavery. It reduces your freedom and takes your money. It can chain you to a job you hate because it keeps creditors at bay, and it shrinks your standard of living.
That said, you should certainly borrow for college if there's no other way to pay for it. Just be smart about it.
"The trick isn't avoiding debt entirely, it's minimizing the amount," says Mark Kantrowitz, publisher of the Edvisors.com website on financing college.
Total loans for four years should be less than what you expect to earn in your first year after graduation, he says. If a school wants too much, pick a cheaper school.
College grads earn on average 75 percent more than high school grads, according to the Federal Reserve Bank of New York. Such a huge increase in income justifies borrowing — reasonably.
Of course, not everyone is average. About 25 percent of college grads make little more than high school grads, says the Fed. For them, student debt is misery.
To avoid debt slavery, students should study something useful, keep debt low, and graduate.
That last part is important. Ask Steven Simpson-Black. He owes $30,000, has no degree and works as a self-employed janitor. Soon he'll be rowing in the debt galley.
Simpson-Black was 18 when he enrolled at the University of Illinois in Springfield. He had no money from his parents, and little financial aid, so he borrowed heavily.
"When you're 18 or 19, you look at $15,000 and think, that's OK, I can pay it later. Later has a way of finding you," said Simpson-Black. "By the time I reached my 20th birthday, I realized that was a lot of debt to take on."
He was on track to graduate deep in the hole in a field where starting pay runs about $40,000 in St. Louis. It scared him.
So, he went to work full time as a janitor, cleaning offices overnight. Now, he takes classes part time, paying tuition in cash as he can afford it. It's a long slog. At age 27, he figures he has three semesters left to his degree.
He has managed to defer student debt payments until now while taking classes. But that deferment just ran out.
His advice to students like him: "I'd definitely encourage them to look at community college for the first two years. If I'd done that, I wouldn't be in this situation."
That's good advice. According to the U.S. Education Department, only 59 percent of full-time students finish a degree within six years of starting.
People with some college make a little more than high school grads, but not nearly the pay that can come with a degree.
"People who drop out have two-thirds of the debt, but they don't have two-thirds more income than someone with a high school diploma," Kantrowitz said.
If you're not sure college is for you, start where it's cheap. Tuition at community college in St. Louis runs $3,101 per year. Credits generally transfer to four-year schools.
Loans equaling a year's starting pay are endurable, Kantrowitz said. "It's like a car payment," he said. Without the car, of course. You can pay it off in 10 years and enjoy the rest of your life, he says. (I think 10 years of carless car payments is too long, and you should borrow less.)
Of course, 18-year-olds don't know what they'll be making at age 23. But they can look at typical pay for various professions at payscale.com or naceweb.org. For instance, a fresh-minted engineer this year will start at about $63,000, according to NACE, the National Association of Colleges and Employers. Computer and information services grads average $62,000. Math and stats majors start at $52,000.But English majors make $34,000, philosophy majors $36,000 and teachers $35,000."Coming out with $100,000 in debt to become a teacher is crazy," said Kal Chany, author of the Princeton Review's "Paying for College Without Going Broke."
So, a budding engineer may choose Posh & Pricey U. But a teacher should pick Cheapo State.
The payoff from college can depend more on what you study than where you study it. That shows up on Payscale's list of schools with the highest return on money invested.
Payscale, a salary comparison website, compared mid-career pay of graduates to the cost of attendance, after financial aid, at 1,200 colleges.
Of the first 15 schools with the highest return, 10 are engineering, technology and hard science schools, including the Missouri University of Science and Technology in Rolla. Three are Ivies — Princeton, Stanford and Brown. MIT is on the technology list.
Missouri S&T in Rolla ranks 14th. In fact, Payscale says you'll get a better return on your tuition buck in Rolla than you will at Harvard, ranked 34th, or Washington University at 103rd.
Payscale measures return on investment, not overall pay. An engineer from MIT might make more than one from Rolla, but the MIT grad paid more for the boost.
Next spring, today's juniors will be getting financial aid offers from colleges. They'll read them and weep. They'll find that what colleges call aid often means a fat loan.
Think hard before borrowing more than the limit on federal student loans, Chany says. Federal loans are limited to $5,500 for freshman year, rising to $7,500 by junior year. The limits are higher for students deemed independent of their parents, and for students whose parents can't borrow on their own.
Federal loans offer low interest — 4.29 percent for undergrad loans — and mercy if you have trouble repaying. An income-based repayment program can limit payments to about 10 percent of disposable income and forgive the debt after 20 years. Employees at government and tax-exempt nonprofit employers can see forgiveness in 10 years.
Exceed the federal limits and you'll be in private loan territory, where rates are usually higher and payment demands meaner.
The bottom line: College is a four-year investment in the next 60 years of your life. Fancy dorms and a winning football team mean nothing. Go somewhere that gives a good education you can afford.
What new college grads earn
Average starting salaries for college grads in 2014, from a survey for the National Association of Colleges and Employers.
| Occupation | Average starting pay |
| --- | --- |
| Architecture | $40,523 |
| Journalism, communications | $36,000 |
| Computer, Infor Science | $62,194 |
| Education | $34,498 |
| Engineering | $64,891 |
| English | $33,574 |
| Biology, biomedical | $33,248 |
| Math and stats | $52,841 |
| Recreation, fitness | $32,816 |
| Philosophy | $36,137 |
| Physical sciences | $56,720 |
| Psychology | $33,210 |
| Public Safety | $45,470 |
| Performing arts | $36,222 |
| Health professions | $47,635 |
| Business | $49,807 |
| History | $37,557 |