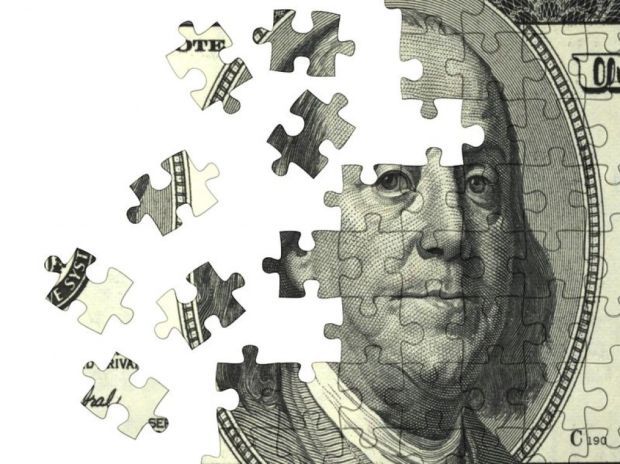 Michelle and Jeff McDowell and their three young children live in Wildwood. He's an IT engineer. She's a stay-at-home mom.
Until a couple of years ago, they'd been living a little over their head. They had run up $22,000 in credit card debt, not thinking much of it. After all, making the payments was no problem. "We thought credit card debt was normal," he said.
Then trouble hit. Their third child was born, and with the baby came a $10,000 medical bill. Michelle had been working. But given the cost of day care for three children, the job no longer made sense.
Just then, Jeff's company canceled its annual employee bonus.
With less household income, that $22,000 in credit card debt started to look very scary.
"The biggest panic was the realization that, if we didn't change, we wouldn't be able to pay for the kids' college. We'd be eating dog food in retirement," Jeff said.
So, the family came up with a financial austerity plan.
Then, they did something really unusual. They let the world in on it. They launched seedebtrun.com, a blog to chronicle their climb out of debt and share tips on saving and frugal spending.
"It was really about the accountability thing. We didn't know if anybody would read it," Jeff said.
The McDowells put a graph on the website to show their progress in paying down debt. If they started to slip, the graph would be an embarrassing reminder.
They hoped the blog might also encourage other people trying to dig out of debt.
There are dozens of similar blogs on the Internet in which people who aren't financial experts share stories and tips for dealing with money.
They are generally a good thing, because they motivate readers to improve their finances, says Rob Weagley, who chairs the department of personal financial planning at the University of Missouri-Columbia.
"I think these bloggers can sometimes get people excited, turn the switch on and get them to actually do something."
That said, he notes that not all the advice is good. The kind of blog that promises too much, like retirement at age 40, is probably not helpful.
Austerity is not pleasant. "The first thing we did was tear apart the budget at the fine-grain level," Jeff said.
They kept cable TV, but his "baseball addiction" suffered as they cut it to a basic tier. Michelle decided to cut the family's hair, including her own.
They brought the kids in on the program, warning that there would be no vacation that year.
"I stopped buying coffee at work," he said. "I asked the boss if I could work from home another day. It saved on gas."
It was a shock to their sense of who they were.
"Growing up middle class, there are things you take for granted, like getting your hair done or getting the kids new clothes for school," he said.
They turned down evenings out with friends if they would cost money.
On the blog, Jeff describes his decision to shop at Aldi's, the discount food chain.
"I have trouble putting into words the feelings that have kept me from stepping into an Aldi up to this point," he wrote. "I keep telling myself that I didn't think that I was too good to shop in a discount store, but perhaps that feeling was inside of me somewhere.
"Perhaps I had the thought that since I grew up in a middle-class family, went to college, and worked hard for a living meant that I am entitled to only buy food in the bright, shiny — and completely overpriced — supermarkets," he wrote on the blog.
He was happy with what he found: "A big bag of frozen chicken breasts for $5.99! Holy smokes! We regularly buy the exact same thing for $9.99!" he wrote.
From the blog, it is clear that Michelle and Jeff love and care for each other. Here's a post by Michelle, from the middle of their struggle, written after a tiff over weeding their lawn:
"I began to realize how many times my husband had been the one talking me down off the ledge.
"How many times had I called him asking if it was really absolutely necessary to abstain from shopping? How many times had I needed emotional support when I felt so down about our financial situation that I'd considered giving up? How many nights did I need coaxing into the light? And who had been the one who had lifted me up, dusted me off, and held my hand through those times? I realized that my husband and I have been taking turns being the strong one throughout this process."
They started looking for extra income. Jeff delivered flowers around Valentine's Day. They signed up advertisers for their blog, but it's "not a major income generator," he said. They read books on personal finance to learn how to save and invest.
It took 14 months, but the credit card debt was gone by early this year.
Their credit score improved. That helped when they sold their home this year and moved up to one big enough for their expanded family.
Austerity is over. They're planning a vacation again.
The experience turned them into committed cheapskates. On the Web, Jeff blogs about trying out running shoes, then buying them half-price on the Internet. They still shop at three grocery stores to catch the lowest prices.
It helps that they're both good writers. The blog reads like a conversation over the kitchen table.
They're continuing the blog in hopes of helping people in their former fix.
"People that have that helpless feeling can see that a family just like us was able to fight through it," Jeff said.