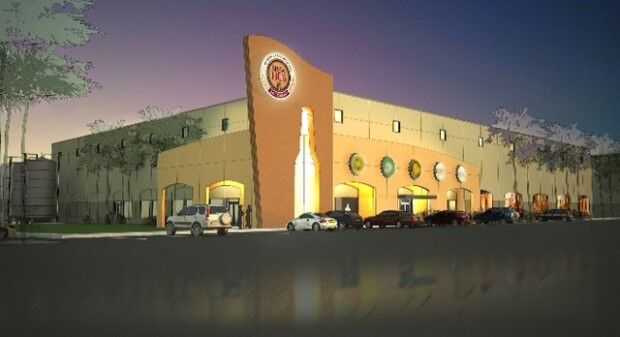 With craft beer sales on the upswing, local startup Brew Hub LLC plans to offer a slate of services from production to marketing for craft brewers that want to grow outside their home base.
Brew Hub, founded in 2012 by a group that includes former Anheuser-Busch InBev executives, is based in Chesterfield. It announced Tuesday that it would start construction in the coming weeks on a brewery in Lakeland, Fla., the first of five planned breweries.
The Lakeland facility will have an initial brewing capacity of 75,000 barrels. The other sites have not yet been selected, but company executives said they were looking in the Northeast, Mid-Atlantic, Midwest, Texas and West Coast for locations.
Combined, the five facilities will represent an investment of more than $100 million over the next five years. Brew Hub also announced that it secured financing from Los Angeles-based private equity firm Yucaipa Cos. to fund the venture.
Brew Hub's facilities will produce, package and market beers for craft brewers that want to expand their capacity by entering new markets without investing heavily in new facilities or equipment.
"The challenge they face is how do they increase their efficiencies and grow geographically," Brew Hub's CEO Tim Schoen said in a phone interview. Schoen, the former vice president of new product development at A-B in St. Louis and former global head of its entertainment and marketing business, said Brew Hub would remain based in the St. Louis area, even as its breweries are established across the country.
Brew Hub is seeking to tap into the growing craft beer industry that saw volume growth of 15 percent in the U.S. last year, according to the Brewers Association, a Boulder, Colo.-based trade group representing the industry.
"The growth is exponential and we'll be banking on the scale of this whole thing," Schoen said of the craft beer industry. "We want the small, medium and large brands to flourish."
Brew Hub's other top executives include Jerry Mullane, president, and Mark Greenspahn, vice president of operations. Mullane is a former vice president of corporate affairs at A-B. Greenspahn managed A-B's portfolio of event marketing programs.
Brew Hub already has piqued the interest of local craft brewers.
"We would consider looking to Brew Hub to fuel our growth outside our home market," said Jim Gorczyca, president of the O'Fallon Brewing Co., based in O'Fallon, Mo. O'Fallon Brewing Co.'s volume grew 21 percent, to 10,500 barrels, last year and the company expects that growth rate to continue.