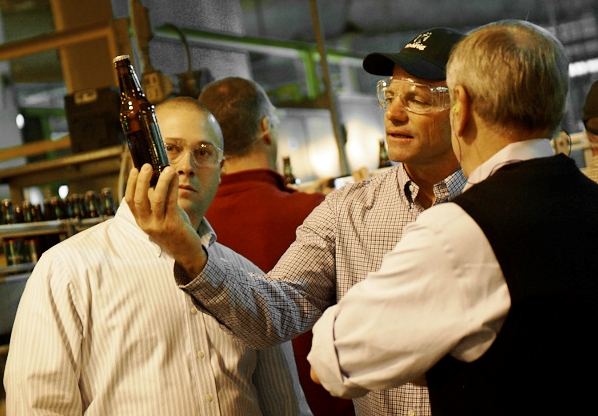 More than a year after Kräftig lager debuted on store shelves, the beer company started by a Busch family heir is rolling out its first TV commercials.
Brentwood-based William K. Busch Brewing Co., founded by Billy Busch, a son of former Anheuser-Busch leader August A. "Gussie" Busch, introduced Kräftig lager and Kräftig light in November 2011.
"We did the first year without TV, and we want to take the company to the next level," Busch said.
In addition to TV spots that will air in St. Louis, the campaign includes radio spots and billboards that will expand the company's marketing efforts further in Missouri and Illinois.
Kräftig's initial distribution area centered on St. Louis, St. Charles, Jefferson and Franklin counties and has since grown to the Metro East and Springfield, Ill. In recent weeks, Kräftig expanded sales to Columbia, Mo., and Jefferson City, and plans to roll out sales at the Lake of the Ozarks next month. Reaching customers in those new markets helped drive the new ad campaign.
Two of the three TV commercials in the brewer's campaign that debuted this week offer a humorous take on Kräftig's adherence to Reinheitsgebot, the 500-year-old German purity laws. In one of the commercials, phrases in German — including "my basement is full of sausage" — splash across the screen, followed by a voice that says, "You don't have to speak German to drink German."
"It's humorous and off-beat, which is pertinent to the target market," said Tom Hudder, senior vice president and creative director at St. Louis-based communications firm Fleishman-Hillard, which developed the campaign.
The privately held brewer currently doesn't release sales figures, but last fall, the company estimated it had about 1 percent market share in St. Louis. Trade publication Beer Marketer's Insights said that William K. Busch shipped about 8,000 barrels in Missouri in the first nine months of 2012, citing data from the Missouri Beer Wholesalers Association.
Kräftig is brewed under contract at a facility in La Crosse, Wis., but Busch said he remained committed to opening a brewery in St. Louis.
Ultimately, Busch said, he wants to grow Kräftig to 2 million barrels annually.
"As we continue to grow, it's something that we always discuss and something that we plan on doing in the future," Busch said.