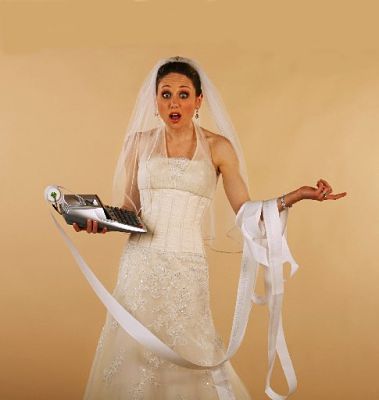 The abrupt closing of Bevo Mill illustrates how, thanks to the bad economy, brides-to-be and future grooms need to be especially cautious when they're planning their wedding.
At least two dozen people have told the Post-Dispatch that they're now scrambling to find a new venue for receptions or rehearsal dinners. Many of the betrothed fear that they may have lost thousands that they forked over for deposits and other pre-payment fees, and more than 20 complaints have been filed with the Better Business Bureau since the historic restaurant closed.
Saturday's paper will include my first Savvy Consumer column, and I'll focus on steps wedding shoppers can take to avoid the same fate as those who had booked at Bevo Mill. I'll be posting a draft of that column in this blog on Friday.
Just today, I received some wedding-planning tips from the BBB in St. Louis. While I'm sticking mostly to the booking of a restaurant or hall, the BBB's advice covers other wedding-related expenses, like dresses, bands and photographers.
The BBB says it has received 189 wedding-related complaints in the last three years. Here is the watchdog group's list of the most common things to watch out for:
Strange, senseless or unexpected fees. Some caterers, hotels or reception venues may charge extra for special linens, chair covers, a raised head table, display stand for the cake, "cake-cutting" or "corkage" fees especially if you bring in a cake or liquor purchased from another source. Ask whether any fees apply beyond the cost per person, gratuities or room rental, if applicable.
Dresses that don't measure up. Brides have complained to the BBB about bridal shops ordering the wrong sizes and colors of gowns as well as dresses that arrive too late for timely alterations. Others complain that stores cut designers' labels out of sample gowns to make it difficult for brides to comparison shop, an unfair and deceptive practice. Make sure your order specifies new merchandise, sized to fit you and your bridesmaids. Call the shop to remind the staff of your schedule if you don't hear by the promised time.
Wedding transportation problems. Complaints about limousine service include poor customer service and rigid cancellation policies. Some customers say limousine services may not show up on time, may not be available for the required length of time or may provide the wrong vehicle. Don't rely on brochures when you hire a limo company. Ask whether the company actually owns the vehicle you want.
Get details in writing. Don't pay the entire amount in advance.
Musician switch. Brides shouldn't rely on a web site, demo tape or phone conversation when hiring a band or other music service. Find out where you can hear the musicians play before you hire them. Ask who will actually perform at the reception and get a written commitment from the band or musician, including the amount of time they will play and what it will cost to extend the time the night of the event.
Photographer issues. A common complaint from brides is that the photographer they hired doesn't show up for the wedding. Rather, he or she sends someone you've never met before, and the substitute doesn't take the shots you had expected. Find out when and how pictures will be delivered, whether you will have the option of getting all the images on a DVD or CD, how much time you will have to choose the pictures and whether other members of your family or wedding party will have access to the pictures. Many brides complain of long waits for delivery of pictures or albums. Some received no pictures at all after they paid several thousand dollars for a photography package.
Floral changes. Fresh flowers are a perishable commodity and the final bouquet or arrangements may need to change depending on what's available on the wedding day. Make sure you spell out a minimum size or number of stems in each bouquet or arrangement. Ask how the florist will handle any last-minute substitutions and charges, especially if the value of the flowers actually used is markedly different from what you had agreed upon.
Bridal gown preservation. Some bridal shops or other businesses sell bridal gown preservation packages, including cleaning and a box, for $250 or more. Many of these packages are no more than regular dry-cleaning and a cardboard box, which may not be acid-free. Check with a reputable cleaner on the cost of cleaning your gown after the wedding. The cleaner or another supplier may be able to sell you an acid-free box and tissue at a more reasonable price.
Wedding memorabilia. Monogrammed napkins, decorations, swizzle sticks, pens or other souvenirs often are marketed as a way to enhance the event or remember the wedding. Resist the temptation to buy stuff that may be overpriced, of poor quality or that adds needlessly to the total bill.