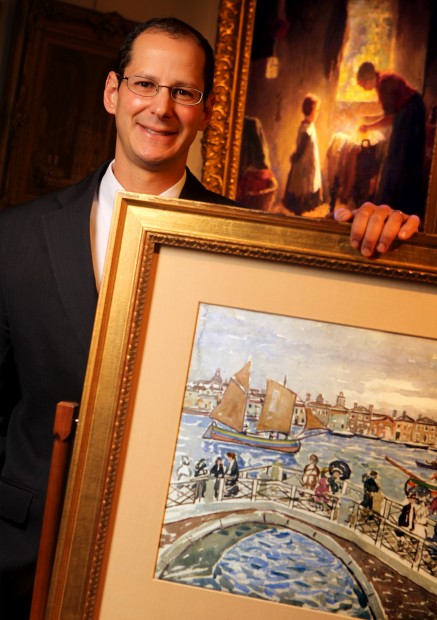 David and Jonathan Kodner were raised in a home in Creve Coeur where fine art was collected and appreciated.
"My dad started acquiring vintage American Western and Midwestern artists in the 1950s and 1960s before it became popular," David said of Martin Kodner. "It was a fascination and passion of his, and he established a national reputation as an expert in Midwestern art, which included the work of St. Louis and Midwestern artists such as Paul Conoyer, Charles Russell, Charles Deas, Thomas Hart Benton and Richard Miller."
After working as an art appraiser for 20 years, Martin Kodner opened his first gallery in 1970 at 453 North Lindbergh Road in Ladue. He died in 2002, and today David and his brother Jonathan operate the Kodner Gallery at 9650 Clayton Road.
"Appreciation for fine art is in our blood, it was never forced on us," David said. "We love to hear stories about the history of a work of art like where it has been, who has owned it, and where it was painted and when. If it is an especially noteworthy piece and has been published, that adds even more fascinating details about the provenance of the piece."
Kodner also said that seeing young people develop an appreciation for art is an especially rewarding part of his business. "We have had several youngsters who bought art valued at about $100 and began collecting as early as 13," he said.
Have you noticed a change in the value or type of art available in St. Louis during the downturn in the economy?
There is more major art on the market now due to the economic downturn. So buyers are more selective and discerning. However, sales prices have held, probably because most sellers will wait until they can get the price they want.
How has the fine art business changed in the past 10 years?
Not as much as you might expect. For example, technology does not play a huge part in what we buy and sell. For several reasons we are still a person-to-person, "hands-on" business.
When people are interested in acquiring fine art, they need someone who has an intimate understanding of exactly what they are seeking, and a person with whom they can have an ongoing relationship for many years.
Also, sellers are usually concerned that the art go to a person or institution where they know it will be appreciated. They need an intermediary with key contacts in the fine art community who can find the appropriate buyer.
Additionally, we can get a better price based on actual value when art is not subjected to a spur of the moment impulse. We feel private sales are better, as they are not subject to the whim of the moment in an auction.
Finally, when people purchase expensive art they usually want to see it in person. An everyday exposure to art and a keen eye are very important for us as well.
But technology does have a place in our business. We do have some of our inventory posted on the Internet and we do make sales directly off our website. Last month I sold a painting to someone in Italy who was searching for works by a particular painter. Still, the process took several weeks of phone calls and photos, (and) ... this person was an expert in the field and knew what he wanted.
What is your niche in the fine art business in St. Louis and elsewhere?
We have an excellent word-of-mouth reputation as dealers in current St. Louis and Midwestern artists, and early 20th century painters and sculptors. For people seeking art in those categories our gallery is actually a destination.
In the past we have featured internationally known artists at our gallery, such as Joan Miro, Roy Lichtenstein, Pablo Picasso, Thomas Hart Benton and Oscar Berninghaus.
A small part of our business involves insurance appraisals. We also offer complimentary evaluations for art brought into the gallery. We also assist with conservation work.
What prices are purchasers paying now, and what percent of your sales are to local collectors?
About 60 percent of our sales are made to the local St. Louis market. The remainder is sold both nationally and internationally. Approximately 25 percent of our sales are between $100 and $1000. We are cognizant that people can begin to collect art at any age and in any price range. Our inventory of over 1,000 pieces includes many between $100 and $1000.
Another 25 percent of our sales are made between $1000 to $5,000, and 50 percent of our fine art is sold for prices above $5,000.
Both purchases and sales involve family collections, public art institutions and corporate art collections. We have made more than 50 sales to prestigious art institutions throughout the world.
Is the St. Louis fine art market different from elsewhere?
In general St. Louis art collectors have an eclectic appreciation of art from ancient works to cutting edge contemporary, and that is not too different than other large cities. I attribute the wide range of art appreciation to the ever changing opportunity to view fine art in the wonderful museums and art galleries in town, as well as the outstanding art programs at our universities.
However, St. Louis collectors are very supportive of artists associated with St. Louis or the region to a greater degree than other major metropolitan areas. Collectors here take pride in our own artists, be the names like Joe Jones or Richard Miller who are deceased, or current artists like Billyo O'Donnell, Bryan Haynes, Tom Friedman, or Jay Burton.
Not only do St. Louis collectors take pride in owning the work of St. Louis artists, but they actively promote their work and allow it to be displayed in museums nationwide. The enthusiasm of collectors in town to promote our own has lead to St. Louis being much more recognized as an art hub than it was not too long ago.