ST. LOUIS — Two prominent developers are entangled in a dispute that one member of the St. Louis Board of Aldermen says is jeopardizing a $92 million project.
Pearl Capital Management has been working on the mixed-use, 287-apartment complex next to the Forest Park-DeBaliviere MetroLink station for nearly two years. But developer LuxLiving, which is building its own $29 million 150-unit apartment building across DeBaliviere Avenue from Pearl, is now raising concerns about the project.
Sid Chakraverty, associated with Lux, testified against the Pearl project this month at a Board of Adjustment meeting where Pearl was seeking a setback variance. In September, a lawyer for Lux reincorporated a neighborhood group that Lux claims has development review rights over Pearl's project because of real estate covenants dating back to 1980. The group had been dormant for almost 30 years.
Alderman Heather Navarro, D-28th Ward, represents the area where most of Pearl's project is located. She said Pearl has held numerous neighborhood meetings with the Skinker-DeBaliviere Community Council, which represents the area west of DeBaliviere Avenue and is supportive. Now, LuxLiving principals are using the "resurrected" neighborhood group to jump into the process.
"It's just unusual to see a developer be so active in opposing a project that seems like it would be mutually beneficial," Navarro said. "Here they are now saying they have greater rights and their opinion matters more than the neighbors who have been engaged for the last couple of years."
MetroLink owns two surface lots where the 265 apartments, retail would be built. 
Victor Alston, who heads LuxLiving, denied in an interview that his firm is trying to stymie Pearl's project. His firm has developed several large apartment complexes on Pershing Avenue in recent years, and he said Pearl's purchase of the MetroLink parking lot will eliminate a neighborhood "amenity."
He also said parking from the project could spill east of DeBaliviere Avenue into the DeBaliviere Place neighborhood, where he and Chakraverty are board members of the neighborhood association and own large apartment complexes.
Even people west of DeBaliviere Avenue are concerned about parking, Alston said. He provided a transcript of the city board of adjustment meeting showing that several members of the Skinker-DeBaliviere neighborhood also raised concerns about parking.
"I really don't see this as a developer issue," he said. "I see this is as a neighborhood issue."
Pearl Capital principal Jeff Tegethoff referred questions to his attorney, David Richardson of Husch Blackwell, who declined to comment.
Pearl has yet to close on the property where it plans its 306,000-square-foot project. Aldermen endorsed it in December with a $14 million tax increment financing incentive package. Lux Living acquired 310 DeBaliviere Avenue in October and has already started work on its 150-unit apartment complex.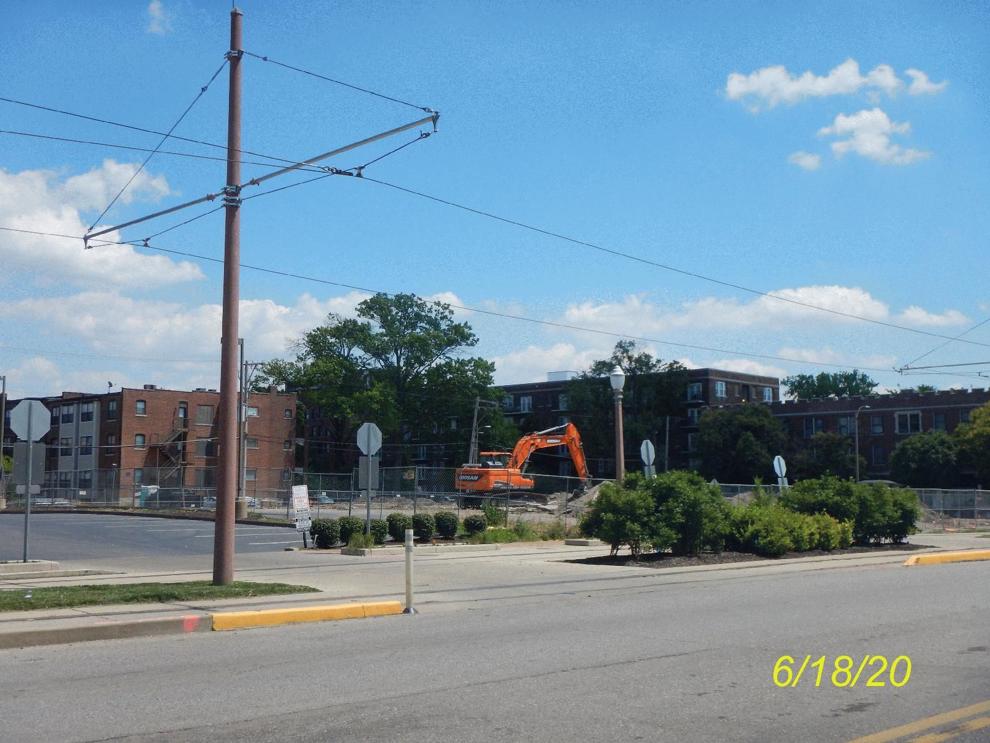 LuxLiving 310 DeBaliviere Avenue project
Work continues June 18, 2020, on the site of a demolished restaurant where LuxLiving is building a 150-unit apartment project. Its principals …
Alston said he's not trying to slow down Pearl's project for competitive reasons.
"I don't see it as a direct competitor, I see it as adding value overall," he said. "I'm competing with every developer in town. St. Louis is like a five-minute commute to every neighborhood."
A 'resurrected' neighborhood group
Lux's attorney, Clayton Alderman Ira Berkowitz, in September reincorporated the Commercial DeBaliviere Place Association, which went dormant in 1990, according to state filings. City property records reference deed restrictions and covenants dating to 1980, and the group says it needs to approve Pearl's development plans.
"We understand that it may seem like we are a little late to the review process, but as you know, we asked, formally, about nine months ago, to have these discussions and to review your plans, but did not hear from you until recently," Berkowitz wrote to Richardson in a May 30 letter, which Alston provided.
The issue was brought to the fore after developer LuxLiving's closed two high-profile sales of apartment complexes it had built in recent years.
Alston said Lux wants Pearl to adhere to a similar standard as his developments, with one parking space per apartment. The 361 parking spaces called for in Pearl's development aren't enough to cover that ratio and replace the MetroLink spaces, the developer argues.
Berkowitz's letter suggested a new parking study. "In the meantime," he wrote, "we cannot approve your client's application."
Otis Williams, who heads the city's development office, said there's enough parking, particularly for a "transit-oriented development." MetroLink operator Bi-State wants to encourage more ridership on its trains, which is why it sold the lot for a development, he said.
"Both are great projects and we should be fighting to do both," Williams said. "I believe that the concerns that are being voiced by the (Lux) project are misguided."
Aldermanic courtesy
Williams' staff signaled in May that it would hold up a tax abatement Lux was requesting for its apartments until it worked something out with Pearl. In June, the St. Louis Land Clearance for Redevelopment Authority, which vets abatements, tabled a resolution designating Lux as the developer of the site it owns, a required step for the property tax incentive.
Yet earlier this month, the St. Louis Board of Aldermen passed a bill anyway that could grant Lux an 80% tax abatement.
Even though the projects are across the street from each other, they are in different wards. The alderwoman who represents the parcel with Lux's project, Shameem Clark Hubbard, D-26th Ward, pushed the abatement bill forward even after Navarro expressed concerns about Lux's impact on the Pearl project.
Clark Hubbard also represents a part of the Pearl project's footprint. She refused to take questions at the Board of Aldermen hearing and did not respond to a request for comment, but she said at the meeting that "I really disagree with delaying either of these projects."
The city agency responsible for reviewing tax break requests is recommending fewer, but some aldermen have ignored them. 
"Me, as an alderwoman, I really am feeling a lot of pressure being put in the middle of something I don't think is my place," she said.
Navarro, who also represents a large swath of the DeBaliviere Place neighborhood, urged her colleagues to delay a vote until the two developers work something out, arguing that "we should be acting in a way to promote both these projects, and if one project is going to actively work to kill the other one, I think we as a governmental body need to step in and say, 'Whoa, we're not going to let that happen.'"
She was met with scolding for challenging the long-held tradition of "aldermanic courtesy," or staying out of projects in someone else's ward.
"I'm always taken aback when people who get into the business of other aldermen as if they know what's best with them in their community," Alderwoman Tammika Hubbard, D-5th Ward, said.
Alderman Joe Vaccaro, D-23rd Ward, asked "why side with one developer over another if alderwoman Clark Hubbard wants this to go forward?"
The tax abatement bill passed overwhelmingly, with only Navarro voting "no."
Alston said that aldermen handled the issue "appropriately" and that the LCRA was a "little out of line" in trying to hold up his project's abatement.
"Alderwoman Navarro, and also the LCRA, have kind of tried to twist my arm and said 'hey, if you approve this (Pearl's project), I'll approve your development,'" Alston said.
Whether Lux will ultimately get its abatement is unclear. The LCRA meets at the end of the month. It still hasn't designated Lux as the developer.
Editor's note: The DeBaliviere Place neighborhood is east of DeBaliviere Avenue. An earlier version of this article gave an incorrect direction.