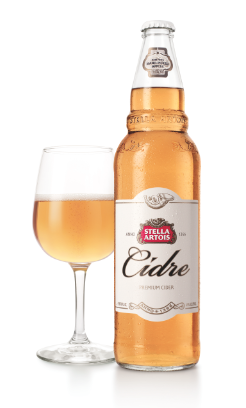 Anheuser-Busch's introduction of Stella Artois Cidre to the U.S. market is the latest sign that the world's largest brewer is looking beyond its beer base to reach the growing ranks of wine and spirits customers.
St. Louis-based A-B, the North American headquarters for A-B InBev, said it will begin sales of Stella Artois Cidre in 26 states on Monday, including Illinois and the St. Louis region, two years after the product was launched in the United Kingdom. A national rollout is expected in early 2014.
The apple-based beverage, to be produced at A-B's Baldwinsville, N.Y., brewery and sold in 12- and 24-ounce bottles, has 4.5 percent alcohol by volume and is an extension of Stella Artois lager, one of Belgium-based A-B InBev's more than 200 brands.
The addition of Stella Artois Cidre in the U.S. comes a year after A-B's Michelob Ultra Light Cider hit store shelves, which marked A-B's first cider to be produced and distributed domestically.
Sales of hard cider account for less than 1 percent of U.S. beer sales, but grew nearly 85 percent at chain and convenience stores last year versus 2011, outpacing overall beer sales, according to Information Resources Inc., a Chicago-based market research firm.
And, for the 52-week period ending April 21, sales of the 10 largest cider brands in the U.S. surged 101 percent compared to a year ago, growing to $127.8 million, according to IRI.
"I could see it growing to 2 or 3 percent market share in a few years," said Harry Schuhmacher, editor and publisher of Beer Business Daily, a trade publication. "The category is growing at over 100 percent a year, and when you have a doubling every year, it gets everyone's attention."
Up until a few years ago, two hard ciders dominated the market in the U.S. — Vermont Hard Cider Co., maker of Woodchuck Hard Cider, and Hornsby's — which, combined, had more than 90 percent market share.
In recent years, cider's growth potential in the U.S. has garnered interest from multiple brewers and alcohol producers. Ireland-based C&C Group acquired Hornsby's from E&J Gallo Winery in 2011 and snapped up Vermont Hard Cider at the end of 2012. MillerCoors also made an acquisition to grow in the category with its 2012 purchase of Minneapolis-based Crispin Cider Co.
Some brewers have found success launching new cider brands. Boston Beer Co., maker of Sam Adams, introduced Angry Orchard in 2011, which is now the top-selling U.S. hard cider, according to IRI's data through April 21.
"Over the past few years we've seen a resurgence in cider, and people seem to really be exploring cider as an alternative to beer and wine and even incorporating it as an ingredient in mixed cocktails," said David Sipes, cider maker at Angry Orchard.
Woodchuck is second in sales, followed by Hornsby's, Michelob Ultra Light Cider, Crispin and Strongbow.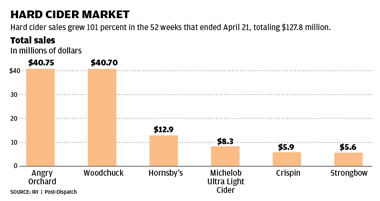 And new brands keep coming. In April, Portland-based Craft Brew Alliance, a craft brewing company that's partly owned by A-B, launched Square Mile Cider Co., which has two cider varieties.
Cider attracts more female customers than beer and commands a higher price than even craft beer, which is driving the investment in the category, analysts say.
"The growth markets in the U.S. right now are craft beers and cider," said Morningstar senior equity analyst Tom Mullarkey.
Because hard cider is made with apples, which face availability challenges, producing consistent flavor has been a barrier to smaller brewers from entering the category, Schuhmacher said.
"Cider is expected to be consistent, even though it's made with fruit and there are variations with different kinds of apples," he said. "It's hard to get it right."
The launch of Stella Artois Cidre in the U.S. is just the latest of new A-B offerings that stray outside the traditional beer category. Sales have been strong for A-B's Bud Light Lime Lime-A-Rita, a malt beverage launched last year, and Straw-Ber-Rita, which debuted this year. Straw-Ber-Rita has already grown to 1.4 percent market share since national sales launched in late March, surpassing A-B's expectations.
Straw-Ber-Rita sells for about $35 a case, much higher than beer, and matches cider's average price per case of $35.
Rick Oleshak, director of Stella Artois in the U.S., said A-B will seek to differentiate Stella Artois Cidre from other ciders by emphasizing its taste profile.
"Historically in the U.S., cider has been sweeter," Oleshak said, adding that Stella Artois Cidre is a drier, European-style cider that will appeal to white wine and spirits drinkers. Underlining its appeal to wine drinkers, in its debut announcement, A-B listed foods it says Stella Artois Cidre pairs well with, including Asian and spicy foods, chicken and fish.
"Three-fourths of the volume that we anticipate will come from outside beer," Oleshak said.
A-B will highlight the pronunciation of Stella Artois Cidre (pronounced CEE-dra) in its advertising set to begin later this summer. "It's something different, a little more upscale" than what's currently on the market, Oleshak said.
Stella Artois, a Belgian beer that traces its origins to 1366, launched U.S. sales in 1999 and sold 1.3 million barrels in 2012. Like Stella Artois, which is available in a distinctive chalice, A-B will seek to have Stella Artois Cidre served in wine glasses at bars and have its 24-ounce bottles sold at retail next to wine glasses for sale.
"We're trying to reshape the category," Oleshak said.
U.S. sales of Stella Artois Cidre come after A-B InBev saw volume decline 5 percent in the U.S. in its first quarter, impacted by colder weather compared with a year ago. Revenue in the U.S. grew 4 percent, however, boosted by new product launches and A-B InBev's high-end brands, including Stella Artois.
"They've had some really good experiences with their flavored malt beverages, and Stella Artois Cidre is a way for them to broaden their appeal to a bigger customer base," Morningstar's Mullarkey said of A-B. "The only risk is where is the shelf space going to come from — their existing craft brands or imports, or cannibalize from competitors?"
U.S. Hard Cider Sales
 
Cider Brand Family
2011
2012
Last 52 Weeks*
 
Source: Information Resources, Inc.
 
*Data current as of Apr. 21, 2013
1
Angry Orchard
N/A
$24,783,550
$40,752,040
2
Woodchuck
$27,463,070
$38,611,540
$40,705,010
3
Hornsby's
$15,253,030
$14,021,790
$12,894,760
4
Michelob Cider
N/A
$5,976,748
$8,308,103
5
Crispin
$1,666,076
$4,520,253
$5,866,614
6
Strongbow
$4,059,159
$5,413,366
$5,650,572
7
Wyders
$1,513,125
$1,914,137
$1,998,931
8
Spire Mountain
$1,137,661
$1,594,536
$1,613,382
9
Magners
$1,108,226
$1,514,859
$1,565,513
10
Ace
$750,494
$1,069,521
$1,210,656