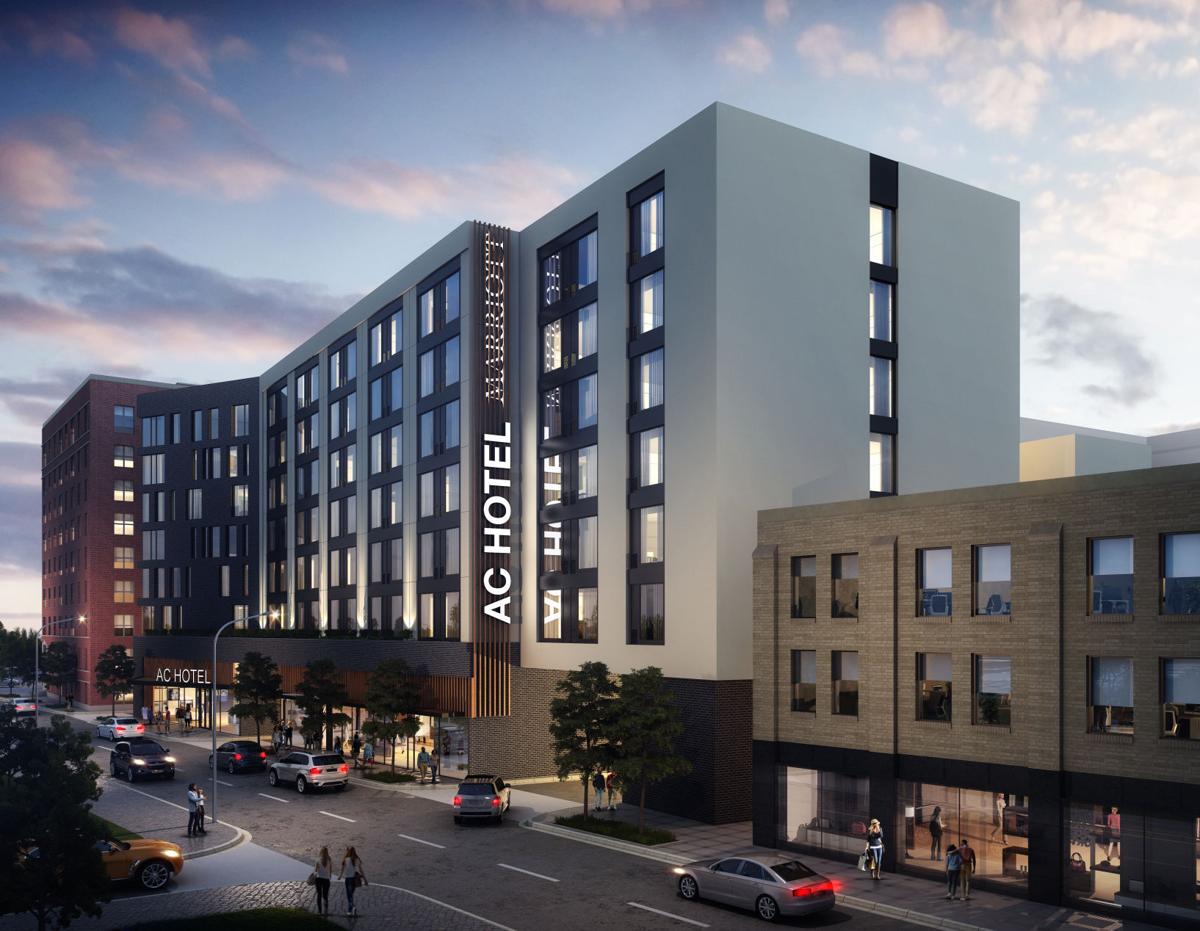 A new AC Hotel by Marriott is slated to break ground this spring on York Avenue in the Central West End.
Led by Andy Holloran of Bozeman, Mont.-based developer HomeBase, the 192-room hotel would be squeezed in just north of Lindell Boulevard next to the Chase Park Plaza. The building that used to house the KPLR studio just behind the York House will come down to make way for the project, and a surface parking lot will be removed.
Holloran is partnering with Sam Koplar of Koplar Properties, which owns the real estate, on the $40 million project. Also partnering with Holloran is Rusty Keeley, CEO of St. Louis-based L. Keeley Construction.
As a "select service" hotel, there's only about 1,000 square feet of meeting space planned and the ground floor will include a common area with a bar and limited-menu restaurant as well as "European-style" breakfast for guests. The neighborhood is what provides the guest amenities, Holloran said.
"We love our location … being in the heart of the Central West End where our guests can walk to 100 bars and restaurants," he said.
This will be the first project in St. Louis for HomeBase, which has mostly developed projects in Montana. Holloran began visiting St. Louis about 15 years ago when some of his family moved here, and he has since become friends with Keeley, who has partnered with him on other projects.
"We were obviously interested in the overall St. Louis market and have been exploring opportunities for a number of years," he said.
The Central West End AC Hotel, on the other hand, has been in the works for months, and the team hopes to have it open by the summer of 2019. They're in discussions with the city on permitting, design and parking; the city owns the adjacent Argyle Garage.
Holloran hopes to have financing for the project wrapped up by the end of the year. A joint venture of Paric Corporation and L. Keeley Construction will be the general contractor. Holloran said the team was still evaluating whether they'd seek development incentives from the city for the project.
Marriott is pushing a big expansion of the AC Hotel brand throughout the U.S., with dozens planned across the country. There's another one planned in downtown St. Louis inside the vacant Jefferson Arms building, proposed by the building's new owner, developer Mukemmel "Mike" Sarimsakci.