Forest Park Southeast is the St. Louis neighborhood known for the Grove entertainment district and, to a lesser extent, a rebounding residential market.
The Grove's bars, restaurants and nightspots are strung along Manchester Avenue, which bisects the neighborhood. Most recent housing development is north of the Grove, between Manchester and Highway 40 (Interstate 64).
In contrast, the neighborhood's blocks south of Manchester have experienced little redevelopment and decades of population decline.
In a typical urban redevelopment pattern, real estate investors would prowl that area for bargains, flipping or redoing properties in the hope neighborhood revitalization spreads and raises values.
Not so in Forest Park Southeast, where officials are keen to preserve and build affordable housing to promote income diversity and protect longtime residents who might otherwise be priced out of the neighborhood.
Rise Community Development, a nonprofit developer of affordable and market-rate housing, plans to build 50 affordable apartments in Forest Park Southeast. The $11.5 million project, called Adams Grove, will have townhouses and garden apartments built on empty lots or as replacements of vacant buildings. One building will be rehabbed and turned into four apartments.
Nearly all Adams Grove apartments will be in the 4400 blocks of Vista, Norfolk and Swan avenues, just west of Adams School on Tower Grove Avenue. Forest Park Southeast is at the southeast corner of Forest Park and near the Washington University School of Medicine and the BJC HealthCare complex in the Central West End.
Steady growth at the medical complex and the Cortex technology district just north of Highway 40 is behind the housing resurgence on the north side of Forest Park Southeast. The Adams Grove project area is at the neighborhood's southwest corner, where vacant lots and boarded-up buildings remain common.
Adams Grove is a project of Rise in cooperation with Forest West Properties, a subsidiary of Washington University Medical Center Redevelopment Corp., or WUMCRC. The redevelopment corporation has worked for years to revive Forest Park Southeast. Forest West owns dozens of neighborhood properties.
Stephen Acree, executive director and president of Rise, said he hopes to complete by next fall the purchase of the 26 Adams Grove parcels — all owned by Forest West — and start construction, which is expected to last 12 to 14 months.
Acree said WUMCRC preserves affordable housing in Forest Park Southeast by buying inexpensive properties to keep them away from developers drawn to the rapidly changing neighborhood.
"To us, it can be a model of how to do redevelopment to preserve an income mix in this type of area," he said.
Under affordable housing guidelines, a family of five's annual income, for example, cannot exceed $45,600 to qualify for an Adams Grove apartment. Because Rise wants the project to appeal to families, 26 of its apartments will have three bedrooms and rent for a below-market $775 per month. Adams Grove's priciest apartments will be four-bedroom townhouses renting for $950 monthly.
The project also will have four one-bedroom apartments, 16 two-bedroom apartments and four four-bedroom apartments.
In February, Forest West issued guidelines for developers interested in building affordable and market-rate housing on 85 Forest Park Southeast parcels south of Manchester.
WUMCRC picked Rise for the affordable housing component and early next year will choose developers to build as many as 150 market-rate residences south of Manchester.
Trivers Associates is the architect for Adams Grove's apartments of contemporary design. Altman-Charter Co. has been chosen as the general contractor.
Adams Grove took a step forward Dec. 4 when the Missouri Housing Development Commission approved the project for $625,000 in federal low-income housing tax credits and $625,000 in similar tax credits from the state. Acree said Rise is working to complete the project's financing.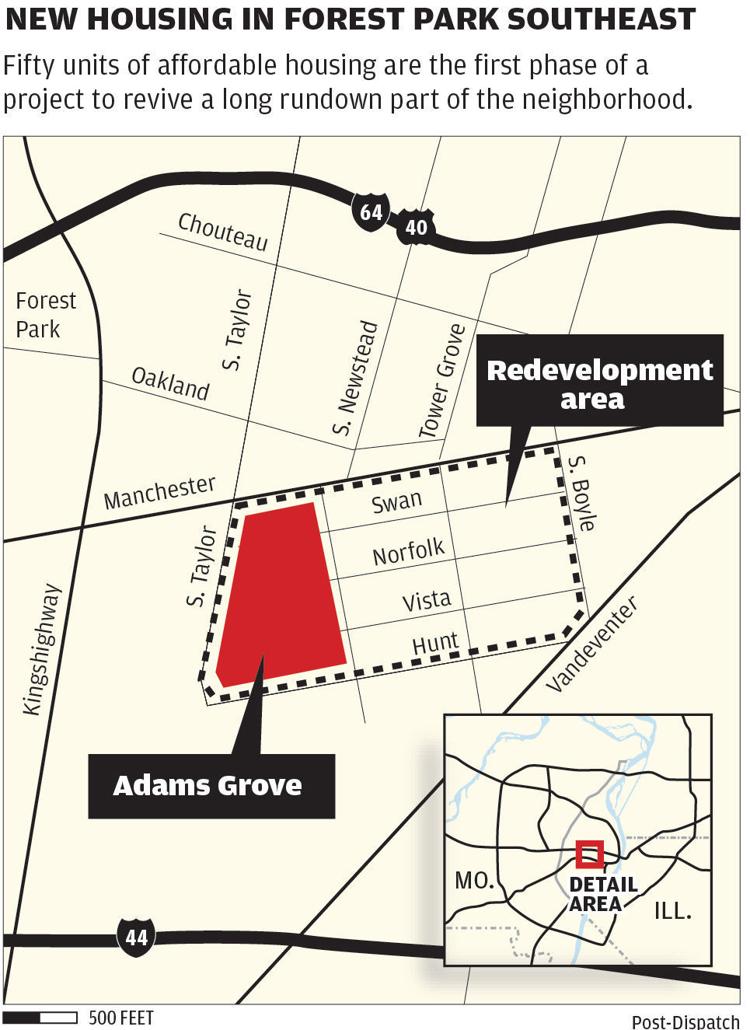 Four blocks south of Forest Park Southeast, on Tower Grove Avenue, is City Garden Montessori, a charter school whose leader supports Rise's project. Christie Huck, the school's executive director, said she is happy Washington University is working to preserve low-income housing in the area.
Huck said nearby affordable housing is key to her school's mission to educate a diverse student population. Some of Garden City's 273 pupils live in the Adams Grove area, she said.
Brian Phillips, executive director of WU Medical Center Redevelopment, said Adams Grove will help the part of the neighborhood that redevelopment has skipped.
"We're pretty excited about how this will fill out that southwest quadrant of the neighborhood," he said. "The rest of the neighborhood has been going like gangbusters."
A goal of neighborhood leaders is to increase Forest Park Southeast's population to 5,000 by 2020. The population peaked in 1950 at an overcrowded 11,500 but by 2010 had plunged to 2,900.
Phillips estimates the neighborhood has gained 1,000 people since the 2010 census. He said he believes the 2020 census will show Forest Park Southeast has reached the 5,000-resident goal.
Brooks Goedeker, executive director of Park Central Development, agreed the 5,000 count by 2020 is achievable. Such a population would fill out the neighborhood but not overcrowd it, he said. Park Central is the nonprofit development organization that works with residents, businesses and 17th Ward Alderman Joe Roddy.
Goedeker said a consensus among Forest Park Southeast "stakeholders" is the desirability of an economically diverse neighborhood.
"It kept coming up time and time again that the current community wanted to keep it mixed income as much as possible," he said.
Daily updates on the latest news in the St. Louis business community.