ST. LOUIS — Four months after a building collapse buried hundreds of bicycles, the dust has yet to settle for a Soulard nonprofit.
BWorks, which started more than 30 years ago with a mission of getting bikes into the hands of kids, has been forced to shift gears as it navigates potholes born of a pandemic and bad luck.
"It's fluctuating from hour to hour, week to week," said executive director Patrick Van Der Tuin.
The year's highs have been uplifting: an onslaught of support from neighbors and strangers, unexpected gifts from large corporations and small bike shops. But the lows, at times, have seemed relentless.
In March, BWorks closed its retail shop, which sells bicycles and accessories to support its programming, and moved its merchandise online. It indefinitely halted its literacy program, Create-A-Book. And it reimagined its six-week bike and computer classes, where students earn what they work on, so they could be held over Zoom.
Bike donations dropped, a consequence of a renewed interest in riding. Computer donations dropped, a consequence of extras being used by stuck-at-home workers and students. Supply chain issues made parts harder to get.
Then, misfortune struck. Twice.
"Bike donations are our lifeblood," said Van Der Tuin. "Without them, we can't really operate."
Since Aug. 23, the bikes in the Lemp building have sat untouched. Van Der Tuin said it's been a protracted back-and-forth with insurance to get the dust checked for contaminants such as lead, asbestos and silica. Early last month, 19 bicycles were finally removed for testing. As they were rolled outside, dust blew off in plumes like smoke.
Even if it turns out to be harmless — results should be in by early February — Van Der Tuin isn't sure it will be worth trying to remove the coating of fine residue embedded in every nook and cranny.
Chris Koehler, a BWorks mechanic, used to work out of the warehouse at Cherokee and 18th streets two days a week. He is still amazed that no one was hurt.
"The big pile was exactly where I would have been standing," he said Wednesday, as he polished up a red bike headed to St. Louis Public Schools for a giveaway.
Koehler tightened a bolt on a glider, a learn-to-balance bike with no pedals. Its flowered seat had been cannibalized from another donation.
Losing the contents of the warehouse has meant the nonprofit only gave away about 200 bikes during the holidays, a third of what it normally does. Gifts from individuals and local bike shops, including a batch of 50 from a store in Cape Girardeau, have helped. But not enough.
"There's an endless supply of kids who need bicycles," Koehler said.
Christina Rios-Kelley of south St. Louis wasn't sure her 8-year-old daughter really needed one. Rosario was learning to ride this summer on a too-small set of wheels her parents had picked up for $15 on Facebook Marketplace.
But Rios-Kelley was sold on the socialization — even by Zoom — and the responsibility Rosario would gain from learning safety rules and basic maintenance.
Rosario earned her teal 10-speed in October.
"She knows everything about that bike," said her mom. "She feels so empowered to take care of this incredible piece of equipment."
Earn-A-Bike will continue through the winter, but BWorks is shifting its focus, beefing up its Earn-A-Computer classes.
Computer donations have bounced back more quickly than bike donations. A large gift from Ameren helped refill a depleted stockpile of laptops, monitors and towers. The nonprofit's budget for 2021 includes funds to hire a fourth teacher to bolster its volunteer force and chip away at its student waiting list.
Geoffrey Soyiantet knows dozens of children who are eager to sign up. The executive director of Vitendo 4 Africa, a nonprofit that works with immigrants, has partnered with BWorks for the past two years.
Most of the youngsters served by the Hazelwood agency are from low-income households. Having their own computer during the pandemic has been invaluable to them, Soyiantet said, and has sparked an interest in coding and game design.
"Kids who already went through the computer class could use them at home," he said. "If they didn't have that, most of them would be struggling."
Steering BWorks' emphasis toward computers makes sense, said board member Evie Hemphill, even though the nonprofit's identity is so closely tied to biking.
"Getting computers and devices into the hands of young people is critical," she said. "I think all of us love bikes as much as we ever did. That's just been difficult to reinvent."
After one of its buildings collapsed last week, the old Lemp Brewery site on the South Side risks becoming a pile of another local staple: red brick.
Volunteers and employees repair bikes at St. Louis BWorks in Soulard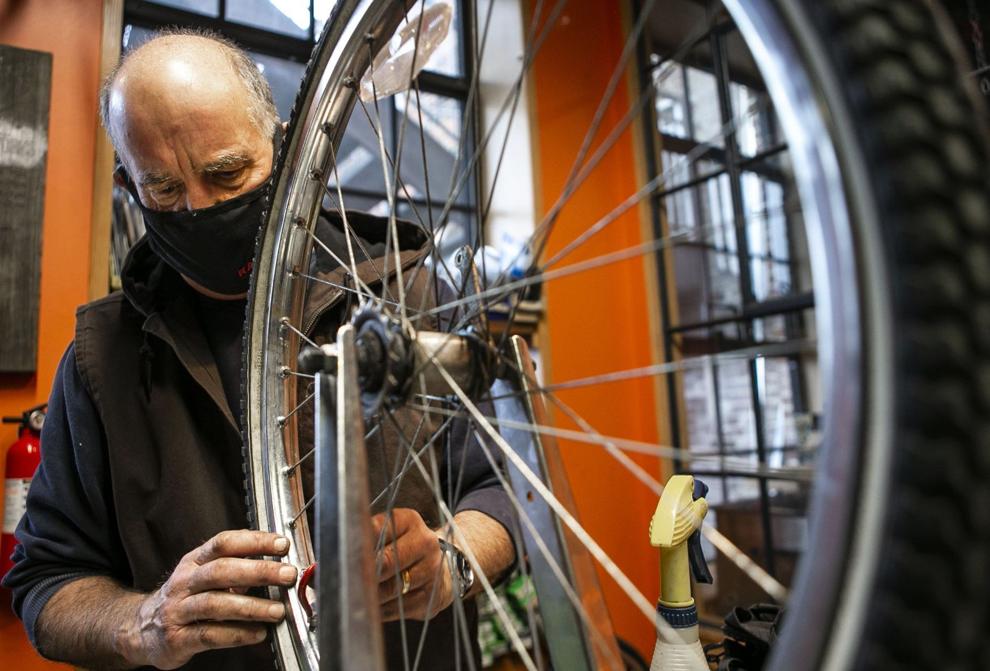 Volunteers and employees repair bikes at St. Louis BWorks in Soulard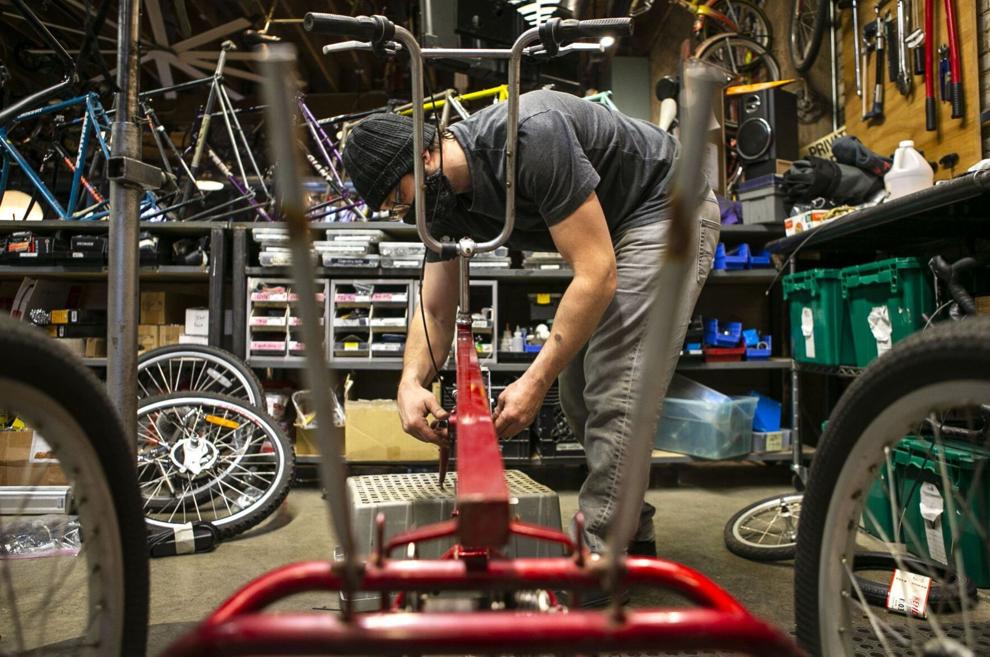 Volunteers and employees repair bikes at St. Louis BWorks in Soulard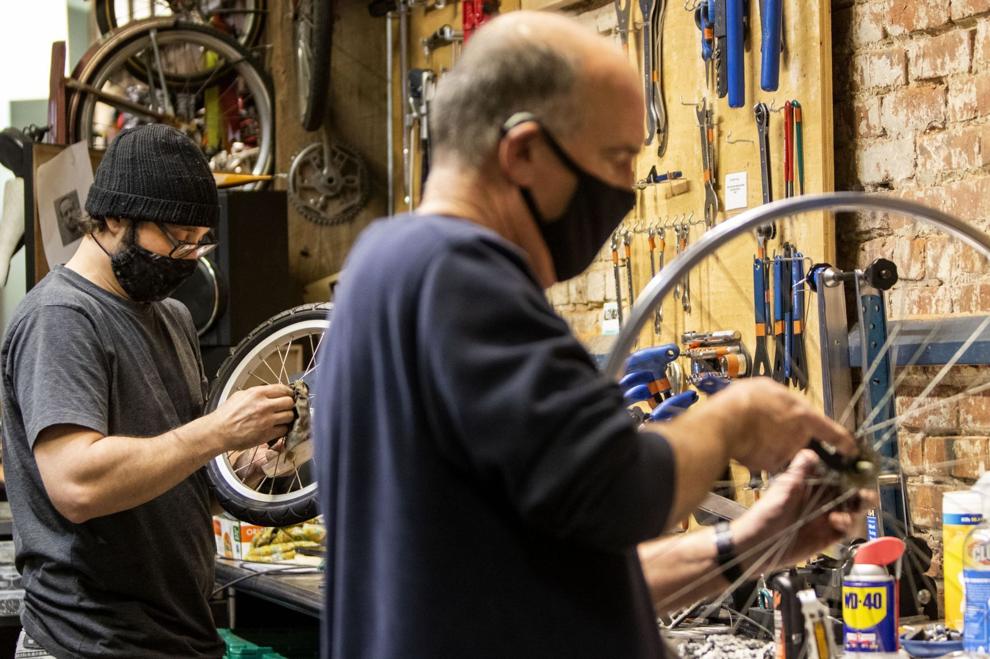 Volunteers and employees repair bikes at St. Louis BWorks in Soulard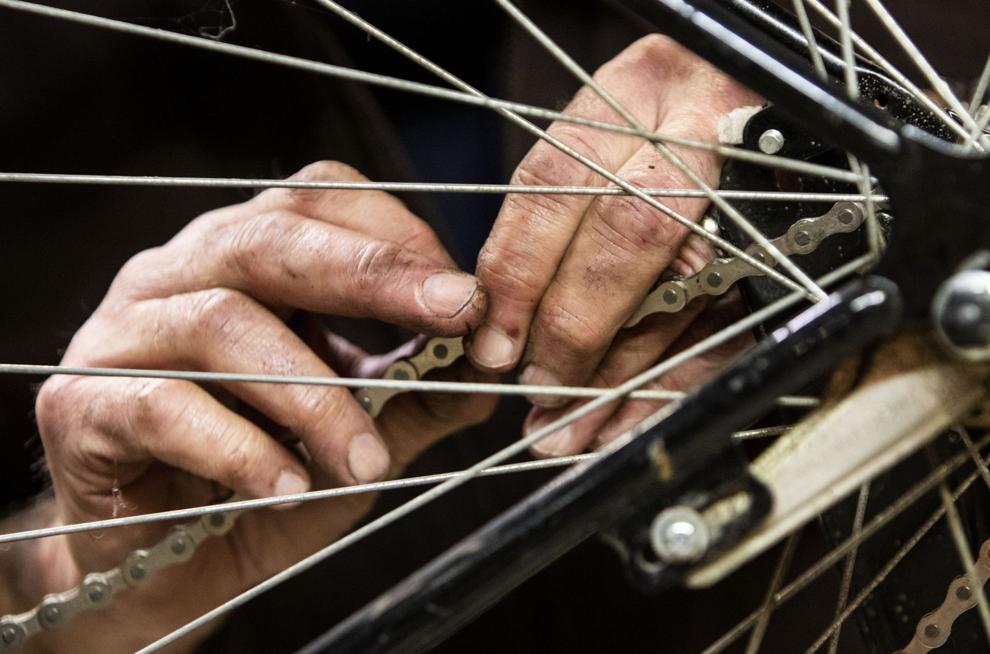 Volunteers and employees repair bikes at St. Louis BWorks in Soulard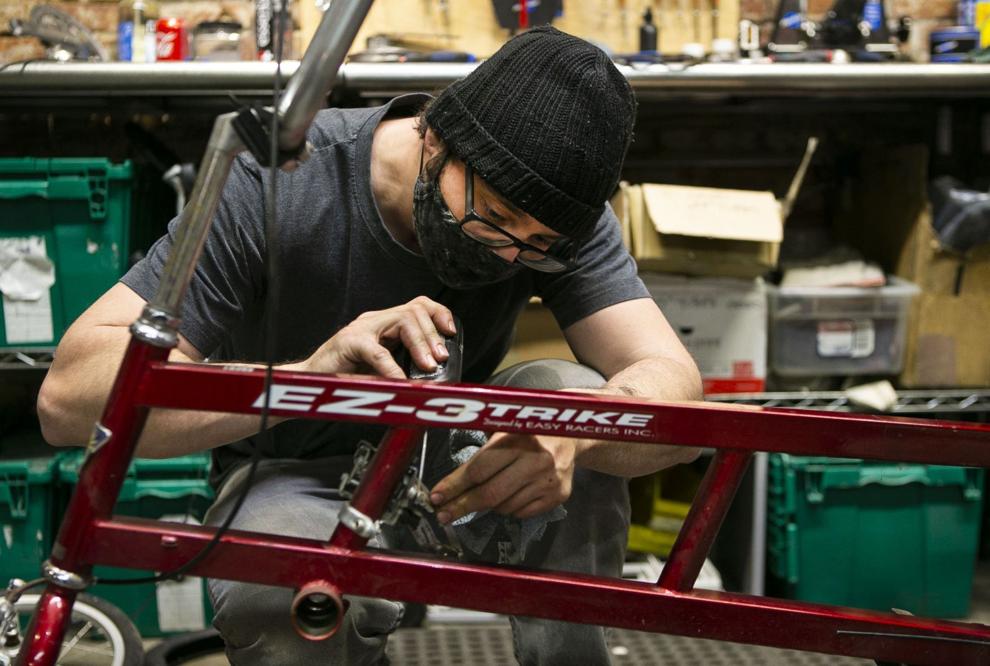 Volunteers and employees repair bikes at St. Louis BWorks in Soulard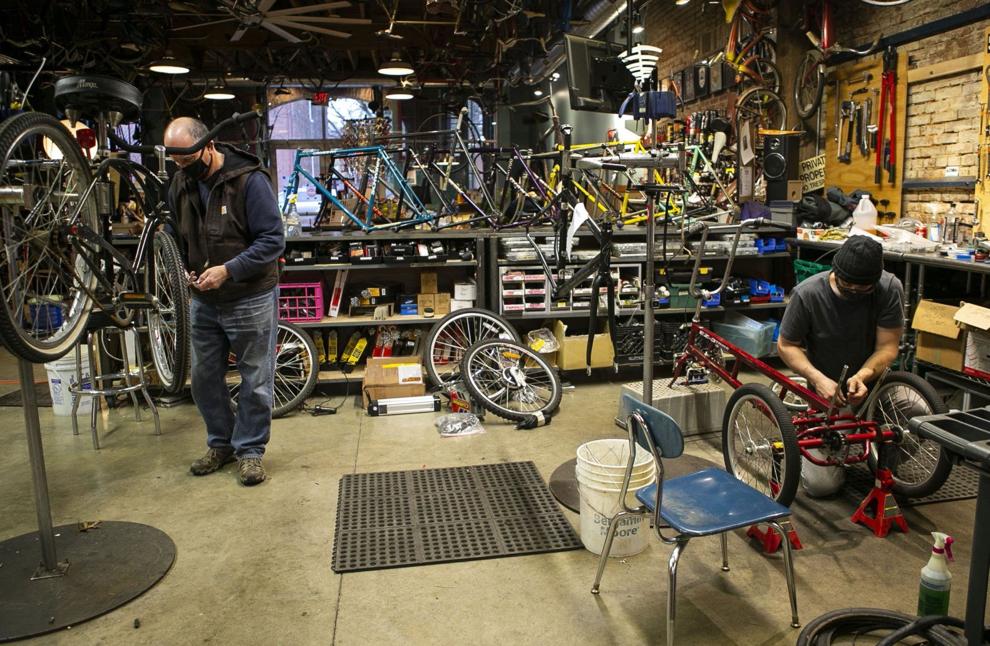 Volunteers and employees repair bikes at St. Louis BWorks in Soulard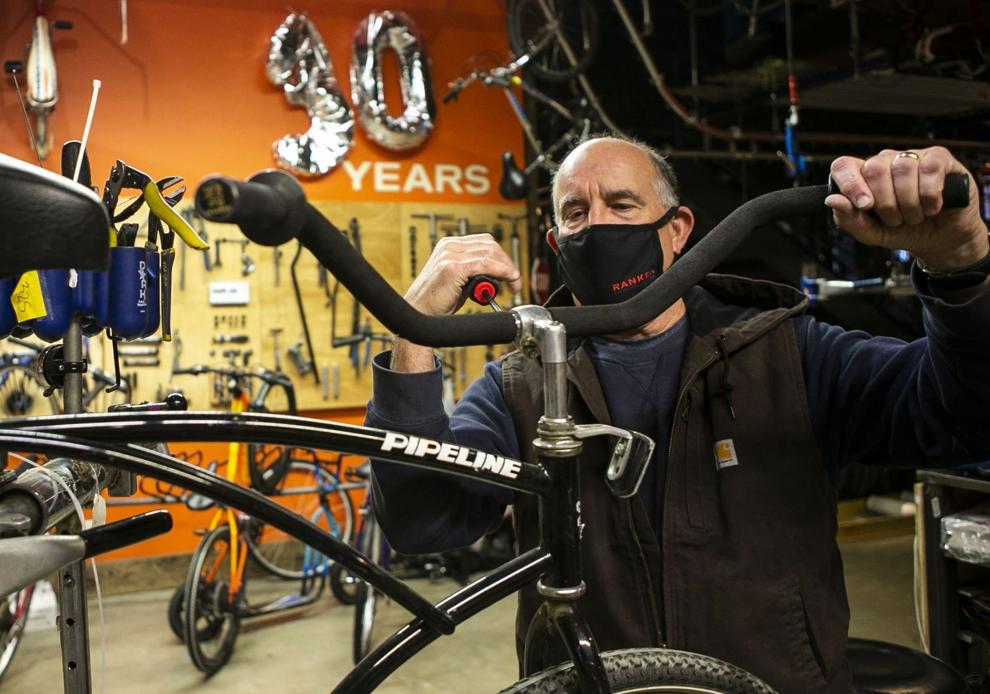 Volunteers and employees repair bikes at St. Louis BWorks in Soulard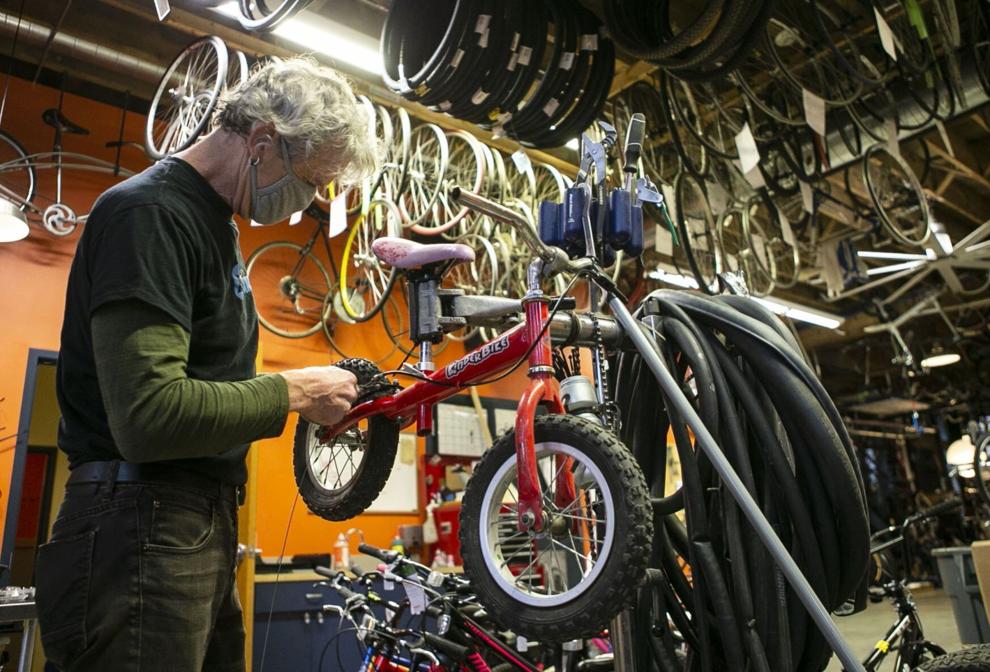 Volunteers and employees repair bikes at St. Louis BWorks in Soulard