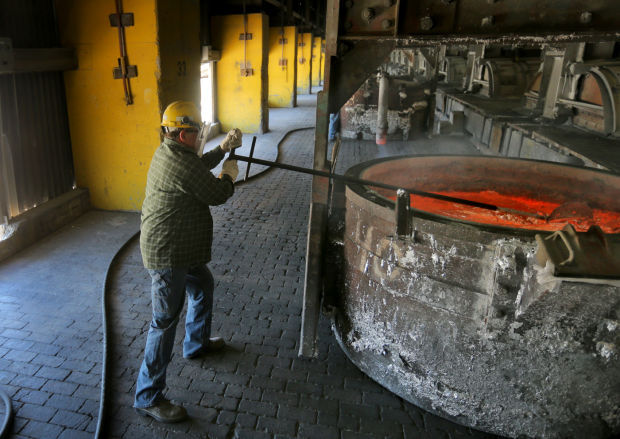 Noranda Aluminum's largest shareholder is selling its entire stake just weeks after the company persuaded Missouri regulators to cut electric rates at its smelter.
Apollo Global Management announced Monday its affiliates are selling 22.8 million shares of Noranda stock, which make up about 33 percent of the Franklin, Tenn., aluminum maker's outstanding shares. Apollo no longer will have a stake in the company after the transaction closes at the end of the week.
Four Noranda board members affiliated with Apollo will resign. Morgan Stanley is underwriting the offering, and Noranda will not receive any cash from the transaction.
Shares in Noranda dropped more than 25 percent after the Apollo announcement and have traded below $2.20 since Tuesday.
A spokesman for Noranda said there was "no connection" between the rate cut and the timing of the stock sale.
"Certainly Apollo didn't benefit from it," said Noranda spokesman John Parker. "They are selling their shares before the rate kicked in."
Noranda, which operates an 850-employee primary aluminum smelter in Missouri's Bootheel region, is Ameren Missouri's largest customer and consumes about 10 percent of the utility's power.
Late last month, the Missouri Public Service Commission agreed to reduce the electric rate paid by the smelter after Noranda representatives spent more than a year warning it could close without a lower electric rate. Noranda said that should save the company $17 million to $25 million in annual electric bills.
The lower rate is being made up by Ameren's other customers and amounts to about an extra $1 per month for an average household.
Ameren argued the rate cut would mostly benefit Noranda's largest shareholder, New York-based Apollo. The utility pointed out that after the private equity fund bought Noranda in 2007 and later took it public, it paid more than $350 million in special dividends that largely benefited Apollo shareholders. Meanwhile, Apollo loaded up Noranda with more than $1 billion in debt to finance its purchase. Noranda reported $654 million in long-term debt as of March 31.
Ameren argued the situation was not as bad as Noranda made it out to be, but Gov. Jay Nixon and the state's Office of Public Counsel supported Noranda. They were behind a proposal that lowered the smelter's rate but required the company to maintain 850 employees at the factory.
PSC commissioners concluded reducing Noranda's rate was preferable to losing the smelter, which they said would lead to even higher rates for other Ameren customers.